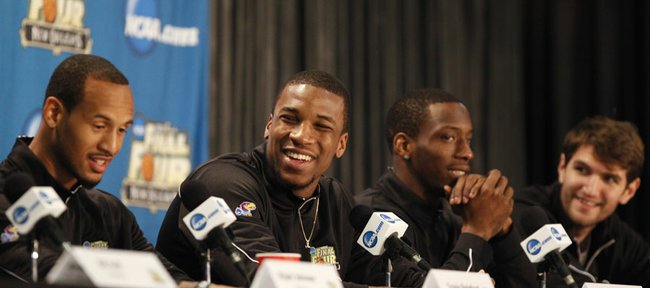 New Orleans — Kansas University's Bill Self was named the 2012 Naismith Men's College Basketball Coach of the Year, the Atlanta Tipoff Club announced Sunday.
KU is the only school to have three Naismith winners. Larry Brown was recognized in 1988 and Roy Williams in 1997. Other finalists: Jim Boeheim (Syracuse), John Calipari (Kentucky) and Frank Haith (Missouri).
"Bill has done a remarkable coaching job this season and deserves all the accolades that come his way," said Eric Oberman of the Atlanta Tipoff Club. "There's always something special about adding another chapter of Kansas Basketball to the Naismith Awards family."
Self said: "This is a terrific honor. When you think of postseason awards, anything that has (James) Naismith's name in front of it is a huge award and certainly I'm very proud of this."
Under Self, Kansas has more wins in a six-year period (197) than any program in the history of college basketball.
Self vs. Cal: Two members of Larry Brown's coaching tree — Self and John Calipari — will lead the teams in tonight's national KU-Kentucky championship game. Both worked as grad assistants under Brown at KU. Calipari also worked for Jayhawk coach Ted Owens.
"I may not be able to coach very well," Brown joked on Saturday during KU's Final Four semifinal, "but I am able to pick assistants. Those two are great."
Asked about KU on Sunday, Calipari said: "I saw Ted Owens as I walked out of the building for the open gym. Coach Brown was here. It was great to see those guys.
"I spent three years — one with Ted and two with coach Brown — in Kansas. I met my wife at the University of Kansas. She worked in the business office. The game in 2008 (KU's 75-68 overtime victory over Calipari's Memphis Tigers in title game) was a great basketball game, one of the more exciting games. I wish the outcome had come out a little different, but they got us.
"Bill and I have known each other. He followed me. When I left, he stepped into that (grad assistant) spot at Kansas. Fond memories, not particularly of that (KU-Memphis) game, but I enjoyed coaching in that game and had a ball. It's just that everything that could have gone wrong went wrong, and everything they had to do right they did. Stars and the moon lined up, all of a sudden we went to overtime."
Calipari on the significance of the game: "This is Kentucky and Kansas. I mean, (Adolph) Rupp and (Phog) Allen and (James) Naismith, all of them. I hate to tell you, Rupp grew up in Kansas. We stole him (at Kentucky). It should be an exciting ballgame."
Self on Larry Brown being in KU's traveling party during the NCAA Tournament: "You know ... he's unemployed. He's got to be around ball," Self said of the Hall of Famer. "He spends time at Villanova (with Jay Wright), Maryland (with Mark Turgeon), Kentucky. He's been out to our place three or four weeks. Comes to practice, watches. Doesn't come to all practices, but he'll sit around in a film session with us, that kind of stuff. It's just kind of cool to have him around. I think the players like seeing him, too. I think the players, that respect factor is always there when coach Brown is around, as well."
More on Brown: "I worked for him in 1985-86. He paid me good. He paid me $4400 a year to work for him," Self said. "But my first impression was as a coach, I wanted to be like him. I loved the way he handled players. I loved the way he thought about the game. I loved the way he taught the game. I loved the way how he was always cool under pressure. I probably learned more in that 10 months because I didn't know anything. I was a sponge. I'm amazed at how he's still trying to find the best way to do things. The more you know, the more you realize you don't know. He's always learning and trying to get better."
Team leadership: KU junior Elijah Johnson on point guard Tyshawn Taylor crying in the locker room after KU's 68-61 loss to Duke in the Maui Invitational finals. Taylor had 11 turnovers that day.
"I don't know if he felt like he couldn't lead us. It was frustrating for him, but I told him, 'I don't care. If you put every top point guard in the country in a line right now, I'm going to pick you every time to run with. So I'm playing with your mistakes. I don't care,''' Johnson said. "I remember one night, me, him and Conner (Teahan) were in a room talking, and Conner told him the same thing. Then I remember Thomas (Robinson) telling him the same thing, and I remember Jeff (Withey) told him the same thing. After a while, it just clicked. I think he was the first person on our team to make it click. He was the first puzzle (piece) that actually was permanent, like, 'OK, this is what it is. I'm the point guard. I'm the senior, and we're going to play off of that.' Then I think after he committed, I think everyone else committed shortly after that. That's when we got rolling."
Shooting: Taylor is 3-for-40 from three-point land in 14 NCAA Tourney games. He's 0-for-20 in his career in domed stadiums, 0-14 in domes this year and 0-20 overall in the 2012 NCAAs.
"I think I'm definitely due," Taylor said. "I think the basketball gods are with me tomorrow. I got to make one. I can't leave like this," he added, smiling.
"No, I mean, it's not that big of a deal, man. I think the shots I take are good looks, and they feel good coming off. If I get open, I'm going to shoot it confidently. If it goes in, that's good. If not, we've shown we can win without me making threes. Doesn't make a difference."
Fieldhouse open: KU fans can watch the title game on the video board at Allen Fieldhouse tonight. The north, south and east entrances of the fieldhouse will be open starting at 7 p.m. Members of the KU pep band, spirit squad and the mascots will be on hand.
Tipoff will be approximately 8:23 p.m. KU will be the designated visiting team and wear blue uniforms in the title game, televised by CBS. The fieldhouse will close immediately following the game. Admission is free, and parking lots will be available at no charge. The parking garage adjacent to Allen Fieldhouse is pay by the hour.
Travis Releford on growing up with brother Trevor (Alabama sophomore guard) and dreaming of playing in the championship: "He text me after the game (win over Ohio State) and was like, 'Growing up, this is always something we talked about.' Now I finally get that chance. It's great to have him here with me, him and my mother, so it's a fun moment right now."
Tyshawn Taylor on his improvement since the Duke game: "It's a huge difference. I think I had a nickname earlier in the season, 'Tyshawn Turnover Taylor'. I haven't heard that in a while, not because I haven't been turning the ball over, but we've been winning and nobody cares. There's a lot more positively now. We're in the national championship game. If you're a fan, a true fan, how can you not respect that."
On becoming the team leader this season: "It's a great feeling. Like coach said, I've been waiting patiently for my time. I've been a huge part of those pretty good teams that we had in the past, but I was never the guy who we had to depend on to win games. This feels so good because I'm actually a huge part and from the beginning I've been a huge part. The fans respect that and see how far I've come as a player and a person. It's a really good feeling."
Elijah Johnson on KU being underdog: "We are in the championship game. These are the two best teams in the country. Obviously, I feel like no one wants to be second. I don't think coach (John) Calipari wants to be the second best coach in the country and I don't think we do. With that being said, everybody is playing with house money. If you are go out there feeling like you've got to save something, you are going to come up short. You've got to put everything on the table."
"I think we do the same thing we've been doing all year. I honestly don't think we should change anything we've done. Everyone keeps asking me questions about how we prepare differently, how do we do this or that, we don't. We do what we do. It's about personnel with the other team. We know the personnel. We know our scouting report on them. We are not going to do anything different. All the other stuff is not what got us here," Johnson added.
Jeff Withey on when his game came together: "I would say in Maui it started coming together a little bit against Duke. I started playing really well against Kentucky the first time we played; it was kind of an eye opener. Right after we lost to Missouri, I feel like that's when I stepped up my game. Coach challenged me a ton. The next game was against Baylor when I had my career high and then I got on a roll after that."
Decisions: UK coach Calipari elected to not foul KU's Mario Chalmers, who hit an overtime-inducing three in the final seconds against Memphis in the 2008 title game. KU went on to win in the extra session.
"We were trying to foul him at halfcourt because there was too much time on the clock," Calipari said. "You have to understand, we just missed a ton of free throws. If we fouled him too early, in my mind they were going to foul us again. We may have missed again. So now we're saying, 'Let's foul him at halfcourt, that will put about five seconds on the clock.' The kid got away from our guy.
"I said, 'Why didn't you do it (foul Chalmers)?' He said, 'I was afraid it was going to be an intentional foul.' We're good then. At the end of the day, we had a nine-point lead (in final few minutes), and I have to figure something out. Go shoot the free throws myself, do something to get us out of that gym, and I didn't. You make decisions. I had people call me and say, 'You did the right thing not fouling.' We were trying to foul, so. ...
"The year before there was a game in the NCAA Tournament, I won't mention his name, they didn't foul, and it went to overtime and lost. He and I are close. We talked. For 30 days we worked on that exact situation. In these tournaments, stuff happens. My team played well throughout that whole tournament, including that game."