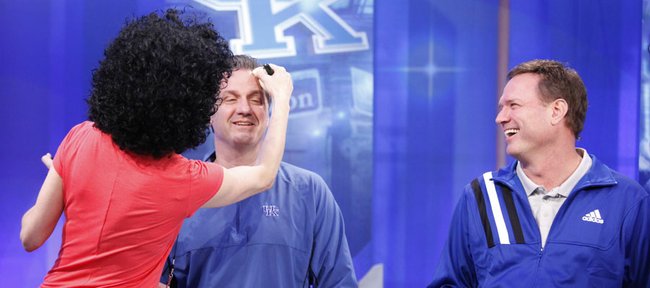 New Orleans — Kansas University's basketball team does not like to lose. Period.
But to be taken down by the same opponent twice in one season?
That's especially distasteful to team leaders Tyshawn Taylor and Thomas Robinson, eager to take the court against Kentucky tonight in an NCAA championship game (8:23 p.m., Superdome) that's a rematch of a 75-65 Kentucky victory on Nov. 15 in New York.
"When you play a team that beat you, you want another chance. We get another chance. It's not like a revenge game, but it's one of those things like, 'We're back ... do it again,''' senior point guard Taylor said. "Basically, we want to make them come out and beat us. They're going to have to play their best game of the year."
KU has lost to the same team twice in one season just twice in the nine-year Bill Self era.
Michigan State swept the Jayhawks during Taylor's freshman year. Texas topped KU twice in 2003-04, Self's first season at KU.
"It's extra motivation. I want payback," junior forward Robinson said. "I don't want anyone to think they have the upper hand on me, and I've thought that all season about Kentucky, but I get to see them again."
Robinson and Taylor, who combined for 33 points off 8-of-25 shooting (Taylor was 3-of-13 from the floor but 15-of-17 at the line) in the first meeting, discussed the challenge during one of their regular heart-to-heart chats while speeding from station to station on a golf cart Sunday at the Superdome.
"I just said to T-Rob, 'They've got five guys who can score 20, 30 points, if any one of them gets hot, and a couple guys off the bench who can do the same thing,'" Taylor said of double-digit scorers Anthony Davis (14.4 ppg), Doron Lamb (13.5 ppg, 17 versus KU), Terrence Jones (12.4), Michael Kidd-Gilchrist (11.9), Darius Miller (10.1) and Marquis Teague (9.9 ppg, 188 assists, 107 turnovers).
"On paper they should be favored," Taylor added of the Wildcats, who are indeed 61⁄2-point favorites. "I think if you toss the ball up for 40 minutes and their five have got to play against our best five, we're right there. On paper their record looks better, but I mean it's only 40 minutes and none of that matters any more. There's only 40 minutes left."
KU played Kentucky to a 28-28 tie the first half of the game in Madison Square Garden. The Wildcats used a 15-2 run that stretched to 24-7 to open an insurmountable 54-37 lead with 10 minutes left.
Led by Davis, who blocked seven shots, the Wildcats recorded 13 blocks, most ever by a KU opponent in a single game. Davis' seven blocks were second-most ever by an individual against KU. Shane Battier of Duke recorded eight in a second-round NCAA victory over KU on March 19, 2000.
"He's the best," KU junior Withey said, tapping 6-10 freshman Davis the No. 1 big man he has gone against. "He's going to be the No. 1 draft pick (in 2012 NBA Draft). He can run, jump, do it all. It'll be a tough challenge. We faced him earlier in the year, and we hopefully can correct what we didn't do against him the first time."
Davis has 180 blocks to Withey's 136.
"Mine is through the roof now," Withey said of his confidence level. Withey, who scored seven points with six boards and four blocks in 25 minutes against Kentucky, blocked seven shots in Saturday's 64-62 Final Four semifinal win over Ohio State. He made life miserable on All-America forward Jared Sullinger, who had 13 points off 5-of-19 shooting.
"Guys like me and Anthony Davis can make it tough on teams because we both have been able to block some shots," Withey added.
KU's Robinson was frustrated in the first meeting, missing seven of 12 shots. He had 12 rebounds and five fouls in 27 minutes.
That's the game in which he committed a hard foul on Jones (15 points, seven boards), then stepped right over the 6-9 sophomore on the court. UK's Kidd-Gilchrist (12 points, nine rebounds, four assists, three blocks) and Teague (12 points, six turnovers, three assists) took exception, getting in Robinson's face over the play.
"I played a horrible game. I tried to do everything by myself," Robinson said.
It's possible he could be double-teamed by the Wildcats again.
"I've played against some big people, and I played in some tough games," he said. "I think I've seen every trap, every which way they can come. I've watched the tape and know what they did. I'm pretty sure Cal (coach John Calipari) has something up his sleeve to disrupt my game, but if I'm just patient, everything should work out."
Kentucky hit 51 percent of its shots vs. KU, including seven of 15 threes and 16 of 29 free throws. KU hit 33.3 percent from the floor, four of 15 from three. It was a day Justin Wesley (five points, five boards) played more than Kevin Young (two rebounds, two minutes). Conner Teahan had eight points, cashing two of five threes.
"Kentucky's terrific," Self said. "They've been the best team in the country basically from start to finish maybe with the exception of a week here or a week there. They've gotten better. They're way beyond their years. Although they're young in age, they're certainly not young with experience.
"They're one of the better teams we've had in college basketball probably from a pure talent standpoint. They've got six pros, three of them probably lottery picks. They're really, really, really talented.
"But, you know, the thing about it is, I like our guys. I think we're talented, too. We've got a guy that has kind of battled Anthony neck-and-neck for the most part for national player of the year. We got guards that can play with anybody, in my opinion. We've got a shot-blocker that's hot right now. We've got a wing that can guard. We've got a lot of nice pieces too, it's just that theirs are a little more heralded. From where we started, our path to get here was different than theirs. They're good, really good. But the thing about it is, this time of year, one game left, who would you be playing if they weren't really good?"
More like this story on KUsports.com