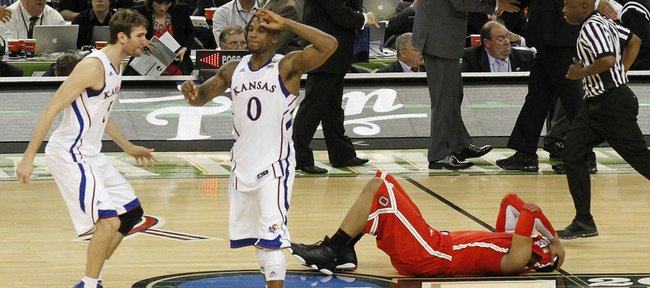 New Orleans — It might not have been obvious on the stat sheet, but anyone who watched the game saw it plain as day.
The double-teams the Kansas University men's basketball team threw at Ohio State big man Jared Sullinger during the second half of KU's 64-62 Final Four victory at the Superdome on Saturday absolutely handcuffed the Buckeyes.
"I had no idea," Sullinger said when asked after the game what he wanted to do against the double-team of KU's Jeff Withey and Thomas Robinson. "I could barely see. Some people say I'm only 6-foot-4, and I can't really see over a 7-footer and a 6-10 guy."
That was evident throughout the second half, when the Jayhawks (32-6) carefully calculated just the right times to send Robinson flying at Sullinger after he caught the ball in the post. At the very least, the move shut down any momentum Sullinger had after the catch. Beyond that, it took the entire Ohio State offense out of rhythm.
"I thought they did a tremendous job on me," a dejected Sullinger said in the OSU locker room. "They crowded the floor, and I couldn't really make a move. It caught me off guard."
While Withey (four points, eight rebounds, seven blocks) and Robinson (19 points, eight rebounds) were given credit for slowing down Sullinger, Ohio State reserve Evan Ravenel made sure to give credit to KU's guards as well.
After snagging seven points and four rebounds in the first half to help OSU (31-8) build a 34-25 lead at the break, Sullinger had just six points on 2-of-11 shooting in the second 20 minutes.
"Obviously, you gotta make adjustments on the go and change the game plan," Ravenel said. "That (double-team) was one of the things we talked about, but it's tough seeing Thomas Robinson in there, who's 6-10, he's got long arms and a big, wide body and then Jeff Withey, who's a 7-footer. It's tough to see over that. And then they have those guards that play that NFL DB style, they just sit back, wait for you to throw the ball and then go get it."
Kind of like Ohio State guard Aaron Craft?
"Just like Aaron," Ravenel said. "They got three Aarons out there. Three bigger versions of Aaron."
Ravenel, who grabbed two rebounds in 14 minutes, had an up-close look at the vicious traps that Robinson and Withey used to suffocate Sullinger. Still, Ravenel was surprised that they were so effective.
"Teams have double-teamed Jared, they've triple-teamed Jared, and he's found a way to make something happen," Ravenel said. "But today, they just capitalized when we made mistakes."
As for the origin of the defense that proved to be the difference, freshman guard Naadir Tharpe, who one day hopes to become a coach, said the initial idea came from KU assistant Joe Dooley.
"We've worked on that for a while, and we would've probably done that the first time," Dooley said, referring to KU's December match-up with Ohio State in Allen Fieldhouse in which Sullinger did not play. "It takes a great player out of his comfort level, which is a big thing. And he is a great player, obviously. It took him out of his comfort level, and it gave us some room to breathe. In general, we got what we wanted out of it."
Now the Jayhawks get one shot to come up with a defense for high-powered Kentucky (37-2) in the national championship game Monday night.
More like this story on KUsports.com