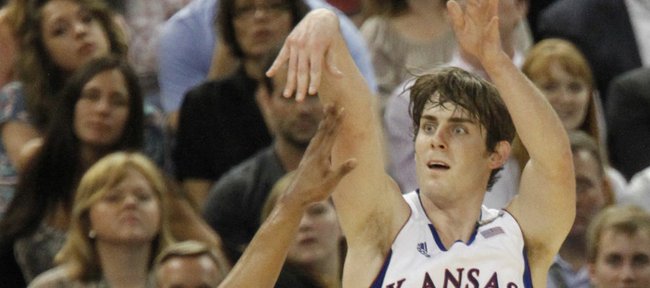 New Orleans — Before Saturday's national semifinal game, Kansas University coach Bill Self singled out Conner Teahan in the locker room.
"He looked at me and goes, 'Teahan, when you get in there, let it fly,'" Teahan said. "... That's something he tells me a lot. I try to listen."
The senior heeded his coach's advice at perhaps the most important time Saturday, hitting one of the biggest shots in Kansas' 64-62 victory over Ohio State.
With KU trailing 49-43 with 8:20 left, Teahan freed himself off a KU out-of-bounds play.
The call was for a screen-the-screener, meaning Teahan was to set a pick then receive a screen from a teammate while fading to the corner for a three.
When the senior saw his defender overplaying him and also sagging in on teammate Thomas Robinson, he called a quick audible and peeled back the other direction.
Though he'd missed his previous two threes — including his first one, which was blocked — Teahan buried this one to pull KU within three.
Teahan didn't see Self, but he said he could hear the coach behind him while running back on defense.
Self was violently pumping his fists, screaming out encouragement for his players to try to will them to get a stop.
Seconds later, KU's Travis Releford stole the ball from Ohio State's Aaron Craft and finished with a layup on the other end as KU cut the lead to one.
Teahan finished with just three points on 1-for-4 three-point shooting, but his one shot might have helped save KU's season.
"The setting that it is now, it's hard to make threes and shots," KU guard Jordan Juenemann said. "You've just got to be a big-time shooter."
Juenemann, who is Teahan's roommate, did his best to keep his buddy loose before the game.
While laying around in their hotel room at around 4:30 p.m., Juenemann and Teahan were flipping between the pregame shows on ESPN and CBS.
They were joking about what a few of the analysts had to say until ESPN's Dick Vitale and Bobby Knight started discussing how tough it was to shoot in the Superdome and how that kind of environment could get in a shooter's head.
"I solemnly changed the channel, just for Conner," Juenemann said with a smile. "I was like, 'OK, you don't need to be hearing any of this.'"
An awkward silence followed, as Juenemann said he was pretty sure that Teahan knew the reason he'd changed the station.
Teahan also tried to help KU's luck late. With a few minutes left, he surrendered his seat next to assistant coach Danny Manning, telling Kevin Young, "You got it."
The two made the same switch in the final minutes of KU's overtime victory over Missouri at Allen Fieldhouse earlier this year.
Luck aside, Teahan's biggest contribution was the three-pointer that kept the Jayhawks close enough to make a push late — a shot he let fly, just as his coach told him to.
"I know that even throughout this whole entire year, the way I've been shooting the ball from three-point has been something that has been disappointing to myself," Teahan said. "… But (Coach) still has had faith in me, so that means a ton."
More like this story on KUsports.com