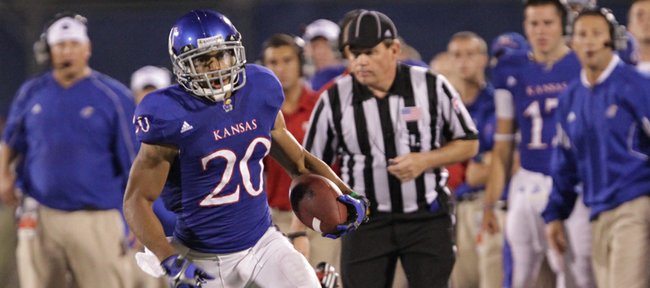 Kansas assistant coach David Beaty has given his receivers two additional reasons to block hard this season: competition and chocolate.
Beaty has kept track of his receivers' knockdowns — the times when a player completely puts his opponent on the ground — on the dry-erase board in the receivers' meeting room.
When a receiver gets a knockdown that leads to a scoring play, Beaty awards that player a king-sized candy bar at the position group's meeting Sunday.
"You take pride in that," KU sophomore Christian Matthews said, "and try to get the most candy."
The prizes include Kit-Kats, Reese's Peanut Butter Cups and Snickers.
So far, KU junior D.J. Beshears is winning the knockdown battle, increasing his lead over second-place junior Kale Pick.
"Every knockdown we get recorded, we'll say something to one another, or he'll get excited and yell," Pick said. "But it gets pretty competitive with all of us, too."
Pick says receivers have become so interested in their spot on the list, a few have begun to lobby with Beaty, trying to convince him that a few more of their blocks were knockdowns.
There's a bit of controversy at the top of the list, too.
Because of KU's injuries, Pick moved to inside receiver in the team's last game against Georgia Tech.
That gives Pick fewer opportunities to get a defender on the ground. Many times, as an outside receiver, Beshears is able to blindside a safety, whereas Pick is forced to knock over the guy directly in front of him.
"I'm going to say that definitely benefits D.J.," Pick said with a smile. "I've got to talk to coach Beaty about that. I should definitely try to get a curve in there."
For now, every knockdown is given one point. And Beshears isn't listening to excuses.
"I wouldn't say that I have the upper hand just because I play outside receiver," Beshears said. "He's inside with a lot more people in the box."
There's also another way for a receiver to get a knockdown: by juking a defender so badly that he falls to the ground.
The friendly knockdown competition — and the increased focus on outside blocking — seems to have benefited KU's offense.
The Jayhawks are averaging 4.5 yards per rush while running on 70 percent of their plays.
Last season, KU averaged just 3.0 yards per carry in its first three games.
KU also has 21 rushes of 10 yards or more. Last year, the Jayhawks had only 45 rushes of 10-plus yards all season.
"It just gives us an extra drive to be more physical and be better blockers," Beshears said.