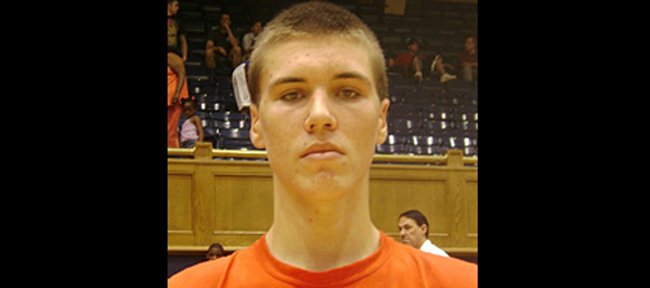 Blue-chip high school senior basketball big man Kaleb Tarczewski will make official recruiting visits to Kansas University and Arizona before choosing a college.
Tarczewski's AAU coach, John Carroll of the New England Playaz, told cbssports.com that the 7-footer out of St. Mark's High in Southborough, Mass., would attend KU's Late Night in the Phog on Oct. 14 then attend Arizona's Red-Blue game on Oct. 22. Tarczewski has no plans to visit his third finalist, North Carolina.
Tarczewski, who is ranked No. 20 nationally by Rivals.com, visited KU unofficially with his parents in June.
He had originally planned to announce his choice prior to the start of his senior year (Sept. 9), but has had difficulty in choosing between KU and U of A.
White's visits
Andrew White a 6-6 senior forward from Miller School in Chester, Va., who attended Saturday's Legends of the Phog, will visit West Virginia this weekend, Texas on Oct. 7 and Louisville Oct. 14. He's rated No. 56 in the Class of 2012 by Rivals.com.
Sanders to Stanford
Unranked Christian Sanders, a 6-3 senior shooting guard from Houston's St. Thomas High, has orally committed to Stanford. Sanders, who is the son of former KU guard Brad Sanders, chose Stanford over Maryland, Colorado and Harvard.
"Coach (Johnny) Dawkins talked about me being a part of their winning," Sanders told ESPN.com. "This was a tough decision because of all the great relationships that you build with the coaches."
Self visits Peters
Zach Peters, a 6-9, 235-pound senior power forward from Prestonwood Christian High in Plano, Texas, orally committed to KU way back on April 21, 2010. He recently welcomed KU coach Bill Self for an in-home visit.
"We just watched football and hung out for two or three hours. We just actually watched some football and did some talking," Peters told jayhawkslant.com. "It was cool to just talk and relax with coach Self."
Anderson update
Jeff Goodman of cbssports.com reports that New Mexico, UNLV and Tennessee have expressed interest in 6-9 Canadian big man Braeden Anderson, who recently left KU after not being cleared for a scholarship by the Big 12.