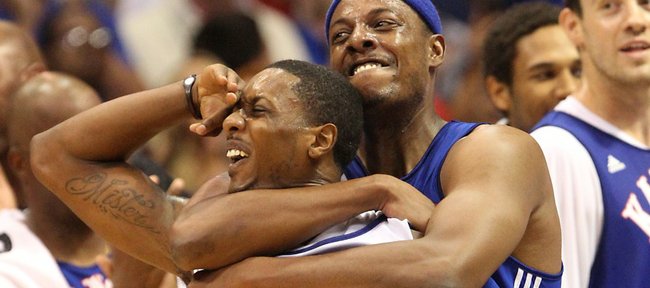 Videos
Legends of the Phog postgame press conference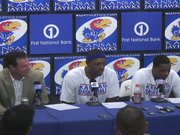 Bill Self, Paul Pierce, Mario Chalmers and Larry Brown addressed the media after the Legends of the Phog alumni scrimmage Saturday, Sept. 24, 2011 at Allen Fieldhouse.
Boston Celtics phenom Paul Pierce knew Saturday's "Legends of the Phog" would be no ordinary exhibition basketball game.
"I told the guys when we came back from the layup line that I felt like it was a Game 7 playoff game. That's how much adrenaline I had, how many chills I got from walking into the gym," the 6-foot-7 forward said after scoring 16 points and grabbing eight rebounds in his KU alumni Blue team's 111-111 tie — yes tie — against the KU White squad in Allen Fieldhouse.
Pierce, who last visited KU's tradition-rich building eight years ago for his jersey retirement ceremony, broke a 108-108 tie by swishing a three over the outstretched hands of defender Brandon Rush with just five seconds remaining.
Showing a flair for the dramatic ... Pierce had jogged over to press row a few seconds before the shot to remind announcer Max Falkenstien he never lost a game in Allen in his three-year KU career."
"Of course I did," Pierce said, asked if he felt he was going to hit the game-winner. "If you don't believe you are going to hit it, why be out there?
"It's right up there," he joked, asked where the shot ranked in his storied career. "Put that right behind the birth of my daughter."
Amazingly, that clutch shot ultimately ranked as the second biggest of the game.
Responding to the chants of "Mario, Mario," from the crowd of 16,300 ... Mario Chalmers answered with a game-tying three over the arms of defender Ryan Robertson with just one tick on the clock.
The 6-2 Miami Heat combo guard, who sent the 2008 NCAA title game against Memphis into overtime, had done it again. Yet this time there'd be no extra session. As Pierce raced behind Chalmers to give him a big bear-hug, KU coach Bill Self informed the refs that the game would end in a tie.
"I said to Mario, 'That's the way it's supposed to end,''' Pierce said.
"Everybody remembers his championship shot. It was just a replay of it tonight."
Chalmers, who scored 17 points and dished 10 assists, wasn't about to disappoint in the clutch.
"I heard it," he said of the fans calling his name shortly after White coach Ted Owens called a time out. "It's something I've done before and something I'm accustomed to doing.
"This type of atmosphere was great to go out and have fun and be with the older guys and the coaches," he added, modestly changing the subject from his shot to the overall experience.
There were plenty of stars Saturday.
l Memphis Grizzlies guard Xavier Henry scored 23 points off 8-of-13 shooting.
l Oklahoma City Thunder center Cole Aldrich grabbed 19 rebounds to go with 14 points.
l Thunder teammate Nick Collison came close to a triple double with 14 points, 10 assists and seven boards.
l Toronto forward Julian Wright had several vicious dunks en route to 14 points.
l St. Louis businessman Ryan Robertson looked like a guy who plays a lot of city league basketball. He scored 15 points off 6-of-8 shooting. He had five assists and hit 3-of-5 threes.
Aside from the wacky ending ... the main storyline had to be the return of Pierce, who after winning 44 games against no losses in Allen during his three-year KU career, brought his A-game Saturday.
"I do remember at halftime, he said, 'Look I've never lost a game in here. I don't want to experience one,''' Blue team coach Larry Brown said.
"Now I'm 55-0-1," Pierce said, his math off just a bit.
The 33-year-old Pierce said he had a blast during his weekend stay in Lawrence.
"It's fun to be here around my old teammates and reflect on my memories," Pierce said. "When I got here (at 3 p.m., Friday) I walked the campus, saw some of my old classes and where I stayed, saw some of the new things they've added on. It brought back a lot of memories. I was glad I was able to come back."
He said he felt honored Self — who hosted a party for the former players Friday night — invited him back for the weekend.
"I didn't hesitate to tell him, 'Yes,''' Pierce said. "It was a no-brainer. I've been wanting to come back. I wanted to get back this year for basketball camp. It didn't work out with my schedule.
"I mentioned to coach I think we should have something like this again to where we get together. This is a family type program. The guys that come back ... they stay in touch. I still stay in touch with Ryan Robertson. I talk to Mario (Chalmers, in NBA). We have that relationship because we are Jayhawks. It's beautiful. Other schools don't do this around the country to where guys come back. This is a special place. Coach said any time we can, come back. I plan on coming back a lot more than I have in the past. You don't truly realize how special this place is until you step back away from it and you see it again. It's unbelievable."
Self said he noticed Pierce wipe away a tear during the pre-game video introductions of all the players.
Pierce seemed to really enjoy a 'Pop-up' video played during the second half, which delighted the sellout crowd of 16,300. The video showed Pierce hoisting the 2008 NBA championship trophy after he was named MVP against the Lakers.
"It's the same, it's just a lot louder," Pierce said of the fieldhouse today compared to his playing days (1996-98). I was on the bench and could barely hear coach Brown in the timeouts. It was that loud. "I told coach Self I'd have stayed four or five years in school if it was like this in '95," Pierce added with a laugh, referring to the fieldhouse improvements that came after the title victory in '08. "They have all the amenities I'm sure the players all enjoy, thanks to Mario."
More like this story on KUsports.com