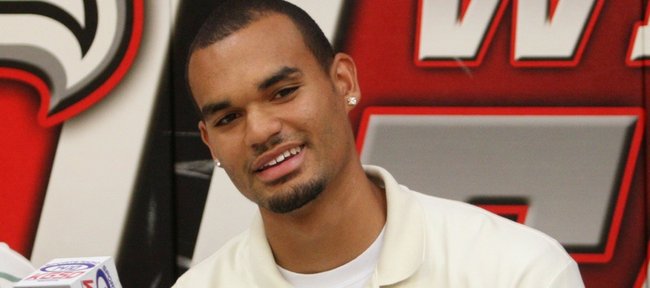 Wichita — Soft-spoken Wichita Heights senior basketball sensation/4.0 student Perry Ellis sat at a table in the Falcons' gymnasium Wednesday afternoon, his mother, Fonda, positioned to his left, and dad, Will, to his right.
The classy 6-foot-8, 220-pound forward, who serves his community as a volunteer youth basketball instructor and gives time to the Wichita Children's Home, needed no props — such as hats of finalists Kansas, Kansas State, Wichita State and Kentucky — to help him announce his college choice.
Ellis, at 2:45 p.m. sharp, simply acknowledged some important individuals in his life, then told about 30 media members in a voice barely above a whisper he'd orally committed to play hoops at Kansas University.
"I'd like to thank all the schools that recruited me over the past years, especially the last four schools. I really appreciate them," Ellis said in an opening statement. "At this time I'd like to decide what school I will go to. It's the University of Kansas. I knew for so long.
"I've been there so many times. I felt so comfortable there," added Rivals.com's No. 24-rated player, who phoned coaches of his four finalists just before he met the press.
"It (comfort level) made me realize that was the school. This has been in my mind awhile now. It wasn't just a pop-up type thing. I wanted to do it today because I was ready."
Ellis said KU coach Bill Self "was real excited for me and happy," upon receiving the oral commitment. Equally happy was KU big-man coach Danny Manning.
"We're real close. We talk not just about basketball but everything," Ellis said of the former KU All-American. "You see what he does with his players. For example, the (Morris) twins, how they came in and how they improved. It's going to be great. He's only going to make me better."
The three-time Kansas Gatorade Player of the Year likes other things about KU, including ...
• The tradition: "Before the games, they play the little video how the game was created there, by James Naismith," said Ellis, who will attend Saturday's Legend of the Phog KU alumni game in KU's tradition-rich Allen Fieldhouse. "I look at all that stuff. It's one of the top programs. I'm going to try to be a part of it."
• The proximity to home: "I mean, it's far enough to feel away. It's close enough I can come back anytime," said Ellis, whose younger brothers, Brae and Cameron, attended the news conference. Ellis also made a point to thank his sister, Savannah, who played basketball at Memphis, graduating last May.
"I could have stayed here (to play at WSU). I love being around my family. I just felt comfortable at KU. It was the right location and right fit for me."
• The attention: "He (Self) was the first to come to my games my freshman year. That really impressed me and humbled me," Ellis said. "He's a real good person and I'm excited to play for him."
In Ellis, KU lands Heights' leading rebounder of all-time and No. 2 scorer. He's coming off a season in which he averaged 22.1 points and 7.9 rebounds a game for the undefeated state champs.
"What we've heard from the coaches that recruited him is he is a match-up nightmare," said Wichita Heights coach Joe Auer. "He can guard the perimeter. He can go both inside and out. Coaches didn't really talk a lot about what position he'd play, that'd it be a combination."
Ellis' AAU coach, Steve Young of Wichita Pray and Play Players, cited Ellis' strong shooting ability as a strength. He hit 74.9 percent from the field last year, 33.3 percent from three.
"He strives for perfection in everything, schoolwork and basketball," Young said. "I think you see that in the high percentage he shoots, his desire for perfection."
He's been called perhaps the best player in Wichita high school history. The city has produced others, including Darnell Valentine, Antoine Carr and Greg Dreiling.
"To win three straight state championships and add to the fact he's continually getting stronger and better, you could make a case for that. He's definitely one of the best to come through," Young said.
Ellis said he's looking forward to going for state title No. 4 this season.
"I don't have to worry about it," he said of recruiting. "I get to play and have fun my senior year. I'm happy to have it over with. I'm excited about my choice, but I'll miss it. It only happens one time."
Fonda Ellis said she was thrilled for her son.
"I was nervous about today. I was excited, anxious and relieved," she said. "I support Perry and want Perry to be happy. We tried our best to shield and protect him from too much media, so I dealt with a lot of media. Coach Auer did too and coach Steve Young helped a lot in the process. If he is happy," she added of Perry, "I'm happy."
She's a big fan of KU's coaches.
"They have been great. We mainly were in contact with coach Self and Manning, but I guess this summer, coach (Joe) Dooley and coach (Kurtis) Townsend all followed Perry around. We've known them three or four years and built a great relationship with them," Fonda said.
KU, which has received commitments from Ellis and Plano, Texas, power forward Zach Peters, has two scholarships left to give in the Class of 2012, three if Thomas Robinson elects to turn pro after his junior season.
Cool, calm, collected: Heights coach Auer, who repeated Ellis' choice of KU to the folks in the audience in case they didn't hear the soft-spoken player, said he's been amazed at the way Perry has handled attention the past several years.
"His first game ... he could hardly breathe he was so nervous," Auer said of a game played in front of 8,000 fans at Koch Arena in Wichita. "I said, 'Just go out and try to get 10 rebounds and don't worry about anything else.' I think he went out and got 11."
More recruiting: Self held an in-home recruiting visit Wednesday with the country's No. 1 prospect — 6-6 Shabazz Muhammad of Bishop Gorman High in Las Vegas. Muhammad has not yet set up his official visit to KU.
More like this story on KUsports.com