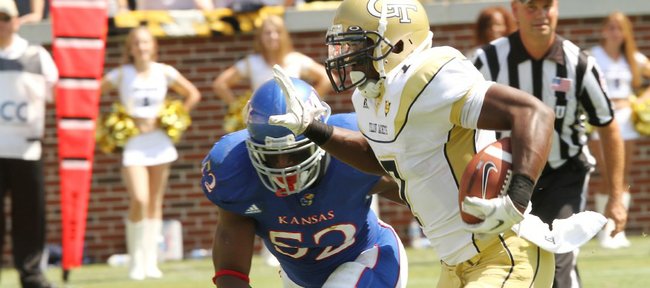 They might not have done much Saturday to back it up, but Kansas University's football players want people to know this year's team is different than the one that finished 3-9 and rarely competed during 2010.
"Guys are making progress, slowly but surely," junior safety Bradley McDougald said after KU's 66-24 loss to Georgia Tech in Atlanta. "Fans may not see it, but guys are definitely getting better."
A year ago, after a similar embarrassment at Baylor, the Jayhawks were unable to contain their emotions and left Waco, Texas, in a rage, searching for answers and unsure of why things had reached such disturbing levels. Linebacker Steven Johnson marveled at how much bigger and faster the Bears were that day.
That wasn't the case in Atlanta. Sure, the anger was there. But this year's team left with its collective heads held high and its eyes fixed on improving. In the world of college football, where entire seasons can turn in a week's time, such a mind-set is crucial, especially for a team such as Kansas, which now heads into its bye week and has two weeks to prepare for its Big 12 opener Oct. 1 against Texas Tech at Memorial Stadium.
"We're 2-1," KU coach Turner Gill said repeatedly during Saturday's postgame meeting with reporters. "I still want to look at that. It's one football game. We still have a lot of season left, and I feel good about where we're headed. We have improved."
To say that is one thing. To leave it at that is another. And KU's players aren't willing to do that, especially those who play for a defense which has allowed 132 points and 1,650 yards in three games. To put that number in perspective, during KU's worst three-game stretch a season ago, the defense gave up 159 points in blowout losses to Baylor, Kansas State and Texas A&M.;
"The defense definitely wants to show up for the offense," said McDougald, noting that KU's offense has done enough to keep the team competitive. "We want to get them turnovers, get stops for them and set them up with good field position. We're gonna scratch and claw and do whatever we have to do to get it."
Simply having the desire to improve does not make it a given the Jayhawks will deliver. Despite winning two of its first three games, the KU defense consistently has struggled to pressure opposing quarterbacks, prevent big plays and force turnovers. Despite the coaching staff emphasizing the importance of takeaways during the past two weeks, the Jayhawks have forced just one turnover this season, and that was a fumble on a failed fourth-down attempt by McNeese State in the season opener.
"I know as a defense we're way better than this," Johnson said. "The stats might not show it, but I just know it. I feel it in my heart that we're better than this."
How can Johnson, a co-captain and two-year starter, be so sure?
"I have a lot of faith in this team," he said. "This is a different team, and it's not like last year. What I can take away from this is we fought. When it was looking really bleak, we fought. Nobody hung their heads. We know we're better than this."
Added quarterback Jordan Webb, KU's poster boy for improvement: "We're so much better this year. If people can't see that, I guess they don't know too much about football. We know the nay-sayers are out there, but we're not gonna listen to them. People can jump off the bandwagon now if they want, but we're gonna work our tails off to get better."