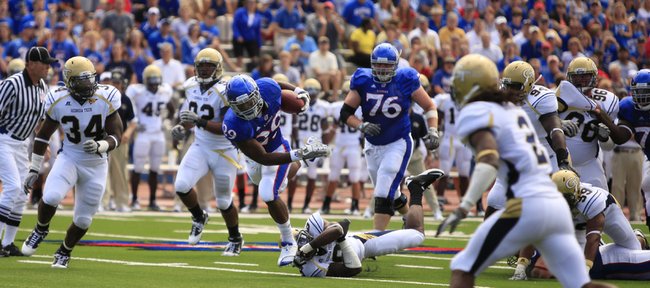 If Georgia Tech is still seething over last year's unexpected loss to Kansas University in Lawrence during the second week of the season, the Yellow Jackets are not making it obvious.
Throughout the week, the Yellow Jackets have talked more about what they need to do to improve this week and less about being upset that they were stunned by the Jayhawks, 28-25, last September.
There are a couple of reasons. First, although the loss put GT in a momentary funk, it rebounded nicely and finished the season by playing in a bowl game. Second, when looking back at last year's meeting, the Yellow Jackets see the outcome as a product of their mistakes, not KU's triumphs.
"I think for us it was more just the fact that we didn't execute like we were supposed to," senior defensive end Jason Peters said.
Peters, 6-foot-4, 270, doesn't expect that to be a problem today. The reason? The Tech defense is built around one thing, and it changes each week.
"Our goal is to try to take away what they do best," he said.
Just because the Georgia Tech coaches and players aren't making a big deal of the revenge factor doesn't mean others aren't trying to turn it up a notch. Earlier this week, GT coach Paul Johnson was asked what he thought about KU linebacker Steven Johnson's comments that Tech's offense was similar to one Johnson's high school team ran. Johnson didn't take the bait and said he wasn't going to spin quotations into bulletin-board material.
"Whatever floats your boat," he said. "If you can't be motivated to play them after last year, you weren't gonna be motivated anyway."
That's the way Peters sees it, too. And he says his squad will be ready for Kansas because the Jayhawks play in the Big 12 and are a more well known foe than the teams GT has played the past two weeks.
"We're looking forward to getting the next big opponent," Peters said. "They're experienced with us and what we want to do. We know they're a good team. They're much improved from last year, and we have to bring the best game we can possibly bring if we want to have a chance to win the game."
Knockdowns noticed
One of the areas of emphasis for the Jayhawks heading into this season was to increase their physical play. So far so good. Through two games, KU has been more physical all over the field, especially on offense.
"We've really talked about being physical because when you're knocking people down, big plays are gonna occur," KU coach Turner Gill said on his weekly radio show. "We're not just talking about the offensive line. We're talking about every player on this football team being able to stick their nose in there and be physical. Our wide receivers, our running backs, our tight ends … all those guys love the game of football and they show it."
Gill said the team goal was to get at least one knockdown per play. They've adopted the slogan of "80-for-80" as one of their catch phrases as they expect their offense to get around that many plays.
But Gill made sure to point out that knockdowns weren't going to be handed out easily.
"Completely off their feet," he said of the desired outcome. "Knees and hands have to hit the ground for us to call it a knockdown."
More like this story on KUsports.com