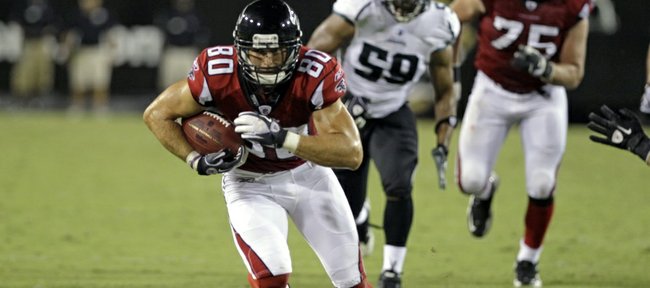 When the Kansas University football team invades Atlanta this weekend for its highly anticipated rematch against Georgia Tech, the Jayhawks are expected to get a boost from an old friend.
Kerry Meier, a former KU captain and the school's all-time leader in receptions in a career (226), season (102 in 2009) and game (16 vs. Iowa State in '09), is expected to be on the KU sideline pulling for his alma mater.
Meier, now in his second year with the NFL's Atlanta Falcons, told KU receivers coach David Beaty via text message the other day that he planned to attend the game. That was not the only time that Meier and Beaty exchanged texts in the past couple of years.
"He texts me pretty much before every game," said Beaty, the only member of the KU staff to coach Meier. "He always just says, 'Don't let those boys be complacent, you better be workin' 'em, coach. You get after 'em.'" You know how Kerry is."
We all do. During his four seasons at KU, Meier transformed himself from the team's clear-cut quarterback-of-the-future into one of best wide receivers the Jayhawks have ever seen. After starting his freshman season at QB, Meier lost the job to Todd Reesing prior to the 2007 season. Rather than sulk, Meier found a way to become a factor and caught 26 passes for 274 yards and two TDs while splitting time between QB and wide receiver. He also helped lead the Jayhawks to one of the best seasons in school history as they finished 12-1 and topped Virginia Tech in the Orange Bowl. During the next two seasons, Meier worked and willed himself into becoming one of the top receiving targets in the nation. It's that kind of work ethic that led to him being drafted in the fifth round by the Falcons in the 2010 NFL Draft, and it's one element of the game that remains a priority for Meier.
"He's always asking, 'Who's staying after practice, who's getting extra throws,'" Beaty said. "He still wants to know because that's how he built himself. We used to have to run him off the field after practice."
Although his NFL career got off to a slow start because of a knee injury that cost him his entire rookie season, Meier's back on the field and working to become an important part of an explosive Falcons' offense. Meier played in last week's season-opening loss to Chicago but did not record a reception. During the preseason, the Pittsburg native caught four balls for 48 yards and was targeted nine times.
While his numbers have yet to make him the rock-star fan favorite in Atlanta that he was at KU, Meier already has earned respect from coachess.
"You need a guy who can go out there and do what Kerry can do, because he catches the football really well," Atlanta coach Mike Smith told The Associated Press last month. "He's a tough cover. He's a big, strong kid and he can run and do a lot of good things. I'm just happy he's getting his chance to show what he can do. I hope he has a lot of success this year."
Smith's not the only one pulling for such an outcome. Toss Beaty into that category, as well. Big catches or not, Meier remains that standard for Beaty two years after they last worked together.
"He is my favorite," Beaty said. "Everybody will be compared forever to Kerry Meier."
More like this story on KUsports.com