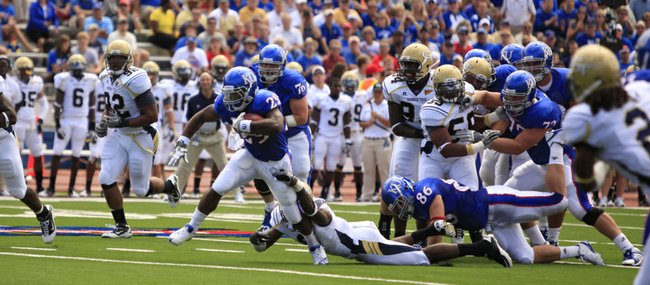 When James Sims leaves the locker room on game days, his body is consumed by nerves.
That's how it's always been for the Kansas University sophomore who leads the team in rushing with 214 yards and three TDs on 45 carries. And that's how he hopes it always will be.
That's certainly how it was last season on Sept. 11, when Sims and the Jayhawks hit the field to take on No. 15 Georgia Tech one week after losing the season opener to North Dakota State.
Sims didn't play in that first game, an embarrassing, 6-3 loss at home. But he found out quickly he would play in the next one. The nerves came roaring to the forefront.
"I'm always nervous before games," Sims said Tuesday. "When (Kansas coach Turner Gill) told me I was gonna get some playing time that game, it stuck with me throughout the whole week. It always sticks with me until I get the first contact. Then, after that, everything goes away."
He didn't look nervous. In his first game as a Jayhawk, Sims rushed for 101 yards and a touchdown on 17 carries and helped lead the Jayhawks to an improbable 28-25 victory over the Yellow Jackets.
That game has been on his mind a lot this week as the Jayhawks (2-0) prepare to head to Atlanta on Saturday for the rematch.
"I'm gonna always remember it," Sims said. "My first college game. Fun experience. Fun win. I won't ever forget it."
Asked if he shocked even himself that day, Sims was honest.
"I was kind of surprised, but then again I wasn't because I practiced hard throughout the week and even before the first game of the season," he said. "Coach told me it was gonna pay off, and it did against Georgia Tech."
In recalling Sims' debut, Gill said it was up near the top of any he had ever seen during his time as a coach.
"I think the magnitude of the situation probably makes it a little more special," Gill said. "Unfortunately, we lost the first ballgame, and we had a top-rated team coming into our home stadium. We made a statement early to him that he was going to be the starter that next week, so he kind of had time to prepare himself and make sure he was ready to go."
Sims prides himself on preparation and makes sure to stay level-headed no matter what the situation. Traits such as those, along with his ability to adjust to college football faster than most, made Gill decide to give him the ball so early in his career.
"He understood our offense," Gill said of Sims. "He understood what to do mentally. That's the first thing you gotta have."
Since his coming-out party, Sims has continued to use his intelligence to gain yards. At times, his patience with the football is so obvious that even the most casual fans in the stands marvel at how calm he seems while seeking out a running lane. At other times, those same people are blown away by Sims' ability to gain tough yards and the way he always seems to fall forward.
Sims wasn't the only young Jayhawk making his first start against GT last year. KU quarterback Jordan Webb, then just a red-shirt freshman, also was taking his first college snap as a starter. While Webb had plenty of other things on his mind that day, he said he remembered being impressed by Sims, a player who, just four months earlier, was still in high school.
"I think he kind of surprised everyone," Webb said. "We knew he had it in him, but to come out there and do it against a Top-25 team in the first game you ever played in in your college career is pretty impressive. He definitely handled it well. I didn't notice any nerves out of him or anything like that, which is pretty surprising with a true freshman."
Like Sims said, once the contact came, the nerves were gone. That wasn't the case in Sims' Irving, Texas, living room that day, though, as his mom watched her son on TV because she was unable to make the trip to Lawrence.
"She saw it," Sims said. "And she called me and left me a voicemail and just went crazy."
Sims' mom won't be able to make the game in Atlanta this week, either. But, with this whole running-back thing figured out, the tailback who has delivered five 100-yard games in his first 13 tries has that covered, too.
"I talk to my mom and make sure she has it on the channel an hour or two before the game even starts," Sims said.
Preparation, it would seem, runs in the Sims family.
More like this story on KUsports.com