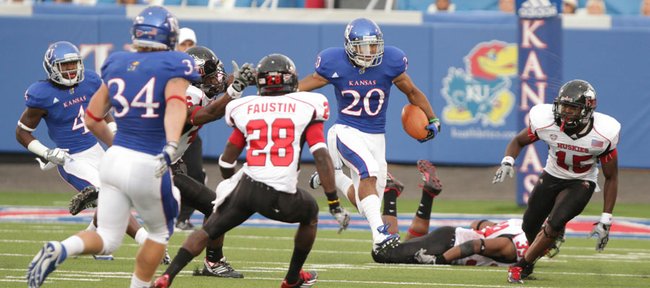 Feature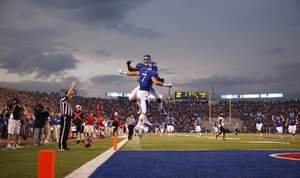 Download this great celebration photo taken by KUSports.com staff photographer Nick Krug.
Kansas University junior D.J. Beshears left Memorial Stadium last Saturday night as one of the heroes in KU's 45-42, come-from-behind victory against Northern Illinois after hauling in what proved to be the game-winning touchdown catch with nine seconds remaining.
The Big 12 Conference seemed to be more impressed with Beshears' performance in the return game.
Monday, Beshears was named the conference's special teams player of the week for the second time in his career after recording career-highs in both yards (197) and attempts (seven) in the victory, including a 51-yard return that set up KU's winning score.
"He was great in terms of everything," KU coach Turner Gill said after the game.
Beshears' seven return attempts tied a school record, and the 197 yards put Beshears six yards shy of tying Marcus Herford's record of 203 kickoff return yards in a single game, set in 2007.
Last season, the Denton, Texas, native set school records in kickoff returns (36) and yards (922) while earning Big 12 special-teams player-of-the-week honors for his showing against New Mexico State in which he had 117 yards on two returns, including a 96-yard touchdown.
In addition to picking up the conference honor Monday, KU announced that Beshears was one of six national honorees on the Paul Hornung Award's Weekly Honor Roll.
Beshears heads into KU's Week 3 match-up at Georgia Tech as the Big 12's leader with 382 all-purpose yards. That total includes a conference-best 283 yards in kickoff returns.
Mentality remains the same
One of KU's biggest advantages this season might be its consistent role as an underdog.
After using last year's loss to North Dakota State to fuel its fire for a season-opening victory against McNeese State, the Jayhawks followed that up with a dark-horse mentality in Week 2 after being labeled a five-point underdog to a MAC team at home.
"That was definitely a factor coming into this game," junior wide receiver Kale Pick said following Saturday's victory against Northern Illinois.
So now it's on to the next game and the next chance to prove the doubters wrong. According to Las Vegas, the Jayhawks are projected to lose by two touchdowns when they travel to Atlanta this weekend to take on Georgia Tech. The line opened with the Yellow Jackets favored by 14 and has climbed to as high as 15.5 in the past couple of days.
Despite the snub, Gill said his team was all business when it hit the practice field earlier this week.
"They have that chip on their shoulder, or whatever you want to call it," Gill said. "But I think they still are productive and making plays. Whatever it takes to motivate you, that's all good, but I liked their mentality of coming in ready to go to work, putting everything behind. That's what you have to do week after week. You can't take it all in when you win, you gotta move on to the next game, and that's what our players have done."
History repeating?
Although personnel for both teams is different, don't think for a second that KU won't look back at its shocking, 28-25 victory over the 16th-ranked Yellow Jackets in the second game of the 2010 season.
"We're gonna look at that and learn from it," Gill said. "But we're also gonna do what we do. They're a different team, we're a different team, too, and we're both going to make some adjustments. When you played somebody in the past, (you) always look at what you did, what they did and then try to see what adjustments (you) need to make."
Although the Jayhawks won last year's match-up with GT in Lawrence, they surrendered 407 yards of total offense, 291 of which came on the ground. So far this season, the Jayhawks' defense has been hit for an average of 441 yards of total offense. Georgia Tech enters this week averaging 629 yards of total offense in victories over Western Carolina (63-21) and Middle Tennessee State (49-21).
Depth chart maneuvering
In the wake of Sunday's announcement that defensive tackle John Williams will miss the rest of the season because of a torn ACL, KU updated its depth chart on Monday.
Sliding into Williams' starting spot is Richard Johnson Jr., a 6-foot-3, 283-pound senior from Jefferson City, Mo. Johnson has played in both of KU's games thus far but has not been credited with a tackle.
In other depth chart movement, sophomore Tyler Patmon slides into the starting role at field corner, with senior Isiah Barfield taking his reserve spot, and junior wide receiver Kale Pick also is listed as a starter, ahead of sophomore Chris Omigie.