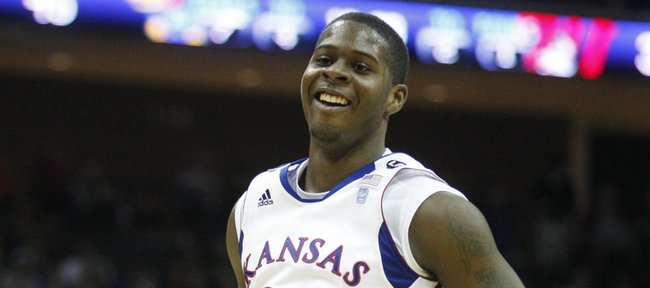 Feature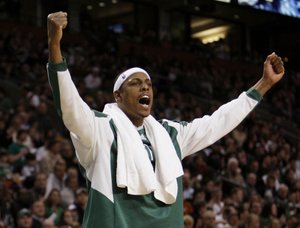 These former KU players have all confirmed their attendance at the Legends of the Phog game.
Former Kansas University basketball guard Josh Selby has confirmed he will be playing in the Legends of the Phog alumni exhibition game at 4 p.m., Sept. 24, in Allen Fieldhouse.
Selby, who played one season at KU, then was selected by Memphis in the second round of the 2011 NBA Draft, currently is competing in Impact Basketball's Competitive Training Series, which began Monday and will run through Sept. 23 at Joe Abunassar's Impact Basketball in Las Vegas.
Selby is on a team with Tony Allen, Derrick Caracter, Coby Karl, Jeremy Evans, Derek Fisher, Gary Forbes, Al Harrington, Stephen Jackson, Armon Johnson and Xavier Silas.
In all, more than 60 NBA players will attend to train and play camp games.
Other NBA players confirmed to play in KU's Legends game: Cole Aldrich (Oklahoma City), Darrell Arthur (Memphis), Mario Chalmers (Miami), Nick Collison (OKC), Xavier Henry (Memphis), Darnell Jackson (Sacramento), Marcus Morris (Houston), Markieff Morris (Phoenix), Paul Pierce (Boston), Brandon Rush (Indiana) and Julian Wright (Toronto).
Former KU players who have said they will attend the game: Nick Bradford, Eric Chenowith, Jeff Graves, Jeff Hawkins, Ron Kellogg, Greg Ostertag, Scot Pollard, Ryan Robertson, Wayne Simien, Billy Thomas and Darnell Valentine. There's a chance some of those individuals could play in the game. Former KU coaches Larry Brown and Ted Owens will serve as the coaches of the two teams.
White to visit
Andrew White, a 6-6, 210-pound senior forward from Miller School in Chester, Va., will attend the Legends of the Phog game as part of an official campus visit to KU.
White, who is Rivals.com's No. 56-rated prospect in the Class of 2012, will visit Texas on Sept. 30 and Louisville Oct. 14. He is also considering Maryland, Memphis, West Virginia, Tennessee and others.
"Being able to visit a school with such history and tradition will be an awesome experience for me," White told Rivals.com. "During my visit, I'll find out if Kansas is the right fit. What I do know right now is that Kansas is a school that I really like."
KU's coaches will conduct an in-home visit with White on Wednesday.
More like this story on KUsports.com