Feature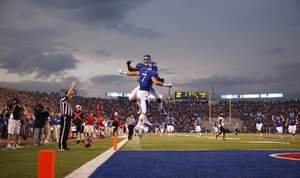 Download this great celebration photo taken by KUSports.com staff photographer Nick Krug.
After seeing how easily Northern Illinois senior quarterback Chandler Harnish exploited the soft spots in Kansas University's pass defense, it's natural to consider the run-oriented option spread offense favored by Georgia Tech a welcome change of pace.
Not so fast.
When the Yellow Jackets do pass, they rely on as difficult a receiver to defend as any on KU's schedule, and don't forget, Oklahoma State preseason All-American Justin Blackmon is on the schedule.
If Georgia Tech wideout Stephen Hill decides to make himself eligible for the NFL draft after this, his junior season, he could become the third Tech receiver chosen in the first round in a seven-year span, following Calvin Johnson (2007) and Demaryius Thomas (2010).
In victories against Western Carolina, 63-21, and Middle Tennessee State, 49-21, the long-striding, 6-foot-5, 206-pound Hill amassed 307 receiving yards on just seven catches. That's an average of 43.9 yards per catch. He has touchdown catches covering 82, 77 and 71 yards. Hill, from Lithonia, Ga., won the state long jump as a senior in high school with a leap of 25 feet, 83⁄4 inches. KU's Jareb Stallbaumer took 13th at last spring's Big 12 championship with a jump of 23 feet, 11⁄4 inches.
Junior quarterback Tevin Washington's off to a strong start, but Hill's the loudest talent on an offense that so far ranks near the top in the nation in several categories. Tech is tied for second with 56 points per game, third with 629 total yards a game, sixth with 339.5 rushing yards per game, first in passing efficiency (no interceptions, 22.3 yards per pass attempt), No. 3 in third-down conversion percentage (70.8) and tied for first in red-zone offense (10 for 10, 10 rushing touchdowns).
In last season's 28-25 KU upset of Georgia Tech at Memorial Stadium, Hill caught a 40-yard TD pass and a two-point conversion for the game's final eight points. Defenses must pay so much attention to the run against Tech that Hill is left to abuse single-coverage.
It will take another tidy, monster day from the Kansas offense Saturday in Atlanta to compete. As is the case with Georgia Tech, the Jayhawks run the ball to open up the pass and have a member of the passing game who ranks high in a national statistical category. That would be quarterback Jordan Webb, who is fourth in the nation in passing efficiency, three spots behind Baylor's Robert Griffin III.
Webb, who showed the ability to scramble in Saturday's come-from-behind, 45-42 upset victory against Northern Illinois, has completed 70 percent of his passes, averages 10.7 yards per attempt and has thrown six touchdown passes without getting intercepted.
Bigger and faster than NIU, Georgia Tech figures to put more pressure on Webb.
"His scramble throws were impressive," said KU offensive coordinator and chief Webb tutor Chuck Long. "He was not a great technician at throwing on the run (last year). He really worked hard on that in the offseason."
The emotional edge swings from a KU team driven to show it should not have been the underdog against NIU, to Georgia Tech, a team seeking to avenge last season's loss. Tough, tough game for KU.
More like this story on KUsports.com