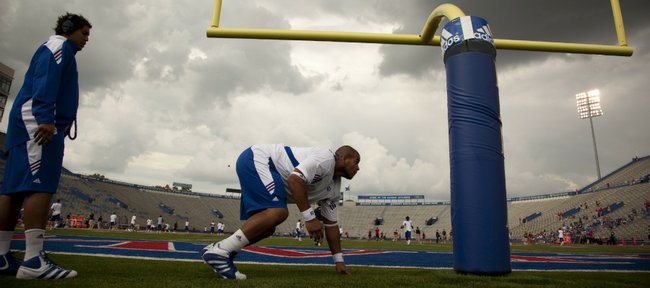 Reader poll
D.J. Beshears: 7 receptions, 70 yds, 2 TDs; 197 kick-return yards

35%

663 votes

Jordan Webb: 21/30, 281 yds, 3 TDs

50%

953 votes

James Sims: 26 runs for 110 yds, 2 TDs

10%

191 votes

Darrian Miller: 10 runs for 57 yds, TD

0%

9 votes

Kale Pick: 3 receptions, 55 yds, TD

1%

34 votes

Other

1%

35 votes
1885 total votes.
Kansas University football coach Turner Gill announced Sunday night that defensive tackle John Williams would miss the remainder of the season because of a torn ACL.
Williams, a 6-foot-3, 305-pound junior from Tulsa, Okla., injured his knee during Saturday's 45-42 victory against Northern Illinois.
The loss deals a serious blow to an already-thin defensive line, which will be without senior and projected starter Pat Dorsey for at least two more weeks.
"That's not what you want to hear," Gill said. "He was playing well. But we'll just have to get the next guy (ready). He's got an opportunity to come in and make plays for us."
Who that might be remains to be seen, but one possibility is red-shirt freshman Pat Lewandowski, a defensive end who played D-tackle all spring.
"We'll consider (what to do) today and tomorrow and probably, by Tuesday, we'll know what we're gonna do," Gill said.
In other injury news, Gill said wide receivers JaCorey Shepherd and Daymond Patterson, as well as linebacker Tunde Bakare, all were questionable for Saturday's game at Georgia Tech.
Blocking spectacular
It was just a one-yard touchdown run in a game full of fireworks, but it demonstrated everything you needed to know about the KU offense. These guys like to block. Scratch that: They love to block.
Late in the third quarter Saturday night, KU sophomore James Sims scored from a yard out to give the Jayhawks their first lead — 35-28 — since the 7-0 mark. And it never would've been possible without a monster effort from red-shirt freshman Trent Smiley, a reserve tight end who absolutely dominated his man while paving way for Sims to walk in untouched.
Not only did Smiley seal the edge and knock his man backward, he didn't stop until both players were three yards into the end zone and the NIU defender was on his back.
"I saw him push the dude, and he just annihilated him," Sims said with a smile. "My job was to stretch it to the pylon, and that's what I did. He sealed the edge."
While the KU offensive line dominated the line of scrimmage for the second straight week — through two games, the Jayhawks are averaging 277 yards rushing — guys like Smiley down the field turned KU's rushing attack from solid to spectacular.
"I think everyone did a great job," said freshman tailback Darrian Miller, who finished with 57 yards and a TD on 10 carries. "Chris Omigie is a great downfield blocker. D.J. (Beshears) is one of the better guys, Kale (Pick) has really good technique down the field, Tim Biere is great down the field. Whenever we get through the line, they're helping us get to the second level, and we really need that."
Sims, who topped the 100-yard mark (110 yards on 26 carries) for the fifth time in 13 career games, said the O-line set the tone early Saturday.
"The offensive line told me at the beginning of the game that they were gonna get the knockdowns and just to follow them," he said. "That's what I did."
Of course, KU's super sophomore made sure to point out that the real tone was set in training camp.
"We started this at the beginning of the week," Sims said of the emphasis on physical blocking. "We try to go 80-for-80 on knockdowns, and we were over that tonight."
Points, points and more points
KU has racked up 87 points during its first two games of the 2011 season. Last year, the Jayhawks did not reach that point total until the fourth game of the season. In fact, through the first six games last season, KU had scored just 103 points.