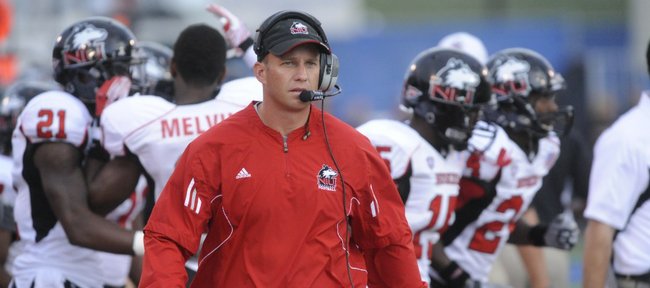 Podcast episode
Kansas coach Turner Gill talks to reporters following the Jayhawks' 45-42 victory over Northern Illinois on Sept. 10, 2011.
Reader poll
D.J. Beshears: 7 receptions, 70 yds, 2 TDs; 197 kick-return yards

35%

663 votes

Jordan Webb: 21/30, 281 yds, 3 TDs

50%

953 votes

James Sims: 26 runs for 110 yds, 2 TDs

10%

191 votes

Darrian Miller: 10 runs for 57 yds, TD

0%

9 votes

Kale Pick: 3 receptions, 55 yds, TD

1%

34 votes

Other

1%

35 votes
1885 total votes.
KU vs. Northern Illinois
The last thing Northern Illinois wanted to do was give red-hot Kansas University quarterback Jordan Webb time to throw the football.
Not on a fourth-and-goal call from the six-yard line with 14 seconds to play and the Huskies leading, 42-38, Saturday night at KU's Memorial Stadium.
"We had a blitz called," Huskies coach Dave Doeren said of all-out pursuit of Webb, who calmly fired a bullet pass to D.J. Beshears for a game-winning touchdown strike with :09 remaining in KU's 45-42 victory.
"I knew it was a make-or-break play. We just didn't want the guy to stand back there and have time to run around, which he'd been doing on some downs. The kid did a great job of staying alive. We tried to bring some pressure right up the middle. They picked it up. When the ball was thrown, we had tight coverage. The guy made a good catch."
Doeren, a former KU assistant coach, was peppered with questions about Webb's last completion on a night the KU sophomore hit 21 of 30 passes for 281 yards and three touchdowns.
"We tried to be aggressive with the last call to get a pass rush," Doeren said. "They did a better job of picking it up than we did rushing. I thought we had a chance of sacking him with it. Obviously, coach Niemann (Jay, defensive coordinator) did, or we wouldn't have called it. Obviously, you don't call a play for it not to work. Obviously those guys did a nice job of protecting him."
NIU after the ensuing kickoff was left with just one play to answer KU's late TD strike up the middle. Senior Chandler Harnish's deep bomb fell incomplete on a first-and-10 call from the NIU 31.
"It kills you," Harnish said of not having time to work with, "because you know the way we were playing all night we were going to go right down the field, and we were going to get a chance to kick a field goal or score a touchdown for the win.
We were very confident. It hurts to not have that opportunity," added Harnish, who hit 27 of 33 passes for 315 yards and two TDs and rushed for 89 yards off 11 carries and scored three TDs.
"The way our offense was rolling, I had all the confidence in the world we'd put up points. You never expect your defense to give up 45 points in a game. It was a shoot-out kind of game. The defense was playing their butts off. They (Jayhawks) had the ball 36 minutes (to NIU's 23). It's hard for them (NIU defenders) to stay fresh."
Harnish credited Webb.
"It was great offensive execution by Kansas. Their quarterback made third down after third down after third down," Harnish said. "It was a well played game by their offense."
NIU players and coaches were told after the game about former Northern Illinois head coach Jerry Kill, who suffered a violent seizure at the end of Minnesota's 28-21 home loss to New Mexico State. Kill, who was head coach at Northern Illinois last year and is in his first coach at Minnesota, was listed in stable condition at a hospital after being transported there by ambulance. He was to undergo further tests Saturday night as a precaution.
"I just found out in the locker room. We just wish him and his family the very best," Doeren said. "He's very near and dear to this program. We'll be praying for him."
"I heard after the game. It's good to hear he's OK from the situation he just went through," said defensive back Demetrius Stone. "It's always scary to hear about something like that. It's a blessing for him to be OK."
Northern Illinois (1-1) will meet Wisconsin at 2:30 p.m. Saturday at Soldier Field in Chicago.
More like this story on KUsports.com