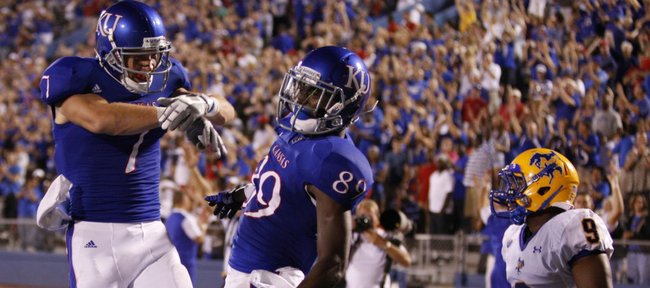 With senior Daymond Patterson listed as doubtful because of a groin injury and sophomores Erick McGriff and Christian Matthews sitting in street clothes due to suspensions, Kansas University quarterback Jordan Webb will be missing a few of his top targets when the Jayhawks play host to Northern Illinois at 6 tonight.
Not to worry.
Thanks to the emergence of true freshman JaCorey Shepherd — 107 yards and two TDs vs. McNeese State — as well as the presence and versatility of juniors Kale Pick and D.J. Beshears, Webb should still have plenty of options in the passing game this week.
That's if the Jayhawks elect throw it. Last week, in a 42-24 victory against McNeese State, Webb was limited to just 10 passes. He completed seven of them and finished with 146 yards and three TDs in what KU coach Turner Gill and offensive coordinator Chuck Long called an efficient game for their sophomore QB.
It's no secret that the Jayhawks like to run the football. With four tailbacks capable of carrying the load and a big and experienced offensive line in front of them, KU will look to establish the run in every game it plays this season. But, in the event that Webb is asked to throw more, he's ready.
"If we have to, yeah," Webb said of opening up the offense. "But if we can win by running the ball 55 times, I'm gonna be fine with it. I'm just gonna do whatever the coaches put on my plate and stick to my abilities."
Sticking with what he did last week would be a good place to start. In their first game together, Webb and Shepherd wowed the home crowd on scoring plays of 48 and 56 yards. Webb said he had a lot of confidence in Shepherd because of the work the newcomer put in this summer. With three receivers out this week, Long said having Shepherd ready and willing was a blessing for the team.
"It is," Long said. "As camp went along, we, as coaches, kind of looked at each other and said, 'This guy can play. Let's give him some snaps.' Our quarterbacks are confident in him, he runs nice routes, and can catch the ball, and it's really nice to have him ready to play, especially this week."
Webb said KU's emphasis on running the ball last week really helped in the passing game. He said it got to the point where he could anticipate when a receiver was going to be open just based on the rhythm of the game.
"You can feel it," he said. "The play-action was there all night. Whenever you have that kind of running game, you expect that stuff to be open."
While last week's run-pass split was the kind the Jayhawks would love to see any week, Long said focusing so much on the ground game gave KU an advantage heading into today because he was able to keep the game-plan pretty plain.
"We did; oh yeah," Long said. "We saved quite a bit. Especially in the passing game."
Big plays key for KU
While he may be vague when discussing some aspects of his team, Gill is precise when talking about the keys to each game.
This week, against an explosive NIU offense, Gill identified keeping up as one of the keys.
"We have to be plus-two in our turnover margin," he said. "I think the other thing that's going to be important for us is making sure that we have a 2-to-1 ratio when it comes to big plays. I'm talking about 20 yards or more."
Last week, the KU offense delivered five plays of 25 yards or more, three of which turned into touchdowns.
Focus the focus
Last week, the Jayhawks simply wanted to get off to a fast start and kick off the 2011 season with a victory, something they weren't able to do after 2010's season-opening loss to North Dakota State.
With that goal accomplished, Gill asked his team to turn it up a notch for Week 2.
"We have to be a lot more focused and disciplined on a lot (of the) smaller details defensively, offensively and on special teams because (Northern Illinois) has an experienced football team and they play a lot of good football. We have to be a lot more disciplined. I'm not saying we were bad (in the first game) as far as good focus and good passion, but we have to be even more (focused)."
A fan of picking a "Word of the Week" for his team to hone in on, Gill selected the word "Focus" as his buzz word for the NIU game.
More like this story on KUsports.com