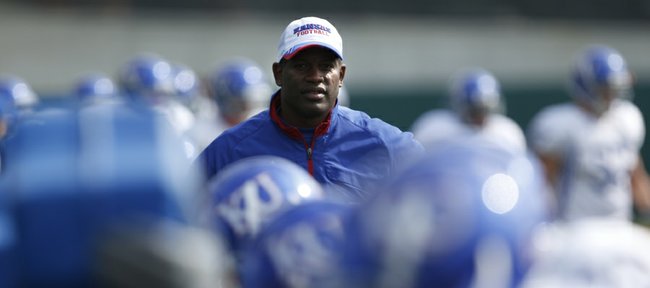 More times than not, when a Big 12 football school takes on a team from the MAC, the Big 12 team is favored, especially when that game takes place in Big 12 country.
That's not the case this week, though, as Kansas University (1-0) enters Saturday's game as a 51⁄2-point underdog to Northern Illinois (1-0) despite playing host to the Huskies at 6 p.m. at Memorial Stadium.
While the actual numbers make for an odd situation, the way the teams are reacting to it is even stranger. Is it possible to have two underdogs in the same game? It is if you ask players from KU and NIU.
"We don't pay attention to the point spreads and all that," NIU quarterback Chandler Harnish said. "Because, in our hearts, we're still the underdog going into that game. I'm pretty sure everyone in that stadium is going to expect Kansas to win. They can't lose to a MAC team. That's what they're thinking. So all the pressure's really on them."
Except that it isn't.
"This is a good football team," said KU offensive coordinator Chuck Long of NIU, which pounded Army, 49-26 during Week 1. "They've had winning handed down to them over a number of years now. That makes them a good football team. This is a big challenge for us."
Added KU linebacker Steven Johnson: "It's going to be a fight, because NIU is a really respected team. I'm pretty sure they could be a team that could play in the Big 12. Even though they're in a small conference, they pack a lot of power."
So there you have it. Both sides talking the other one-up. Hardly sounds like a nonconference game during the second week of the season. It sounds a little more like the postseason. Regardless of what they believe about the game — KU opened as a seven-point underdog — the Jayhawks admit that they use every slight as motivation.
"We take it in," junior linebacker Malcolm Walker said. "We know we're the last team that everybody picks to win, so it makes you work even harder. I think this will set the tempo for the season. After this game, this will really just show guys what Kansas is all about."
Daniel joins KU
Freshman Javonte Daniel, a defensive end from LaGrange, Ga., was on campus Thursday and had joined the Kansas University football team after waiting to be cleared academically from the NCAA Clearinghouse.
KU coach Turner Gill said Daniel, 6-foot-4, 215 pounds, would stay at defensive end but that he didn't expect him to hit the field anytime soon due to the delay.
"He's not gonna be able to do anything this year, as far as playing," Gill said. "He hasn't been here for a whole month and is trying to learn what we're trying to do. But we'll see what works out in the future."
Doeren returns
When Northern Illinois coach Dave Doeren walks into Memorial Stadium on Saturday afternoon, he expects a flood of memories to fill his mind. Doeren, who spent four years on Mark Mangino's staff at Kansas (2002-05) will be coaching his first game against KU since leaving for Wisconsin following the 2005 season.
"That was my first I-A job," Doeren said. "I came from Montana to Kansas and was on the staff for four years and part of the turnaround process that coach Mangino did there. We were 119th in the nation in defense when they hired us and I think we were fourth in the nation when I left."
It's not just what he accomplished here that has KU occupying a special place in his heart. Doeren, 39, grew up in Kansas City, graduated from Bishop Miege High in 1990 and spent a lot of time in Lawrence and around KU as a child.

"I went to their basketball camps as a little kid," Doeren said. "It's gonna be very special coming home. It was a place I was very proud to be a part of. One of my children was born there. One of them went to preschool right there on campus. So it's a place that I consider very special. I grew up 40 minutes away from there in Kansas City, and Lawrence is a home away from home for me. Growing up, I spent a lot of time up there."
Mays coming home
Saturday also will mark a homecoming for NIU freshman Boomer Mays, a former Eudora High standout who calls Lawrence home and is listed as a long snapper on the Huskies' roster.
Mays, 6-foot-1, 233 pounds, was a three-sport star at Eudora.
In addition to Mays and Doeren, Northern Illinois tight ends and fullbacks coach Kevin Kane also will be coming home.
Kane, a Kansas City, Mo., native, played linebacker at KU from 2002-05.
More like this story on KUsports.com