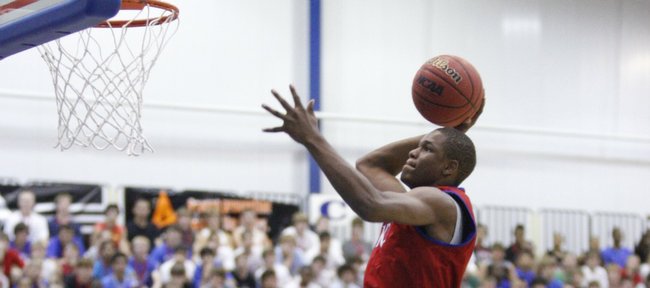 Kansas University freshmen basketball players Ben McLemore and Jamari Traylor attended classes Thursday morning for the first time this semester, but have not yet been fully cleared by the NCAA to participate during the 2011-12 basketball season, coach Bill Self said Thursday.
Self said he expects to hear today from the NCAA Clearinghouse regarding the status of freshman Braeden Anderson, who is not yet on campus and has not been cleared to be on scholarship.
"Ben and Jamari both are enrolled in classes and attending," Self said. "The NCAA and Big 12 have cleared them to be on scholarship and attend class while they still are responding to some academic materials (submitted by the players and the three high schools they attended)."
McLemore and Traylor will not be allowed to take part in individual preseason practice drills until they are fully cleared, which Self hoped would be soon.
"I think it's a situation we don't like dealing with and know the NCAA doesn't like, either, but they've got a job to do," Self said of NCAA Clearinghouse officials' determining eligibility of the trio. "We did not anticipate having to go through this with these kids at all, but they (NCAA) brought up some points they wanted to look into. The process does take a little time.
"We are really glad to have them in school. I know those two kids are excited," Self added. "We know the next week or two will be spent getting them in catch-up mode so they are back to a level playing field (academically)."
McLemore, a 6-foot-5 guard from St. Louis, started at Wellston High in his hometown. Last year, he attended both Oak Hill Academy in Mouth of Wilson, Va., and Christian Life Center in Houston.
Anderson, a 6-9 forward from Alberta, Canada, started at a high school in Canada. He attended Christian Faith Center in Raleigh, N.C., as a junior and Wilbraham and Monson Academy in Massachusetts as a senior. He withdrew from the Wilbraham, Mass., school in February and finished his degree by taking an online class at home in Canada.
Traylor, a 6-8 forward from Chicago, attended Fenger High and Julian High in his hometown. He attended IMG Academies in Bradenton, Fla., last year.
"Those kids have been to more than two (schools). They've been to three. When you do that, you've got to go back and check everything. They have to evaluate everything, re-evaluate everything. We understand that," Self said. "Nothing has been done that we didn't understand. We hoped it'd be done before. They (NCAA) needed some additional information. It's our job to provide them that information."
A year ago, freshman Josh Selby was in a similar situation as the clearinghouse examined his high school coursework.
He was allowed by the NCAA to start attending class on Sept. 7 as the clearinghouse continued to look into his transcripts and grades. He ultimately was cleared academically on Oct. 27.
Selby elected not to attend classes before getting cleared because in the case of not being cleared, the student-athlete is responsible for tuition and room and board.
l
Recruiting: KU coaches today will conduct an in-home recruiting visit with Perry Ellis, a 6-8 senior forward from Wichita Heights. Rivals.com's No. 24-rated recruit has a final list of KU, Kansas State, Wichita State and Kentucky. ... Andrew White, a 6-6 senior small forward from Miller School in Chester, Va., will visit KU for the Sept. 24 Legends of the Phog alumni basketball game. The No. 56-player in the class of 2012 is considering KU, Texas, Tennessee, Louisville, Virginia Tech, Oklahoma State and others.
l
Phog on Internet: The Legends of the Phog game will be shown live on AT&T; Jayhawk All-Access via kuathletics.com. The Sept. 24 game, which tips off at 4 p.m., is sold out. It will also be shown on Metro Sports.