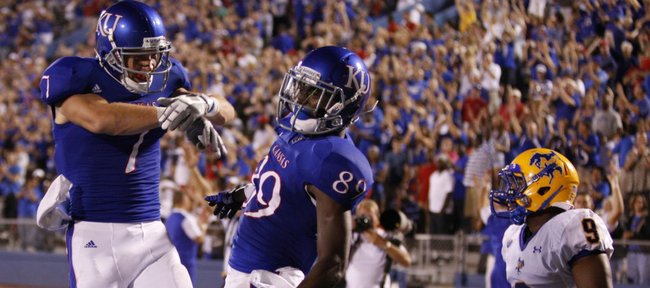 Luckily, Kansas University basketball coach Bill Self didn't accompany receivers coach David Beaty on his recruiting trip to a Horn High basketball game in Mesquite, Texas, last winter to watch JaCorey Shepherd.
With Daymond Patterson injured and Christian Matthews suspended, the roster is short on receivers as it is for Saturday's Northern Illinois game.
Asked to describe the dunk Beaty saw that night, Shepherd smiled at the memory of taking off just inside the free-throw line and throwing one down, but isn't sure that was his best dunk.
"There was one where I dunked on a 6-4 guy," said Shepherd, listed at 5-foot-11, 170 pounds.
Did he make a poster out of it?
"No," he said. "I wanted to, but the camera guy that game was looking away when it happened. I looked all over for somebody who had a picture of it. I couldn't find anyone."
Shepherd played AAU and high school basketball until giving it up to concentrate on football. He said his AAU coach told him that going into his junior year Baylor basketball coaches inquired about him.
He picked the right sport. In Saturday's season-opening 42-24 victory against McNeese State, KU quarterback Jordan Webb threw just 10 passes. Shepherd caught three of them for 107 yards and two touchdowns.
His father, Jonathan, made the eight-and-a-half hour drive from the Dallas area for the game.
"If it had been in Alaska, I would have driven there to see his first college game," Jonathan Shepherd said. "It was a pleasant surprise for me. I was just thrilled that he had a chance to play as a true freshman. I thought maybe he would get in for a series or two. Then for him to play as much as he did and do what he did, I didn't expect that."
His son said the highlight of his night was his first touchdown, a 56-yard reception on a pass intended for Kale Pick, who was open deeper.
"I didn't realize it until I got to the sideline," Shepherd said. "Kale was the first person who told me. He said, 'Man, that was my ball.' I honestly didn't know he was behind me."
His father, who instantly realized the pass wasn't intended for JaCorey, traced the origin of the play.
"I remember when he was a sophomore he didn't attack the ball, and neither did the other receiver," Jonathan said. "It fell between the two guys, and they were just staring at each other. Ever since then, he's had the mentality that if a ball is in his vicinity, he owns it."
Jonathan Shepherd predicted this talented freshman class that also includes true freshman standouts Tony Pierson and Darrian Miller, will be duplicated.
"JaCorey told me that every single thing has been exactly like what the coaches said it was going to be," Jonathan said. "I don't know if it's like that everywhere. These coaches are honest, and I think that's why they're going to get it done recruiting. And it's not a meat grinder. There's a whole world out there that has nothing to do with football, and the coaches make sure they develop that, too. It's not just all football."
Athletically, it's all football for Shepherd now. His dunking days are over, but he can still showcase his long arms and leaping ability stealing passes.
More like this story on KUsports.com