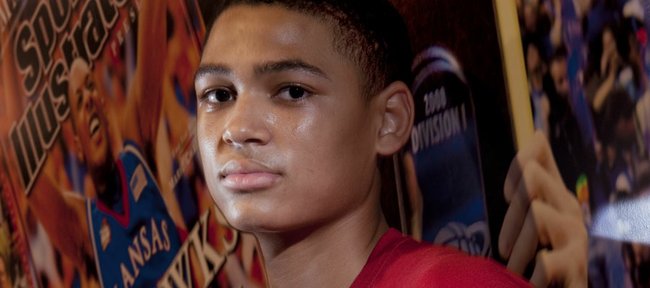 Lefty Merv Lindsay is developing a reputation as somebody who can stretch the defense.
"He can really shoot the ball. He is a pure shooter, and he's 6-foot-7, 6-8," marveled former Kansas University forward/first-round NBA draft pick Marcus Morris, who has guarded Lindsay, a 6-7, 210-pound freshman, in pick-up games since the Moreno, Calif., native signed a financial-aid agreement with KU on June 22.
"He's going to be good. He's going to be great," Morris added of Lindsay, who averaged 15.0 points, 10.2 rebounds and 4.4 assists his senior season at Canyon Springs High School.
Lindsay — who chose KU over Marquette in recruiting after decommitting from Texas Tech in April — admits he isn't shy about firing away.
"I think that's why they recruited me ... so I can hit shots," Lindsay said.
Acknowledging that he "can shoot out to NBA range," Lindsay said his long-range bombing has improved in recent years.
"I developed it. It takes a lot of work," he said. "Being left-handed ... a lot of people have said to me, 'Oh yeah, left-handed people can always shoot. They are good hitters in baseball, too.' I played baseball. I was a good hitter and a good shooter.
"It took work, though," added Lindsay, who now is concentrating on his ball-handling and defense.
He's learning a lot through the grind of daily pick-up basketball.
"It's an adjustment ... just how hard they play in college," Lindsay said. "It's a lot of in-depth detail what they do here. I remember the first day of individuals (workouts). I'm still trying to learn all the footwork. Going against them (KU returnees) physically ... they are so strong. That's why I've been really reaching out to (strength coach Andrea) Hudy. We've been working out and trying to build my upper body so I can hang with these guys.
"If you are banging with T-Rob, you are going to feel like you've got no muscle," Lindsay said of 6-9, 237-pound junior Thomas Robinson.
Lindsay said he reported for second session of summer school at 193 pounds. He now weighs 210 and wants to be 220 by opening day.
His weight-gaining success secret?
"Lifting and drinking protein (shakes) and, obviously, eating," Lindsay said.
Playing at this current weight apparently hasn't affected his touch on deep jumpers.
"He's a great shooter, one of the best shooters on the team," said Lindsay's teammate/roommate Kevin Young, a 6-8 forward out of Perris, Calif., who played AAU basketball with Lindsay for Inland Empire out of California.
"It can be quicker," Young added of Lindsay's release. "As he plays more, he'll understand how much quicker it has to be. It's a good jumper.
"He's been working on his ball-handling a lot. He's learned how to put the ball on the floor more now. He's a catch-and-shoot player who will go get a couple of rebounds here and there. He can guard a little bit. He has to get better at it, but everybody has to get better as each day passes."
Lindsay has fit in well at KU.
"I'd say the only downfall for me for Kansas right now is the weather. I am used to the 'Cali breeze,' but I'll get used to it," said Lindsay, happy to see a long stretch of upper 90s, low 100 degree temperature days finally dip into the 80s.
After the second session of summer school concluded, he headed to the West Coast for a short break and some heat relief.
"I went home a week. I couldn't wait to get back. I could not wait," exclaimed the easy-going Lindsay, downright giddy about being a Jayhawk.
"Everybody is so close here. Here everybody is one big family. Everybody has determination. Talking to Tyshawn (Taylor, senior guard) ... he is saying how people are doubting us. We are going to do everything to win the Big 12 again and make a push (in NCAA Tournament). That's what we are working for."
Merv said his main motivation is to make his 22-year-old sister, Ashley, proud. Ashley played basketball at the University of Albany, but her career was cut short.
"She was good. She lost her touch a little bit riddled by injury," Merv said, noting "she had hairline fractures in her leg, surgery on her ankle. That shut her back a bit. She didn't play her fourth year due to injury. She graduated from there, though.
"That's who I mostly play for now. I play for my sister. I feel she had a chance to make it, but the injuries ... now that she didn't make it I feel I owe it to her to make it."
That's in the classroom as well as on the court.
Merv Lindsay had a perfect 4.0 grade-point average in high school.
"My parents always said, 'If you don't have the grades, you are not playing.' So I think that just carried over into high school, and now it's carrying over into college," Lindsay said. "I enjoy going to class and enjoy playing basketball."
He has enjoyed bonding with his new teammates.
Who has impressed him the most?
"Oh, Tyshawn, T-Rob, but I would say I love playing with Naadir Tharpe. He is so smart. I'd say he's one of the smartest players on the team even coming in being a freshman," Lindsay said of the point guard. "Just the way he passes. He sees stuff that nobody else can see. Every time he makes it, everybody is like, 'Wow.' He is good. I think he's going to be a surprise."
Three freshmen — Braeden Anderson, Ben McLemore and Jamari Traylor — have not yet reported to campus as they await word on their eligibility from the NCAA Clearinghouse, which figures to come soon since school is opening its third week today.
"I can't wait for them to get back. Those are my boys," Lindsay said. "I talk to them every day. It will be great to see them again."
More like this story on KUsports.com