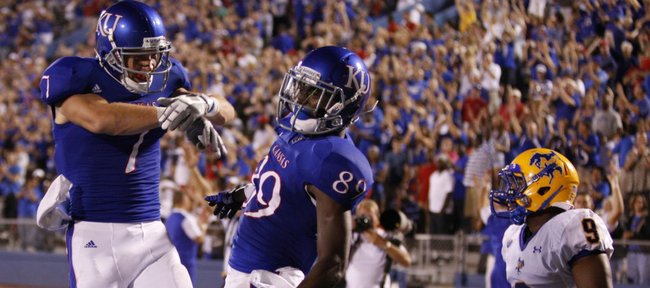 Podcast episode
Kansas coach Turner Gill talks to reporters following the Jayhawks' 42-24 victory over McNeese State on Sept. 3, 2011.
KU vs. McNeese St.
The perfect opening-game scenario for Kansas University's true freshmen must have looked something like this: Darrian Miller runs hard all night and has every carry but one go for positive yardage; Tony Pierson picks up a touchdown and delivers a few electrifying runs; and JaCorey Shepherd, the wide receiver teammates said all summer was nearly unguardable, picks up a TD in his first game.
Bing, bang, boom.
Led by three stellar showings from three of the Jayhawks' youngest players, KU ran past McNeese State, 42-24, Saturday at Memorial Stadium. In doing so, head coach Turner Gill's squad not only exorcised the demons from last year's nightmare loss to North Dakota State, but also served notice that all the talk about how the team was improving was not lip service.
"I knew they had talent," Gill said. "But (I didn't) know if it was gonna come to fruition in this ballgame. But it was great to see it. When they got their touches, they produced. They didn't get scared about the bright lights or playing on the big stage and all those things, and it was good to see those guys produce for us."
"Produce" is putting it mildly. Running hard inside all night, Miller gained 63 yards on 13 carries. In eight fewer carries Pierson finished with 73 yards and a touchdown, including a 47-yard sprint in which he made two moves near the line of scrimmage that might have been missed if not for the replay on the video board.
And then there was Shepherd. All he did was catch three passes for 107 yards and two TDs. His 56-yarder in the first half was the longest by a KU receiver since Dezmon Briscoe in 2009, and his 100-yard receiving night was the first by a KU freshman since 1997.
"I actually thought it was gonna take me a little while to adjust to the speed of the game," a humble Shepherd said after the win. "But I actually came out and played pretty well."
So well, in fact, that he actually stole passes from his own teammates. Shepherd's 56-yard TD pass from Jordan Webb, which put KU (1-0) comfortably ahead, 28-10, looked more like an interception at the time.
"It was actually for Kale," confirmed Webb, who finished 7-of-10 for 146 yards and three TDs. "JaCorey kind of took it from him."
Pick was the first to let Shepherd know about it, but not in the way that many of the diva wide receivers who litter the NFL might have.
"I just said that that was my ball and he lucked out and got that one," Pick said with a smile. "I thought I was gonna catch it, but he made a great play, and he got the ball. If it's a score for our team, I can't get mad at the kid."
Asked what happened on the wild play, Shepherd happily admitted his was acting on instincts.
"I was running my route, and my instincts were just to go get it," he said. "If he wasn't behind me and I didn't catch it, it would've been incomplete, so I just went up and got the ball."
Shepherd's second TD catch of the game, a 48-yarder with 6:30 to play that fell into his waiting arms, came with the nearest McNeese State defender still 15 yards away. It also sealed KU's victory.
While Shepherd and his fellow freshmen delivered highlights in bunches, the rest of the KU offense quietly pounded away on the ground. The Jayhawks rumbled for 301 yards rushing on 55 attempts, the most for a Kansas squad since racking up 334 in a victory against Northern Colorado in 2008. Lost in all the excitement from the freshmen was the fact that sophomore starter James Sims ripped off another 100-yard night, the fourth in his young career. Sims finished with 104 yards and a touchdown on 19 carries.
The Jayhawks, with four players with five or more carries, ran the ball on 85 percent of their offensive plays. The reason?
"When things are working, there's no need to go away from it," Gill said.
Added senior center Jeremiah Hatch, a man who took particular pride in the success of the ground game: "We've been under coach Gill's offense for a year now, adjusting, learning. We still have to learn from this game, but running the ball is gonna define this team."
For now, their record will. After starting 2010 with a 6-3 home loss to North Dakota State and struggling all season to escape the shadows of such an embarrassment, the Jayhawks went home in a much better mood Saturday night.
"It definitely feels good," Webb said. "We knew people were talking about last year, and we just wanted to come out and prove that we're a completely different team. It's a complete 180 from last year. It's 2011 now, and we're gonna have a great year."
More like this story on KUsports.com