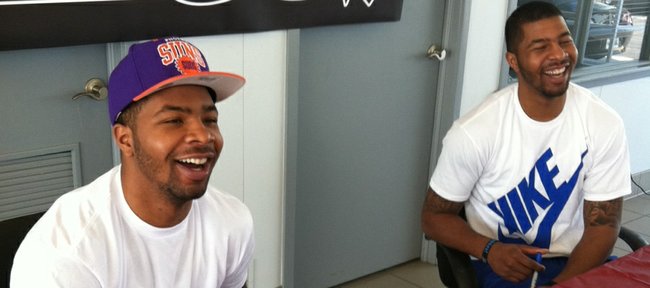 Former Kansas University basketball forwards Marcus and Markieff Morris prefer to look at the bright side regarding the NBA lockout.
"This is the best thing about what's going on right now — us being together," Markieff said Thursday while seated next to his twin brother during an autograph signing at Briggs Chrysler Dodge Jeep at 29th and Iowa streets.
Markieff, who was selected No. 13 overall by the Phoenix Suns, and Marcus, tapped 14th overall by Houston in the June NBA Draft, will be going their separate ways if and when a new collective bargaining agreement is reached and NBA players return to work.
Until then, the twins have been playing pick-up basketball with college and pro players at UCLA as well as with KU's current players in Lawrence.
"I'm still in shape. I'm working out with the (KU) team doing everything they are doing," said Marcus, who showed for the autograph signing wearing his brother's Phoenix Suns cap. "I might do Boot Camp if I'm still here. Don't quote me on that, though," he added with a laugh.
KU coach Bill Self's grueling two-week Boot Camp will start the last week of the month.
"We're here right now working out with the team," Markieff said, willing to provide some impressions of the 2011-12 Jayhawks. "I really like Naadir (Tharpe), the new point guard. Merv (Lindsay) is a great shooter. I kind of like the chemistry they (Jayhawks) have going on. They really like each other."
Marcus said he was impressed with "everybody. We all know what T-Rob (Thomas Robinson) can do. Justin Wesley is definitely looking a lot better. There's other people like Elijah (Johnson) who have had a great offseason. It's definitely going to be fun to see these guys get out there and go."
The twins have been huddling with their agent about possibilities for the coming season.
"I'm considering it," Marcus said of playing in Europe.
Which country? "Whatever one is going to treat me the best."
Marcus is also considering enrolling in classes at KU.
"I'm going to get my degree," he said.
Markieff acknowledged his agent has spoken to a team in Greece.
"It's a possibility," he said of playing overseas, noting he also plans on graduating to fulfill a promise made to his mother.
If the two remain in the U.S., they will play in the Legends of the Phog KU alumni game set for Sept. 24 in Allen Fieldhouse.
"It's going to be fun, man. Not even the game, just to be around all those guys (current Jayhawks in NBA and some past KU greats) and have a chance to interact and talk to all of them," Marcus said.
"I'm excited to be back here playing in front of the great Kansas fans playing with some great guys," Markieff noted.
In a perfect world, they'd have played NBA summer league basketball and would right now be on the verge of reporting to NBA training camp.
"I wouldn't say disappointed. I'd say things happen," Marcus said. "It just so happens to happen when we went to the NBA, but it's not going to be a lockout forever. Things happen."
Recruiting: Julius Randle, a 6-6 junior gaurd from Prestonwood Christian Academy in Plano, Texas, reported on Twitter that he will likely attend the Legends game on an unofficial recruiting visit. ... Travis Jorgenson, a 5-11 junior guard from Rock Bridge High in Columbia, Mo., on Thursday committed to Missouri. He was a summer KC Pump N Run AAU teammate of future KU guard Conner Frankamp of Wichita North.
Rally: KU coach Bill Self joined football coach Turner Gill, women's basketball coach Bonnie Henrickson and AD Sheahon Zenger at a Hawk Talk football pep rally Thursday night in the parking lot next to Salty Iguana on Sixth Street.
"I want what's best for our league," Self said the day after Texas A&M; announced it definitely was leaving the Big 12. "I think the coaches I talk to are all excited about nine (members). I would think the football coaches are as well. It gives you a chance to schedule another nonconference game. I am fine with nine."
Some writers insist Texas and/or Oklahoma will soon announce plans to leave the league.
"I don't think everybody is saying that. I haven't heard anybody in the know say that," Self said. "I've heard some speculation and A&M; created the situation. I don't wish any ill will on A&M;, but our league will be just as strong without A&M; ... as long as we stay together. Our presence in Texas will not go down at all as long as we have Baylor and Texas Tech and Texas in the state."
More like this story on KUsports.com