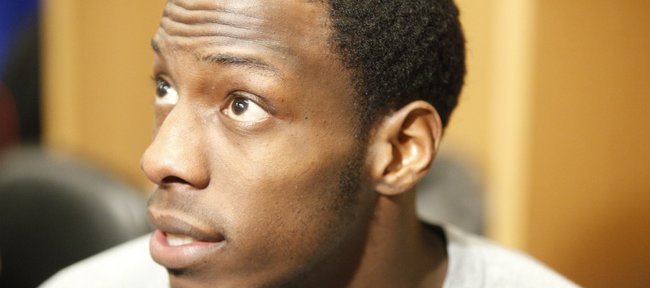 Kansas University guards Tyshawn Taylor and Elijah Johnson will not participate in KU's two exhibition basketball games for violating a team rule during the offseason, coach Bill Self announced Sunday night.
Self did not reveal the rule that was broken.
The two are slated to miss Tuesday's 7 p.m. opener against Pittsburg State and a 7 p.m. contest on Nov. 8 versus Fort Hays State. Forward Thomas Robinson, who suffered a hyperextended left knee Thursday, is listed as questionable for the Pitt State game, leaving KU with five recruited scholarship players possibly available for duty.
"Tyshawn and Elijah have both been terrific since school began in August," Self said Sunday. "They've not only performed well, they have been very responsible and disciplined the first few months of the school year. But during the offseason they violated a rule that I told them, because of some past experiences, their punishment was going to be severe and I was going to hold them out of the two exhibition games. They have been aware of this for several months and also are disappointed, but have had very positive attitudes about it.
"I will not comment about this further," Self added. "Losing two players and Thomas (Robinson) being questionable for Tuesday's game probably changes the look of our team as much as anyone in the country. This gives a chance for our young guys to play under the lights and see how they react."
The recruited scholarship players definitely available for Tuesday's game: freshmen guards Naadir Tharpe and Merv Lindsay, junior forwards Travis Releford and Kevin Young and junior center Jeff Withey. Former walk-ons/current scholarship players Conner Teahan (guard) and Justin Wesley (forward) also are available for the Pitt State game, as well as walk-on guards Jordan Juenemann (senior), Niko Roberts (sophomore) and Christian Garrett (freshman).
Anthony West, a 6-foot-6 sophomore from SM East, is practicing with the team but has not yet been officially added to the roster.
Taylor, a senior from Hoboken, N.J., and Johnson, a junior from Las Vegas, each were suspended two games a year ago. They will be available for the regular-season opener against Towson on Nov. 11.
No contact: Robinson, a 6-10 junior from Washington, D.C., who was injured Thursday when two teammates collided into him as he chased a loose ball, participated in noncontact drills at Sunday's practice.
Pitt State has veteran team: Second-year Pitt State coach Kevin Muff welcomes back the Gorillas' top four scorers from last year's 13-13 team. Senior guard Eric Ray averaged a team-leading 12.2 ppg, followed by senior forward Eric Marshall (9.8 ppg), senior forward Andra Bailey (9.2 ppg) and junior guard Courtney Ingram (9.0 ppg). The 2010-11 Gorillas were picked to finish fifth in the 12-team Mid-America Intercollegiate Athletics Association by the league coaches and seventh by the media.
Taylor rated 11th: Taylor is the No. 11-rated point guard in college basketball according to ESPN analyst Jay Williams. North Carolina's Kendall Marshall is No. 1, followed by Jordan Taylor (Wisconsin), Tu Holloway (Xavier), Myck Kabongo (Texas), Marquis Teague (Kentucky), Ashton Gibbs (Pitt), Josiah Turner (Arizona), Aaron Craft (Ohio State), Maalik Wayns (Villanova), Scoop Jardine (Syracuse).