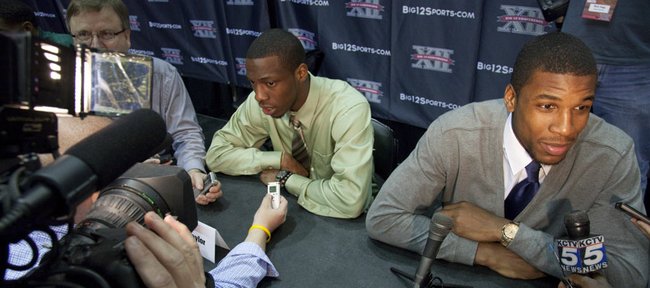 Kansas City, Mo. — So far, six Kansas University basketball players have "really separated themselves" from the rest of the squad during the first week of the 2011-12 preseason, coach Bill Self said at Thursday's Big 12 Media Day in Sprint Center.
"Hopefully that changes and guys catch up .... Conner (Teahan), Elijah (Johnson), Tyshawn (Taylor), Travis (Releford), Thomas (Robinson) and Jeff (Withey) have really looked good," Self said in assessing practices since Friday's Late Night in the Phog.
"Teahan has done a great job. I'd say he could be our first guy off the bench right now, in large part because he knows what he's doing. He's been around almost as long as (Brady) Morningstar was around. That's a long time," Self added of the fifth-year senior out of Kansas City Rockhurst High. "One thing that is known to me that isn't known to anybody else is, I think Travis, Elijah and Jeff Withey are pretty good. They just haven't had a chance to show it yet."
Withey, KU's 7-foot junior center from San Diego, has drawn rave reviews.
"Jeff is a new player. You are not going to recognize him," junior power forward Robinson said. "He is playing the best I've seen him play. He has a new attitude. He's been amazing.
"Jeff is going to open a lot of people's eyes come Nov. 1 (exhibition against Pittsburg State)," added Robinson, who revealed that Withey has been staying after practice for overtime work on conditioning and skill set.
Noted senior point guard Taylor: "Withey is looking really good. He has a lot of energy, a lot of bounce like he's ready to play, like he knows he has to play. I'm excited for Jeff."
Teahan and Justin Wesley, a 6-9 sophomore transfer from Lamar, are former walk-ons who have been granted scholarships this year.
"Conner was here when they won a national championship. He played against those guys every day at practice," Taylor said of Teahan, who red-shirted in 2007-08. "Conner is good, man. He hasn't had a chance to play because Brady and Tyrel (Reed) were in the same class as him. He's comparable to those two guys as far as shooting is concerned. He's 6-51⁄2 and can rebound from that position.
"Justin is athletic, will help us on the boards. If Thomas ever gets in foul trouble, he's one of the guys you can throw it in there and play three, four, five minutes to sub T-Rob out a bit. I think people will be impressed with him."
Freshman point guard Naadir Tharpe and junior forward Kevin Young are also expected to be in the rotation.
"Those two guys come to work every day," Taylor said. "I'm excited for those guys as they become more acquainted with everything — become part of the team basically. It's tough. Naadir is a freshman, and for Kevin, it's like he's a freshman again (after sitting out last season after playing two at Loyola Marymount)."
Veterans Taylor and Robinson have developed a bit of a bond at practice.
"It's exciting, man. Thomas is a high-energy guy who likes to run," Taylor said. "That fits me perfectly, because I like to run. I threw, like, five lobs to him at practice yesterday, so I think we're going to see a lot of that this year."
Self has been instructing the players on fundamentals early on.
"I definitely think I'm seeing a little more patience from coach Self, a lot more teaching," Taylor said. "We are still getting after it. He's just more patient with us, less yelling when we make mistakes and a lot of work."
Self admits he may take a different approach this season after losing seven players off a 35-3 team.
"We won a lot of games the last two years: 68-6 (record), and the losses have been like the end of the world," KU's ninth-year coach said. "I can't be like that, because we are going to experience some losses. So we need to try to enjoy it and get better, kind of like we did with the '09 team. We were not very good early, but showed flashes. We lost a game against Syracuse early in Sprint Center (89-81 overtime) where we played great. We just didn't finish. To me that was a good process game. Even though I didn't like it at the time, we got better. Then we go to Michigan State, and they had us down 25 (in 75-62 loss). We got them down 13 in the Sweet 16 (in 67-62 season-ending loss). We just didn't finish. Those are the type of games we have to embrace. It's going to be the hardest year we had by far to win the league.
"Other teams are good. Also, we lost a lot. We are inexperienced, but you don't go into anything saying you hope you finish second or third when you've had as much success as our guys have in recent memory (seven straight titles). The whole goal is to win. I don't think we should shy away from that," he added, noting the biggest task in coming weeks/months will be to develop depth to go with those six players who are off to fast starts.