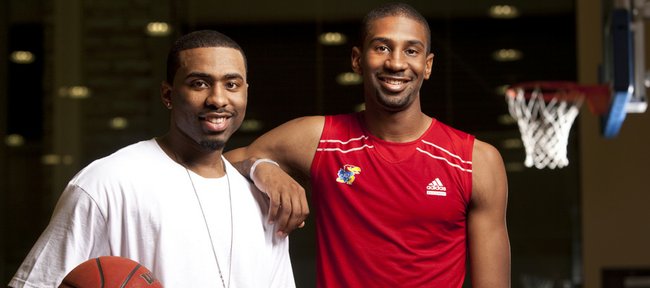 Former Kansas University standout Keith Langford — who played professional basketball in Moscow last season — was eager to hit the gym with his brother, Justin Wesley, at a family reunion last summer in Texas.
A little 1-on-1 action affirmed what the 6-foot-4 Langford had heard about his sibling: That the 6-9 former Lamar University forward had become a much more polished player during his red-shirt transfer season at KU.
"I was not only proud, but surprised at the level he's taken in basketball. He's come a long way," Langford said Tuesday. "The way he's improved his body ... I actually had to exert a little more energy playing against him," the always-brash Langford added with a laugh.
Langford, who at 28 is in the prime of his pro career, at times found it difficult to hoist shots over sophomore power forward Wesley, who is known for his raw athleticism and shot-blocking ability.
"We'll call it goaltending. It was nothing clean, man," Langford, KU's seventh-leading scorer of all time, said of his baby brother deflecting a shot or two.
Will Wesley ever defeat Langford?
"It won't happen until I retire. I'm not quite ready to give that up yet," Keith said.
All joking aside, Langford can see why KU coach Bill Self says the 220-pound Wesley, who averaged 1.2 points, 1.3 rebounds and 9.9 minutes per game during his freshman year at Lamar, "will definitely be part of the rotation" this season.
"I have a little bias because Justin's my brother, but there may be (only) a handful of guys as athletic as he is in college basketball, honestly," Langford said. "I think he has a lot of pieces that need to come together so he can establish himself on this level. If he can put a couple things together, which obviously is the job of the coaching staff, then, I mean, he can really do some things to be successful.
"It's obvious why his red-shirt year was so important. With some of the guys (Jamari Traylor, Ben McLemore) ineligible and him thrust onto the scene, it's going to help him a lot,"
Langford said his brother has been in good hands in little over a year at KU.
"He got better working under (big man coach) Danny Manning. He got better because the (Morris) twins and Thomas Robinson got to kick his (butt) a year while he red-shirted," Langford said.
"Learning how to prepare on a championship level for a year ... that experience is invaluable for putting things together consistently. If he can do that, he will have a special story to tell at the end of the day."
Wesley has worked overtime on his body ... and his face-up jumper.
"Coach Manning emphasized that had to be one of my shots I had to knock down," Wesley said. "My shot has come along real well. I've gotten better on the skills in my game. My IQ has gotten better. I am a totally different player from when I came here. I knew that was going to happen.
"Sitting out a year and learning the plays and how we do everything has been very important to me in my development as a person and basketball player. It's given me a leg up."
Self plans to be patient with the still-developing Wesley.
"He's probably as quick an athlete as we've had since we've been here. He's really athletic," Self said. "Offensively he's a little limited, but certainly he is smart and understands the game. He is a guy we shouldn't count on to come in and score double figures and get double-figure rebounds. He'll grow into that. He's come a long ways in 12 months."
Wesley is motivated to make a name for himself at his brother's alma mater.
"I was in fourth grade during Keith's freshman year. I'd come to games with my mom. I'd sit in the student section," Wesley said. "I used to get thrown up (in air) during the games. I was like, 'Man these people love this game that much, love this team that much.' That's what strikes me.
"It's a blessing to come here and go to the same school as my brother. I look at my brother as my idol. What he did here was incredible to me. I don't try to fill his shoes. I try to fill my own shoes. It's what he told me to do."
Wesley was recently rewarded with a scholarship for the 2011-12 school year. Keith, who earned $1.3 million last season, took care of the tuition bill a year ago.
"That might be the best news out of everything. I might get to go on vacation this summer now," Langford said with a laugh.
As far as when and where he'll be heading to work ... Langford, who lives with his newlywed bride in Austin, Texas, has been rumored to be negotiating with a team in Israel and another in Spain a month after being receiving a buyout of his contract in Russia.
"I'm at a point now with my career, not only does the basketball situation have to be right, but the money situation has to be right too," Langford said. "Combined with my settlement with Khimki (Moscow) and combination of what the deal will be where I land next ... it's a matter of making the money line up. I'm fortunate enough to be in a situation where I can be patient. There's a lot of interest out there," added Langford, who also is monitoring the NBA lockout situation with the possibility of his attending training camp with a team.
"Right now I'm working out. It's been a long time since I've been home in October. I was in Lawrence for Late Night for the first time since I graduated. It was really good to be back. I got to see Justin practice and I even got out there and ran up and down with the guys."
He gave this assessment of the current KU team: "I think lot of people have underestimated them," he said. "I think a lot will be pleasantly surprised like I was. On paper, it's like, 'Where is it gonna come from?' You get on the court and see them and it looks good. I am not exaggerating. I think they'll be all right. I know they have a tough schedule, but I like the team."
As does his brother. "We don't waste any days. We will be excited. We will work hard," Wesley promised.
More like this story on KUsports.com