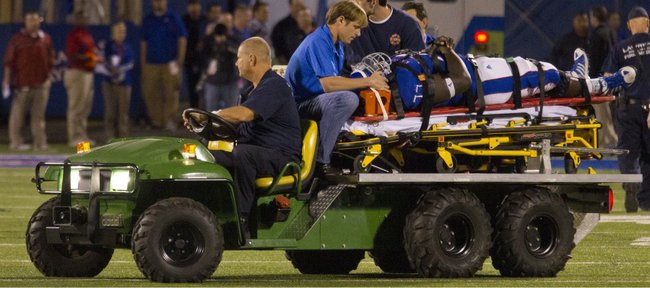 You'd never know from watching him at Tuesday's football practice that Kansas University senior Jeremiah Hatch recently had been strapped to a stretcher and forced to wonder if he'd ever walk again.
As a cool wind blew through Memorial Stadium and the Jayhawks got ready for another week in the competitive Big 12, Hatch bounced around the field fulfilling his role as a team leader.
"It's K-State week," he yelled repeatedly to his teammates. "Let's go."
KU coach Turner Gill said Tuesday that the senior center from Dallas officially is listed as questionable for this week's game against No. 12 Kansas State. The fact there's even a chance he might play after suffering a neck injury that required him to be taken to the hospital for evaluation during last week's loss to Oklahoma makes Hatch feel as if he's already recovered.
"You go through something like that, it makes you appreciate the little things in life," Hatch said. "You start thinking about the smaller things that really mean a lot to you, not just football. You start thinking about everything like just walking and being able to move around."
After Saturday's game, Gill said Hatch temporarily lost feeling in his arms and legs and could not move them on his own. That function had been restored by game's end, and Hatch even returned to the sideline in street clothes to support his teammates in the final minutes.
Upon his return, Hatch said he saw relief in the eyes of his teammates and answered several questions about specific situations on the field. He welcomed both.
"I was eager to see my teammates compete out there," Hatch said. "Just being back on the sideline felt good."
Hatch wasn't the only one who thought that way.
"It was definitely scary to see him out there like that," sophomore quarterback Jordan Webb said. "He's one of our biggest leaders, and you never want to see somebody taken off on a stretcher. It kind of does something to you mentally."
Like Webb and many other Jayhawks, Hatch admitted to fearing the worst when he first went down. But the 6-foot-3, 299-pound O-lineman never has made a habit out of letting things he can't control get the best of him. With Hatch, it's always been about taking life as it comes and doing the best you can with it. Although he seemed to be the same happy-go-lucky team leader he has developed into during Tuesday's practice, Hatch is a long way from being cleared for Saturday's 11 a.m. kickoff. While he waits to see if he will be allowed to face K-State for the final time in his career — he's 2-2 against the Wildcats — Hatch tries to pass the time by helping the rest of his team get ready, with or without him.
Asked if he wanted to play, Hatch answered without hesitating.
"Of course," he said. "It's my last year. I want to get out there. I'm doing everything I can. Two games you can't miss: K-State and Missouri."
Should Kansas be forced to play without him on Saturday, Gill said the offense would use the same five players it did when Hatch went down last week. Left guard Trevor Marrongelli would slide into his spot at center. Left tackle Jeff Spikes would move into Marrongelli's spot at guard. And reserve Riley Spencer would fill in for Spikes. Although it took the new-look line took a little time to work out the kinks against OU, the group earned plenty of praise from the KU coaches. Marrongelli was named the team's offensive player of the week and the rest were applauded for fighting through a tough situation.
"I want to commend our guys for the switch we had in the OU game," offensive coordinator Chuck Long said. "We had three changes along the offensive line and to have that against the No. 1 team in the nation, I thought they did a nice job. I was proud of what they did."
Hatch agreed with Long's assessment.
"They did pretty good," he said. "I think they held their own. When we came in on Sunday and watched the film, they did better than I expected."