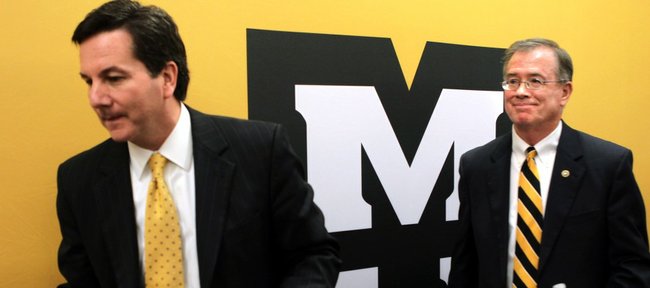 The University of Missouri appears primed to leave the Big 12 for the Southeastern Conference, a university official with direct knowledge of the situation told the New York Times on Monday night.
The person told the Times that MU's decision to apply for membership to the SEC was "inevitable and imminent," although a specific timeframe has yet to be set.
Missouri's Board of Curators will meet Thursday and Friday at the University of Missouri-Kansas City, where the process of withdrawing from the Big 12 and applying to the SEC is expected to begin. Expansion is not listed on the agenda, but there is a private session scheduled Thursday afternoon and Friday morning.
After it applies, the person said that Missouri expected "no problems" with gathering enough votes among SEC presidents for it to become a member.
Two sources indicated to PowerMizzou.com on Monday morning that "everything was on track" for a move by Mizzou to the SEC.
One source said: "I'm 100 percent sure we're going to the SEC."
Powermizzou.com reports that MU's next step is likely to soon announce a "conditional withdrawal" from the Big 12 Conference. The withdrawal would be conditional in that it would depend upon the Tigers' acceptance into the SEC.
It is believed that contrary to what Big 12 Commissioner Chuck Neinas said last week, Missouri could start SEC play as early as next season. Missouri would become the SEC's 14th member. The league added Texas A&M; in September. The SEC would prefer 14 members, as scheduling is a much simpler process with two seven-team divisions.
The Big 12 is expected to add either one or three universities once Missouri announces it is leaving, the Times indicated. That could again affect the Big East Conference, with the Big 12's targets likely to include Louisville and West Virginia, with independent BYU also a possibility to account for 12 teams. Big 12 expansion committee chairman Burns Hargis, the president of Oklahoma State, said Saturday that he would prefer a 12-team league, but acknowledged his preference might not matter.