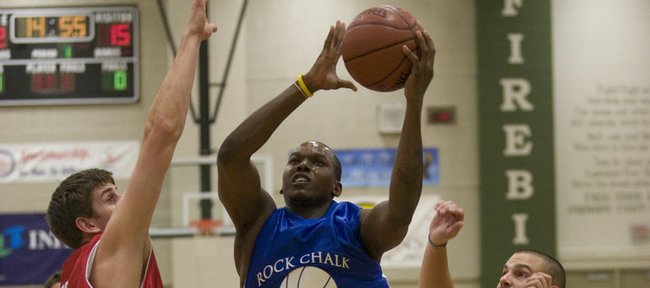 College basketball notebook. ...
Former Kansas University guard Russell Robinson has left his pro team in France — JSF Nanterre — by mutual decision, Robinson said over the weekend.
"It wasn't terrible over there. It was not what I expected. It was kind of on both sides," Robinson said of his being removed from the squad. "I decided it was best to come back here."
The 25-year-old Robinson, who started on KU's 2008 NCAA championship team, is not ready to give up basketball.
So far in his pro career, he has played in Turkey and Spain and in the NBA Developmental League.
"I'm hoping something happens with the (NBA) lockout in the next two weeks," said Robinson, who could attend a team's training camp if and when the lockout ends. "If not, there's opportunities overseas. I've turned down a couple. I'm probably going to be around here for a while," he added of Lawrence.
Langford off to Israel?: Former KU guard Keith Langford is close to joining Israeli championship team Maccabi, Eurobasket.com reported over the weekend. Langford recently received a buyout from Khimki in Moscow, where he played last season.
The Maccabi team is coached by former Princeton player David Blatt. Eurobasket reports that Langford will take over the contract of former Maccabi player Jeremy Pargo — that is $750,000 this season and $900,000 in 2012-13. Maccabi is trying to outbid Caja Laboral Vitoria, a team in Spain, that the website says has also of sought the services of the 28-year-old Langford, who is brother of KU sophomore Justin Wesley.
Morningstar leaves Crete: Former KU guard Brady Morningstar, 25, has left his team, AGO Rethymno in Crete, Eurobasket.com reports. He has not contracted with another team.
Recruiting: Chris Walker, a 6-foot-9, 205-pound junior forward from Holmes County High School in Bonifay, Fla., tells jayhawkslant.com he had a "great time" on his unofficial visit to KU for Friday's Late Night in the Phog.
Walker, the No. 8-rated player in the Class of 2013, is also considering Florida, Kentucky, Duke, UConn, North Carolina, Ohio State and others.
"I spent time with all the players, but I talked a lot with Thomas Robinson. He just told me to keep working hard and told me that I've got potential to be a very good player," Walker said.
"This visit was more about me getting to see Kansas and what the program has to offer. I had a great time with (KU commit) Perry Ellis (6-8, Wichita Heights), Kaleb Tarczewski (7-foot, Southborough, Mass. who will visit Arizona next weekend0 and the other recruits. The fans asked us to sign autographs and it was just a crazy atmosphere."
Walker made the trip the same weekend as his good friend Brannen Greene, a 6-7 forward from Persons High in Forsyth, Ga. He is the No. 35-rated prospect in the class.
More like this story on KUsports.com