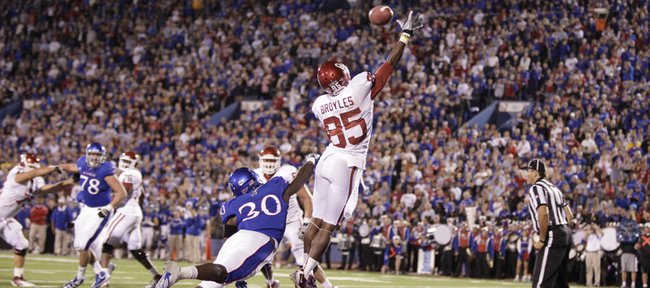 Podcast episode
Kansas coach Turner Gill talks to reporters following the Jayhawks' 47-17 loss to Oklahoma on Oct. 15, 2011.
KU vs. Oklahoma
The final result was another loss, but this one didn't feel like all the others.
Despite dropping its fourth straight game of the season, Kansas University's football team walked away from Saturday's 47-17 setback loss to Oklahoma with a feeling of accomplishment.
There were so many signs that progress was made. So many indicators that things would get better. So many reasons to believe the best is yet to come.
"I would say it was confidence and pride," junior safety Bradley McDougald said. "Knowing this was our home turf, knowing the game we had last week and knowing that if we didn't step up and play better it was going to get that much worse."
Although Saturday's step forward came down to individual players raising their games, McDougald gave a lot of the credit to senior co-captain Steven Johnson.
"Steve Johnson got the defense together Tuesday before practice and called some guys out, and it was much needed," McDougald said. "He did what a captain was supposed to do and got the defense going, and guys just stepped up and made plays."
That was Johnson's message in a nutshell, and the senior linebacker used the pain from last week's loss to Oklahoma State as a catalyst to deliver it.
"It was a little anger in me, just embarrassment," Johnson said. "This university and Kansas football gave each and every one of us an opportunity. I got in each and every single person's face, and I just told people what they needed to improve at and we went to practice and started working."
It's hard to say whether Saturday's victory by OU said more about the Sooners or Jayhawks.
A week after giving up 70 points and 600 yards to No. 6 Oklahoma State, the KU defense surrendered 610 yards to OU. Even with that, KU legitimately competed with the third-ranked Sooners into the fourth quarter.
It wasn't until OU wide receiver Ryan Broyles (13 receptions, 217 yards, two TDs) broke free for a 43-yard touchdown with 10:22 to play that the Sooners put the game away. To that point, the KU defense had played one of its best games of the year, flashing the grit and toughness it had been missing all season and picking up three turnovers in the process. Although the visible progress energized the team, it didn't erase what the scoreboard said.
"We're disappointed," KU coach Turner Gill said. "We lost. A loss is a loss. I'm trying to win football games. I'm not in it to pat guys on the back and for a moral win."
Regardless, the Jayhawks gained plenty of confidence from this performance, even if it led to their falling to 2-4 overall and 0-3 in Big 12 play.
Nobody expected Kansas to compete with OU for even a quarter Saturday. When it came down to it, the Sooners showed why. Although Kansas hung close for three quarters, the OU defense stifled what had been KU's best unit throughout the second half.
"The bottom line is their defensive line, or front seven, beat our front seven," Gill said. "We had a few good things happen for us in the first half, and they came back and got physical. They were more physical than we were in the second half."
It didn't take Gill saying it for that to be noticed. KU's offense gained just six yards on 27 plays in the second half. The Jayhawks did not pick up their first first down of the second half until 3:10 remained.
"A lot of that was on me," KU quarterback Jordan Webb, who finished 13-of-25 for 108 yards. "I wasn't making plays like I usually do. I just have to play better."
While many expected OU's offense to roll up at least 70 points in this one, the KU defense held the Sooners to 10 points in the first quarter and just three points in the third quarter.
After falling behind 10-0, KU responded to tie the game on a 56-yard touchdown run from James Sims and a 36-yard field goal from Alex Mueller.
Sims' run came on a fourth-and-one call and was the result of a wild option play in which Webb was forced to start right to grab a low snap and fought back to his left to pitch the ball to Sims, who broke free along the KU sideline.
OU answered with back-to-back TDs but only led 27-17 at the half thanks to a two-yard TD run from KU freshman Darrian Miller with 3:43 to play in the second quarter.
That was KU's last meaningful offensive play of the night.
Who would have thought the right foot OU kicker Michael Hunnicutt would play such an important role in the Sooners' victory?
Hunnicutt, a 5-foot-9, 169-pound red-shirt freshman from Richardson, Texas, accounted for 16 of OU's points and cashed in on a bunch of chip-shot three-pointers when the Kansas defense stood tall and held the Sooners' offense out of the end zone. At one point Hunnicutt capped off three straight OU scoring drives in the second half by making kicks of 19, 27 and 20 yards.
"It was great to see them continue to be so competitive in the red zone," Gill said. "It was good to see when (OU) got in the red zone they were kicking field goals."
When Hunnicutt wasn't kicking field goals, OU wide receiver Ryan Broyles provided a clear reminder that the Jayhawks were a league or two behind the Sooners, who improved to 6-0 overall and 3-0 in Big 12 play in front of a crowd of 42,580.
Although Saturday's game was hardly the kind that turned the season around, it did give the Jayhawks some much needed confidence. That, Johnson said, should inspire them to show up today ready to work that much harder as they prepare for in-state rival Kansas State.
"I have a feeling we can win the rest of our games," Johnson said. "It's just a feeling I have in my heart."