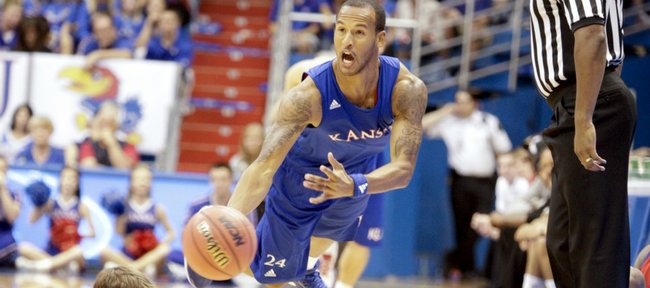 Videos
2011 Late Night in the Phog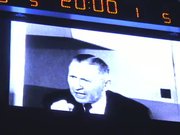 The Kansas men's and women's basketball teams performed skits and scrimmaged at Late Night in the Phog on Friday, Oct. 14, 2011 at Allen Fieldhouse.
To Travis Releford, it matters not that Kansas University's basketball team enters the 2011-12 season with just eight recruited scholarship players on the roster.
"Of course we are going to be able to survive it. It doesn't matter if we have five scholarship players. What we've got to do here is win. That's what we are going to go out and do," Releford, KU's fourth-year junior forward from Kansas City, Mo., said after scoring 16 points in leading his Blue team to a 40-33 victory over the Red squad in a Late Night in the Phog scrimmage Friday in Allen Fieldhouse.
The 6-foot-5 wing realizes KU's depth took a hit Friday when it was announced that freshmen Ben McLemore and Jamari Traylor would not be able to play for KU until next season after being deemed partial academic qualifiers.
"We just have to work a little harder," Releford said. "Every year we have to. We lose a bunch of guys every year (to graduation, NBA and transfer). I wouldn't say we're rebuilding. I'd say we have to combine and come together, play together."
Releford dazzled on Friday by hitting six of eight shots, including three of four three-pointers. He hit a driving basket and foul shot, then followed with a slam dunk off a steal in erasing a 16-12 deficit.
"We were down, and the next thing you know we were up," he said with a smile.
He also hit a pair of three-pointers, sandwiched by a Thomas Robinson bucket, increasing a 29-27 lead to 37-27.
"A few guys did make a few shots. Hopefully that can carry through the season," said Releford, whose Blue team hit 16 of 32 shots, the Reds 12 of 25. "I shot it with confidence. I have a lot of confidence in my shot."
For the winning Blue team, Elijah Johnson hit four of seven shots including one of four threes, good for nine points with seven assists against one turnover. Robinson hit five of 10 shots, including a three, good for 13 points. Tyshawn Taylor hit six of 10 shots and scored 17 in a losing cause.
"We have to make sure we take advantage of Tyshawn touching the paint," coach Bill Self said, asked about KU's potential style of play with a not-so-deep bench this season. "You saw tonight that cat can really get to the paint. Why would we let somebody shoot it before he has a chance to get to the paint?
"Thomas can get fouled. Why would we want somebody pulling a jumper before he has a chance to get fouled? Now we are coaching like the majority of coaches in America coach, play through your best players. We're not going to change how we play. We may just tweak it a little bit. Our philosophy will not change. We may tweak it a bit."
He reiterated it'll be fun to coach this squad, which has 10 players on scholarship counting Conner Teahan and Justin Wesley.
On whom will Self be relying?
"All of 'em," he said. "It's not like if Cole (Aldrich) turned his ankle we'd have Robinson be first guy off the bench. They'll all get an opportunity to contribute."
Releford assessed his fourth Late Night
"It's like every night here. The fans come out and support us. They're great. We have a great time in front of them.
"I'd say Naadir was the best dancer," he added of freshman Naadir Tharpe. "He held his group down (during dance with KU newcomers).
"Seeing coach in that leather suit was really funny," he added of Bill Self entering the fieldhouse driving a motorcycle wearing black leather jacket, chaps and boots.
Two partial qualifiers in; one out
Self was asked the difference in the Big 12 faculty reps approving freshmen Traylor and McLemore for financial aid and the right to practice second semester and play next season, but not approving the case of freshman Braeden Anderson, another partial qualifier who left KU and is looking at finding another school to play at second semester. All three cases were decided on their individual merits.
"I wasn't in on that call at all," Self said. "I'd say some things were thrown at us that allowed the Big 12 to rule on Jamari and Ben before they got the information on Braeden to rule on Braeden. It wasn't our fault. It wasn't anybody's fault. It was just the circumstances. Braeden was a little later getting in (information). That may have been the difference. I don't know."
Late Night frivolity
Actor Rob Riggle, a KU grad who appeared in "The Hangover" and was a former cast member on Saturday Night Live, had a role as referee in the fake boxing match between KU staff member Barry Hinson and "Vicious" Victor Ortiz. "I used to sit up there," Riggle said, pointing to the seats in the upper deck, northwest corner. "I was too busy 'studying' to get the good seats," he added of the seats in the student section behind the north goal. ... In a wild twist, KU's Hinson accidently head butted Ortiz in the face, the boxer getting cut in the lip. "Coach, what is that, a headbutt," Riggle said, jokingly referring to Ortiz headbutting Floyd Mayweather in last month's title fight in Las Vegas. Riggle and Ortiz were introduced to the fans during timeouts at Saturday's KU-OU football game.