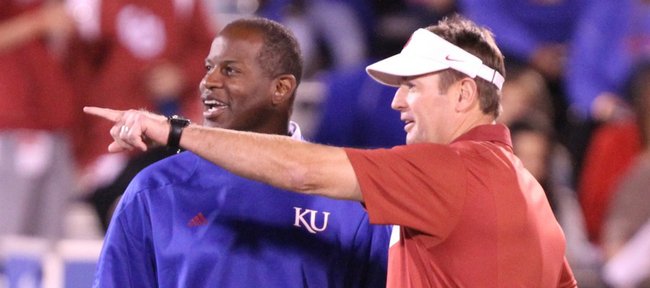 Podcast episode
Kansas coach Turner Gill talks to reporters following the Jayhawks' 47-17 loss to Oklahoma on Oct. 15, 2011.
KU vs. Oklahoma
Undefeated Oklahoma, the No. 1-ranked team in the country in the coaches' poll — the same OU that annihilated Texas, 55-17, the previous week — looked human in Saturday's 47-17 victory over Kansas in Memorial Stadium.
That fact did not bother coach Bob Stoops, whose Sooners improved to 6-0 overall and 3-0 in the Big 12.
"We got field goals. We didn't score every single time. It's difficult. We only scored 47 ... everybody is like, 'How did you not get 60?" said Stoops, now 7-0 all-time versus KU. "We didn't score every time we were in the red zone, so sorry we didn't score every time. We're working on it. It's hard. They did some nice things, too."
Stoops wasn't being short or testy in his postgame chat with the media. He was in a good mood on a record-setting night of one of his favorite players of all time.
Senior Ryan Broyles (13 catches, 217 yards, two touchdowns) on Saturday set the NCAA record for all time receptions (317) on a 57-yard bomb from quarterback Landry Jones in the second quarter.
That catch also gave Broyles, a 5-foot-10, 188-pounder from Norman, Okla., the all-time Big 12 record for touchdown catches (43).
The old record for all-time receptions was held by Taylor Stubblefield of Purdue, who had 316 from 2001-04. Oklahoma State's Rashaun Woods had 42 TD catches.
"I don't have any more adjectives to describe Ryan Broyles," Stoops said of Broyles, who set a personal record in receiving yards. He busted his old mark of 208 yards versus Colorado in 2010. "He is out of this world. The plays he continues to make ... it seems perfect he had a 50-, 60-yard touchdown to get the record."
The play was not necessarily set up for Broyles to bag the record. Or was it?
"We were aware of it," Stoops said. "He is really special, as you (media) all know."
Stoops, whose Sooners led just 27-17 at halftime, was impressed with QB Landry Jones, who hit 29 of 48 passes for 363 yards and three touchdowns, with one interception.
"Landry started out slow, but passes for a ton of yards and touchdowns," Stoops said. "I'm also pleased with the running game, and I think we held them to negative yards (defensively) the second half."
OU rushed for 247 yards off 40 carries and scored two rushing TDs. The Sooners allowed six total yards the second half.
"Give their coaches credit and players credit," Stoops said. "They are making progress and did well. I thought they would. They got some yards. They've played well at home this year.
"I'm very pleased with our players the way they continued to play throughout the game and finish the game."
More like this story on KUsports.com