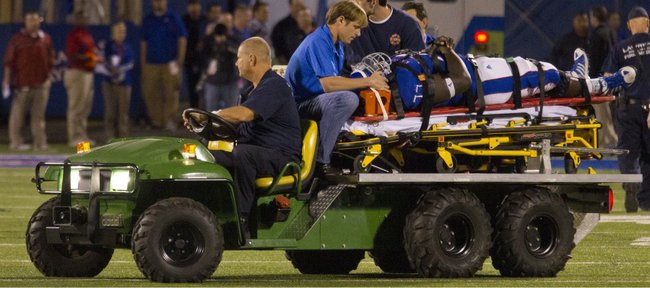 Podcast episode
Kansas coach Turner Gill talks to reporters following the Jayhawks' 47-17 loss to Oklahoma on Oct. 15, 2011.
KU vs. Oklahoma
Kansas University offensive lineman Jeremiah Hatch left the game late in the first quarter following an apparent back injury.
The senior was assisted by several KU trainers before being strapped into a stretcher and lifted onto a cart.
Play was delayed nine minutes to attend to Hatch, who was taken to Lawrence Memorial Hospital for evaluation.
Hatch returned to the KU sideline in street clothes during the fourth quarter.
"He's fine. He's now able to move all his limbs and everything," KU coach Turner Gill said. "They still want to evaluate him in the next 24 hours and kind of see what happens here in the next few days. But I'm glad to see that he is OK, as far as able to move his limbs, because initially, he was not able to move anything."
The Oklahoma game was Hatch's 41st start at KU.
Following the injury, KU sophomore Riley Spencer took over at left tackle, while Jeff Spikes shifted from left tackle to left guard and Trevor Marrongelli moved from left guard to center.
Boxer Ortiz talks
to KU football team
Professional boxer Victor Ortiz spoke to the KU football team Friday right after a team meal. His message was a familiar one: Believe.
"He just talked about how he was an underdog in many situations, and he came out on top," KU cornerback Tyler Patmon said, "how nobody believed in him, but he knew he believed in himself. So it was a great message for this game."
Ortiz was already in town Friday as a guest performer at Late Night in the Phog.
Opurum gets work on special teams
Toben Opurum played on special teams for the first time all year.
"We've got guys that weren't able to go, so they stuck me in there," Opurum said.
"You've always got to prepare like a starter, no matter if that's on offense, defense or special teams, so I was able to step in there and do a pretty good job with that."
Opurum said that KU special-teams coach Aaron Stamn suggested the idea to him.
The junior — who had been working with the punt team since the spring — recorded a tackle on an OU punt return in the first quarter.
"They didn't really block me, so I had a free run down the field," Opurum said. "You've just got to attack the ball and attack the ball carrier."
This and that ...
KU running back Darrian Miller's 66 rushing yards were a career high. His previous best was 63 rushing yards against McNeese State in the season opener. ... For the second game in a row, the Jayhawks lost the opening coin toss. Oklahoma chose to receive ... Temperature at kickoff was 68 degrees, under clear skies with winds out of the south at 9 mph.