Videos
2011 Late Night in the Phog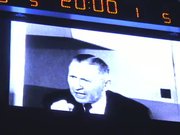 The Kansas men's and women's basketball teams performed skits and scrimmaged at Late Night in the Phog on Friday, Oct. 14, 2011 at Allen Fieldhouse.
The Kansas University basketball team, under the guidance of strength and conditioning coach Andrea Hudy, has managed to stay more healthy than most in this era of year-round basketball players.
Now, more than ever, KU needs well-conditioned athletes who avoid bad fortune on the injury front and learn to play without getting into foul trouble.
Ninth-year Kansas coach Bill Self, winner of seven consecutive conference titles, hasn't had this thin a roster since taking the job, but it's not as if it's his first team that deserves to be considered an underdog in the Big 12 title race.
In 2005-2006, the Jayhawks started three freshmen (Mario Chalmers, Brandon Rush, Julian Wright) and two sophomores (Sasha Kaun and Russell Robinson). The Jayhawks went 13-3 in the Big 12 to tie a loaded, veteran Texas team.
In 2008-09, Self relied heavily on freshmen Marcus and Markieff Morris and Tyshawn Taylor. Sherron Collins and Cole Aldrich led KU to a 14-2 Big 12 mark.
Compared to the team that put on various shows Friday at Late Night, those Jayhawks brought more experience off the bench, had more talented freshmen, more three-point shooting prowess and a great deal more size.
Self's teams always play selfless basketball and dish more bruises than they wear, but to pick this one to win the Big 12 with just eight players recruited to the school on scholarship requires a gigantic leap of faith.
When Gary Bedore broke the story Friday afternoon on KUSports.com that freshmen Ben McLemore and Jamari Traylor won't be eligible to play this season, the 1-2 punch knocked KU's conference title hopes into the ropes. The super-athletic McLemore had a chance to develop into one of the team's top scorers. Traylor, though raw, would have added another quick, big body in the paint.
Some of McLemore's minutes could fall to fifth-year senior Conner Teahan, who came to KU as a walk-on. Some of Traylor's could go to Justin Wesley, who also was not on scholarship when he transferred to Kansas after averaging 1.1 points and 1.2 rebounds in 9.9 minutes as a freshman for Lamar University.
The news deepened an already steep challenge, but it made the season no less compelling. The fascinating question remains the same: How many wins can a veteran winner coax out of a roster dotted with so many question marks?
Just one player has averaged double-figures in scoring over the course of a Div. I season. His name is Kevin Young (10.7 points per game in 2009-2010), and he did it for Loyola Marymount. He's a 6-foot-8 jumping jack who will be the team's sixth man if he doesn't start.
Conference champs? Doubtful. Energetic, fast, quick, explosive, intense, entertaining and tough-to-beat when fueled by the Allen Fieldhouse crowd? Absolutely.
A check of past rosters reveals this is the first time Self has coached without at least one McDonald's All-American since his last team at Tulsa (1999-2000). That doesn't bother him. The lack of depth would trouble any coach. Still, his enthusiasm rages.
"I think this is going to be a fun team to coach," Self said.
And follow.