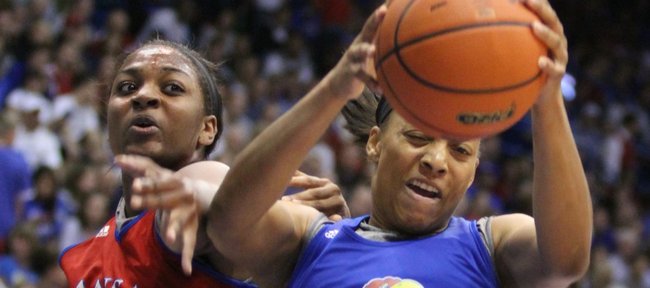 Videos
2011 Late Night in the Phog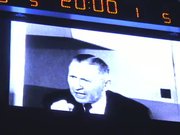 The Kansas men's and women's basketball teams performed skits and scrimmaged at Late Night in the Phog on Friday, Oct. 14, 2011 at Allen Fieldhouse.
After hitting the game-winning basket in Friday night's Late Night in the Phog scrimmage, Kansas senior forward Aishah Sutherland talked about the extra energy she received from playing in front of a packed Allen Fieldhouse.
From now on, Sutherland said bringing those kinds of crowds are up to her and her teammates.
"We need to win games," Sutherland said following the Blue team's 19-17 win over the Red. "If our defense gets right, then people will come in. If they see in the newspaper that we're winning, we're winning, we're winning, people are going to come watch us."
The forward put in the final mid-range jumper just before the buzzer after scrambling for a loose ball.
She tied a team-high with five points, which included a three-pointer — a shot the 6-foot-2 forward rarely takes.
Carolyn Davis led the Red team with seven points on 2-for-5 shooting.
The scrimmage was sloppy at times, as two teams combined to make just 14 of 40 shots (35 percent).
Despite that, KU coach Bonnie Henrickson said she was happy to see the aggressiveness of her returning players.
She also warned against taking too much away from a 20-minute scrimmage.
"If it was really, really good, I probably wouldn't be that excited," Henrickson said, "and if it was really bad, I probably wouldn't be that worked up."
The eighth-year coach believes her team will have fun players to watch in 2011-12.
Henrickson called junior point guard Angel Goodrich one of the "most special point guards I've coached in my career." She also said Davis' ability to run in transition and finish at the rim and Monica Engelman's outside shooting should add to the buzz surrounding this year's team.
The KU women open their exhibition season on Oct. 31 against Emporia State.
More like this story on KUsports.com