Feature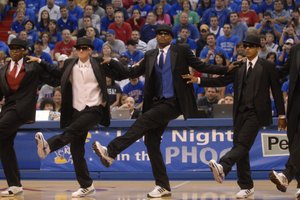 Complete coverage of Late Night in the Phog throughout the years.
Tyshawn Taylor senses some negativity nationally surrounding Kansas University's 2011-12 basketball team.
"I've been reading about where people see us in the country. It doesn't seem too many people think we'll be that good," said Taylor, KU's senior point guard from Hoboken, N.J., who indicated he was "shocked" Thursday after learning the Big 12 coaches picked KU and Texas A&M; as preseason co-favorites to win the league.
Taylor had heard Baylor, A&M; and Missouri might finish ahead of KU in the polls.
"It's a great compliment. We're excited about that. I just want to get four (in his career) and go home," Taylor said. "I don't want to be the one it (streak of seven straight league titles) ends on. We've got to keep working to make it happen."
The Jayhawks received five first-place votes to A&M;'s two en route to 73 points in the coaches poll. Baylor, which received two first-place votes, notched 63 points, while Missouri, with one first, had 61. Texas placed fifth (51), followed by Kansas State (39), Oklahoma State (33), Iowa State (27), Oklahoma and Texas Tech (15 each).
"I'm surprised. I always say that the coaches know more than the media, but I'm not sure that's the particular case in our league right now," KU coach Bill Self said with a smile. "Last year we had the (Morris) twins and (Brady) Morningstar, (Tyrel) Reed and (Josh) Selby and (Mario) Little, and I think the coaches picked us third. We don't have any of those guys now, and they picked us tied to win it.
"That doesn't bother me. We've kind of gone into the season with tempered expectations, to be honest with you. I've tried to do that with our fans a little bit. I think it speaks volumes to how well some of these guys and certainly how players in the past have performed here in league play. I think it's fine, and we're kind of used to being in the situation where people expect us to be decent. We won't shy away from that."
Coaches were not allowed to vote for their own teams.
"I know Texas A&M; is going to be really good, and personally I picked Baylor to finish first in our league, and I think I picked A&M; (No.) 2," Self said. "What I picked and what anyone else picked this time of year doesn't mean anything obviously, 'cause look where the coaches picked us," he added with a laugh.
Elijah's twin: KU junior Elijah Johnson revealed in this year's KU media guide that he has a twin brother.
Is that true, Elijah?
"Yeah, I've got a twin. He actually plays on this team," Johnson said Thursday at media day.
Really? Who's that, Elijah?
"That kid right over there," he said of Tyshawn Taylor. "You ever seen the movie 'Dumb and Dumber?' I would just be dumb. I think he would be dumber. We are the same person. We grew into the same person. His tendencies rubbed off on me, and mine rubbed off on him," Johnson added. "I say that a lot, and a lot of people don't understand. He's the only one who understands what I'm talking about."
Taylor said he's going to enjoy playing in the same backcourt as Johnson.
"We spend a lot of time together working out. We know each other's tendencies more, and we're learning more about each other because we have been on the same team more in pickup," Taylor said.
Taylor, by the way, is KU's first four-year starter since Aaron Miles, who played two years for Roy Williams and two for Self.
Wesley on scholarship: KU coach Self revealed that sophomore Justin Wesley has been placed on scholarship this school year. Wesley, a 6-foot-9 sophomore transfer from Lamar University, is brother of former KU standout Keith Langford.
"I talk to him about three or four times a week. He just tells me to keep working hard, never stop and keep trying to get better by always being in the gym," Wesley said. "It's a blessing to come here and go to the same school as my brother. What he did here was incredible to me. I don't try to fill his shoes. I try to fill my own shoes. It's what he told me to do."
Langford, who recently left his pro team in Russia and is negotiating to play in Israel, will be at Late Night tonight.
"It's the only time he's going to be able to see me play. He should be going to his new team next week," Wesley said.
Of Wesley, Self said: "He's probably as quick an athlete we've had since we've been here. He's really athletic. I think he'll definitely be part of the rotation."
Self said former walk-on Conner Teahan also would be on scholarship for a second straight year. KU will have eight available recruited scholarship players on the roster if Jamari Traylor and Ben McLemore are deemed ineligible for this season.
Recruiting: Two top prospects in the Class of 2012 will attend Late Night as part of official campus visits. They are: Perry Ellis, 6-8 forward from Wichita Heights, who has orally committed to KU, and Kaleb Tarczewski, 7-foot from St. Mark's High in Southborough, Mass., who is down to KU and Arizona. Tarczewski, who will visit Arizona on Oct. 21, is ranked No. 20 overall and Ellis No. 24 nationally by Rivals.com.
Several players from the Class of 2013 will be in Lawrence this weekend on unofficial visits.
They are: No. 8-ranked Chris Walker, 6-9 forward, Holmes County High, Bonifay, Fla.; No. 24 Allerik Freeman, 6-4 guard, Olympic High, Charlotte, N.C.; No. 35 Brannen Greene, 6-7 forward, Mary Persons High, Forsyth, Ga.; No. 71 Karviar Shepherd, 6-9, center, DeSoto (Texas) High; and Shepherd's prep teammate Jordan Mickey, 6-7 forward, ranked No. 75. No. 52 Isaiah Lewis, a 6-2 guard from Christ the King High, Brooklyn, N.Y., had planned on attending but will reschedule a visit, he told Rivals.com.
Self on junior Thomas Robinson: "I love his atttiude. His energy, his 'try' level is off the charts, but he's never carried the water before. He's a guy that if he did not play well we could still put our starters back in the game."
Now, Self indicated, Robinson will be the focal point of opponents and the media.
"That's a different pressure, a thing he'll rally around fine. But it's a big deal when Sherron (Collins) took every shot, and when we didn't win, Sherron shouldered it. I think Thomas and Tyshawn for the most part will shoulder it this year."
Self said Robinson had to be the best-conditioned athlete in the Big 12 this year as he could play more than 30 minutes a game if he stays out of foul trouble.
Self on junior forward Kevin Young: "Kevin is one of those guys who could potentially be a starter. He's kind of a hybrid, a little like Julian (Wright). He's going to have to play inside some and on the perimeter, a jack of all trades with us. I think he'll be a huge impact (player) for us," especially after he "gets comfortable basketball-wise."
Self on freshman point guard Naadir Tharpe: "He needs to play. I anticipate him being part of the rotation. He reminds me personality-, intangible-wise of Aaron (Miles). Hopefully he'll play as well as Aaron."
Self on junior center Jeff Withey: KU's coach said the 7-footer could play 20 minutes a game. "I think he has the potential to lead the league in blocked shots if he plays enough minutes. I know our guys think he's gotten a lot better. Our staff thinks he's gotten a lot better. He's gotten stronger."
Bechard on staff: Former KU guard Brennan Bechard, who worked as graduate student manager the last two seasons, has been promoted to a full-time position on the staff — assistant director of basketball operations. Bechard played at KU from 2007-09.
Late Night details: Late Night will run from 6:30 to 9:30 tonight in Allen Fieldhouse.
Doors open at 5:30 p.m. Admission is free. Fans are asked to bring nonperishable food items for charity.