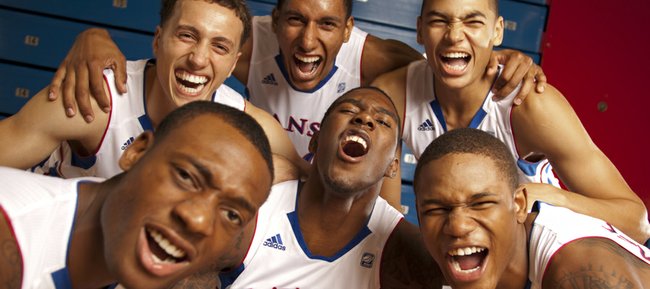 Ben McLemore says that, outside of basketball, his greatest talent is ... dancing.
"I wish I could sing. I definitely can dance. I've got the dancing skills and the moves. I can't wait until they tell us what's going on so I can play in Late Night and show everybody I can dance," McLemore, KU's 6-foot-5 freshman guard from St. Louis, said with a smile.
Photo Gallery
KU Basketball Media Day 2011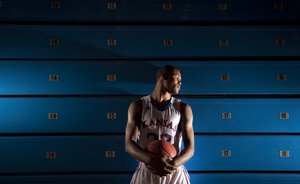 A collection of portraits and candid moments from Media Day, Thursday, Oct. 13, 2011 at Allen Fieldhouse.
Feature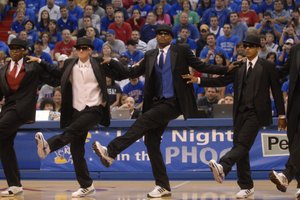 Complete coverage of Late Night in the Phog throughout the years.
As of Thursday, it had not yet been determined whether McLemore and fellow freshman Jamari Traylor would be able to participate in tonight's Late Night in the Phog, set for a 6:30 p.m. start in Allen Fieldhouse. They've both been able to attend class and play in unofficial pick-up games since an NCAA ruling on Sept. 8, but they cannot participate in official team activities as they await word on their eligibility from the NCAA.
KU coach Bill Self implied at Thursday's media day that an announcement may be coming soon indicating the two would not be cleared to play this season — "We still have hope, but we're not holding our breath on that situation at all," he said. Self nonetheless wants to see the duo at least sing, act, dance ... and play tonight.
"They won't participate in practice. I just want them to come out there and be a part of the team, and I don't see how that affects anything," Self said. "But based on the information we have right now, that determination has not been made whether or not they can come out there and be a part of the festivities with no regard to practice.
"I don't understand that one, so that's one we'll continue to fight for until Late Night to see if that can happen, because they deserve that."
Self did not sound hopeful that the two would be deemed eligible for participation their freshman seasons.
"I've held off talking about that, but they know where they're at. And they know we've tried, and we're trying to get some things done," Self said. "And obviously, we haven't got the answers that we want, because if we had, we'd have shared them with you. That's a factual thing. It's not totally negative. I'm not saying that at all. We still have hope, but we're not holding our breath on that situation at all."
Self said he was not upset at the NCAA Clearinghouse.
"The NCAA has been great. I mean, we can agree to disagree," Self said. "But it's not because of anything they've done. They've been fair and responsive. We are still holding out a little bit of hope. They've made it pretty clear that this is what they see as of now. Hopefully I'll make an announcement sooner rather than later, so these kids can know the situation where they are at," Self added. "They know what's going on. ... The thing about it is with those two kids, it's unbelievable to me, their attitude with me is, 'Hey, coach, we're going to be OK.' I'm amazed how good of an attitude they have. They haven't missed a class. They are caught up academically after starting late. They feel they have something to prove more than basketball, which isn't a bad thing."
Freshman Braeden Anderson recently was deemed a partial qualifier and left KU after the Big 12 faculty reps did not approve him for aid. Had he been given the OK by the Big 12 faculty reps, he could have practiced second semester and been eligible next year with four years of eligibility remaining.
Traylor and McLemore have been on scholarship. They have been allowed to attend class and play in unsupervised pickup games, but not take part in official team activities.
Their continuing presence on campus seems to indicate that a possible scenario might involve the duo being allowed to practice second semester but not play in games until next season.
Nobody's saying that is definitely the case at this time.
"I usually come in coach's office, talk to him, ask him what kind of feedback he's getting for us," said McLemore, who started at Wellston High in his hometown. Last year, he attended both Oak Hill Academy in Mouth of Wilson, Va., and Christian Life Center in Houston. "We're just waiting. A lot of players are praying for us every day. Hopefully they will make the decision and we'll be able to play this year," McLemore added.
Traylor, a 6-8 forward from Chicago, attended Fenger and Julian High Schools in the Windy City and IMG Academy in Florida last year.
"I hope there's hope, but it's a process. I'm just waiting," Traylor said. "I know my coach is working hard on it. I am happy to be here and have the opportunity to go to school. I'm not sure what the problem is. I just hope the decision comes out in my favor."
The two were not able to participate in the recent Boot Camp conditioning program.
"I don't feel I'm behind. I know if I am behind I'd get caught up pretty quickly because coach Self is one of the best coaches in the country," Traylor said. "I would just love to have the opportunity to be out there."
Noted McLemore: "It's been hard not getting to do the individual workouts with my teammates. I am not going to let it get me down. I've mainly been focusing on school right now, going to class getting my grades up."
Self noted that it's a positive that the two have been able to go through this period of uncertainty together.
"They don't feel sorry for themselves They are getting three squared (meals) a day and they've got a big bed to sleep in. That's the reality of it. They don't see it as a negative. They have people who care about them. They don't like it but are making the best out of the situation," Self said.
More like this story on KUsports.com