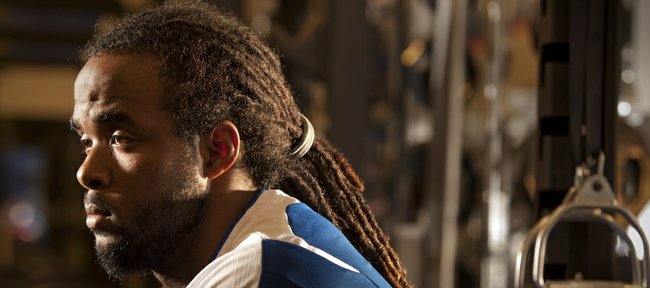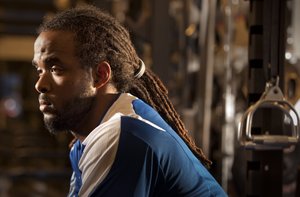 If you met him today, you might not notice anything remarkable about Kansas University linebacker Isaac Wright.
Putting aside his stylish dreadlocks, which he began growing a few years back because he thought they looked cool sticking out of his helmet, Wright seems like any other KU football player and any other college student.
He's not.
The fact he's in college or even can play football is the remarkable part, considering when he was born, three months before reaching full term, Wright weighed 1 pound, 14 ounces and seemed destined for a life of struggle, if he'd have any life at all.
"My mother would refer to him as a prune with legs," Wright's mother, Alicia Hooks said. "His entire body fit in the palm of my hand."
Twelve weeks before he was due, on March 22, 1990, Wright worked his way into the world and started fighting.
"The goal was to keep him in for at least 24 weeks," Hooks said. "If we couldn't, they wouldn't be able to save his life if he had any problems after he was born. The day I reached 24 weeks, my water broke, and he was here. The doctor basically said, don't have high expectations of him living, and, if he does live, he's going to have severe physical abnormalities."
It didn't matter. Hooks and Isaac's father, Dwayne Wright, viewed their first son as a blessing.
"They said I didn't have very many features or anything," said Wright, recalling the tales he's heard a thousand times. "I just had eyes and limbs. But ... I made it."
Doctors would not let Wright's parents take him home until he was in the 3- to 5-pound range. The waiting lasted several months. More tubes. More tests. More tears.
"I missed Mother's Day," Hooks said. "I sat and cried in church on Mother's Day. Everybody else had their baby, and life wasn't fair."
Wright faced long odds from the day he was born. As a walk-on who's been to three schools in the last three years, the odds continue to stack up against him. But Wright refuses to succumb to them.
"I'm a fighter," he said. "That's where I came from. I've been fighting to get here and I'm gonna keep fighting."
'Just a normal kid'
By the time Wright was a few months old, he gained weight like a normal infant and ate like an adolescent. He used to have asthma. It's gone now. His legs were supposed to grow at different rates, making simple tasks such as walking, running or riding a bike nearly impossible. They didn't. They did grow, though. Today, Wright, a junior from Kansas City, Kan., stands 6-foot-3, 240 pounds. By the time he was in elementary school, Wright's size was no longer an issue.
"He was odd-looking, but he was actually just a normal kid after he came out of the hospital," Dwayne Wright said.
By age 5, Wright's parents were separated, and he lived part-time with each.
"He literally was flip-flopping back and forth even during the week," Hooks said. "But worse than that, I ended up homeless, and we were staying in an abandoned building with no running water — a horrid thing for a kid to have to go through. But he was a trooper. He always found the best things. We would go outside at night and dance in the rain, and he would invent little games for us to play."
Around that time, Wright began using sports as a distraction. He excelled in just about everything he tried, but didn't take to football so quickly.
"At first, he seemed so uncoordinated and frustrated and crying and mad," Hooks said. "But when he first got it was when he was a receiver and he caught the ball and ran all the way to the other end of the field. After that, it was all over. That was his sport. That was his love."
By eighth grade, Wright had grown to 5-6. A year later, he sprouted seven inches and stood 6-1 as a ninth-grader.
Although Wright's many health concerns vanished before causing much harm, his upbringing was another story. It didn't create the same kind of pain that asthma, blindness or physical abnormalities would have, but it harmed a part of Wright nobody could see. This, too, forced him to fight.
During his three years on the Kansas City Washington varsity football team, Wright was ejected from eight games, all for fighting on the field. Because of the anger he carried with him just about every day, the physically gifted player had become a liability for his team.
"I was a head case," Wright said. "That was my biggest problem. It was more or less like my background caught up with me. That made me better, but the only problem was I couldn't translate the difference between being on the field and being off the field. I could play angry on the field, and I could be great, but I couldn't understand that in the classroom you couldn't do the same kind of stuff."
While Wright's past took its toll, he found a way to use his rage to hit harder and play faster. He quickly became one of the top players in the Kansas City area. With that, came trips to KU for seven-on-seven camps, where a good showing could have landed Wright a Div. I scholarship. His physical abilities stacked up.
Mentally, he remained worlds behind the rest of the players, and that kept coaches from committing to him.
The Stuckey factor
There's a barber shop in KCK that's responsible for helping Wright get his life on track. His dad's shop, The Wright Cutt, provided the setting for one of the biggest talks of his life. His mentor, Darrell Stuckey, a Washington High grad and one of KU's all-time greats, provided the soundtrack.
"Me and Isaac have had kind of a big-brother relationship ever since I met him," Stuckey said. "I knew he was smart. He could play the game of football and he took care of what was important. I think I saw something in him that even he didn't know he had."
Dwayne Wright never will forget Stuckey's work that day.
"They went outside of my shop and sat on the front step and talked for an hour or two," said Dwayne Wright, who still cuts Stuckey's hair when he's in town. "When they came back in, Isaac's whole attitude was different."
Stuckey, who now plays for the San Diego Chargers, remembers the conversation, too.
"It was about him seeing life as he needed to see it instead of how he wanted to see it," Stuckey said. "And I told him it was important to put as much into it as he's going to get out of it. I told him, 'If you want something, go chase it. You have to go and get it.'"
Wright listened, and when he received a scholarship from Butler Community College to play football, he thought he was on his way. He red-shirted his first year, missed his second year because of injury and never played a down at Butler. He transferred to Independence CC, where, for the first time in his life, he was allowed to play linebacker. After finishing the 2010 season with 88 tackles, Wright began getting calls from Div. I programs.
Things looked good for him to head to Arkansas as a walk-on but, at the last minute, the Razorbacks changed their mind and, once again, Wright's anger surfaced. Instead of letting it pull him back down, Wright remembered Stuckey's words and the school where Stuckey starred. KU coach Turner Gill offered Wright preferred-walk-on status, and the junior joined the team this summer.
"Being a walk-on is pretty tough," Wright said. "Money is the biggest issue; buying books, buying food, paying your rent, getting back and forth to practice without a car. All through summer, I jogged, I think three or four weeks straight, to make it to morning practice. I'd get up at 4 in the morning to make it, but when you've got this kind of opportunity, you can't complain about not getting enough sleep."
Road work is nothing new for Wright. He used to jog two miles to his grandma's house in a weighted vest and often did 500 push-ups right after waking up. His stepfather, Rodney Hooks, told him it would make him stronger. Wright didn't question it.
Once his KU teammates got to know him and realized the lengths he went to in order to make workouts, help started coming his way.
"Lubbock Smith. Make sure you put that down," Wright said. "I really appreciate him. He got me. He's seen where I'm coming from. He's just seen people struggling, and I'm pretty sure he's had the same kind of stuff."
Asked what inspired him to give rides to a player he hardly knew, Smith didn't flinch.
"He didn't even have to ask me," Smith said. "That's just what you do for a teammate or a brother."
'I do have a calling'
Today, Wright is listed as a second-string linebacker for the Jayhawks. He plays in the middle, behind sophomore transfer Darius Willis, and, although he's still new to the position, he has played in all five of KU's games and recorded five tackles. Naturally, every one has made mom proud.
"Isaac had the instinct, the gut and the heart, but he didn't have the training at linebacker," Hooks said. "So for him to get in the game as a walk-on without having that training, yeah, I'm hollerin'."
Although he still tends to roll his eyes at his mother's gushing, Wright said he knew where she was coming from.
"When you're a child, I think they're supposed to tell you you're special to make you feel good," he said. "But I am starting to believe that I do have a calling. Now that I understand it, I realize how hard being premature has been on so many other people. That's the real blessing. Not playing football, not going to school, just me being here."
Added his mother: "He has come a long, long way. If you think about everything he went through, for him to come out like he did, it certainly wasn't me, it certainly wasn't his dad, it was nothing but God."
With the rest of his life figured out — school, his past, his future, his family — Wright, an international-finance major, said he looked forward to focusing on his one true passion.
"The only hobbies I have are football and trying to make it," he said. "There's a lot that goes into it, but this is the life I chose. And I'm fine with it. I can't even imagine what life would be like without football. I can see me being the 60-year-old man still playing flag football. I see it. Because, at the end of the day, with everything being hard, you go back to what you love and just remember to have fun. Your biggest fight is between you. That was the thing I had to learn. It's not the other players. It's not the coaches. It's about you. And I'm happy."
More like this story on KUsports.com