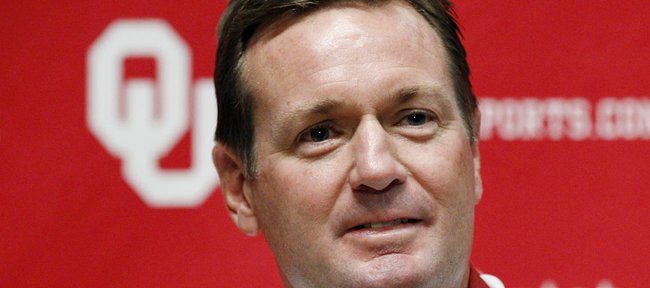 With his team penciled in as a 35-point favorite over Kansas University on Saturday, Oklahoma football coach Bob Stoops was asked Monday morning on the Big 12 coaches teleconference about his philosophy on running up the score.
"I always think, at the end of day, heck, the other team needs to stop you," Stoops said. "That's how I would feel, I know that."
With Kansas (2-3 overall, 0-2 Big 12) coming off of one of its worst defensive performances in school history, the focus has shifted from what KU must do to compete to just how much worse it can get. Last week in Stillwater, Okla., Oklahoma State pounded KU, 70-28, and jumped out to leads of 35-7 after one quarter and 56-7 at halftime.
Oklahoma State coach Mike Gundy, who chose to rest several of his starters when the Cowboys jumped ahead 49-7 in the second quarter Saturday, shared Stoops' thoughts.
"I think every coach has their own opinion, and I am not sure if anybody is right or wrong," Gundy said. "From a defensive standpoint, I have always felt it was our responsibility to stop the other team, and that is our approach. I don't think it is the other team's responsibility to take care of us. From an offensive standpoint, when we got ahead by 40 points with five minutes to go in the second quarter, I don't see why the other young men in our program who work hard and don't get a chance to play should not have an opportunity to get on the field, especially since we were at home and they could play in front of their friends and family."
Like the Cowboys, who rank second in the nation in total offense, the Sooners, ranked sixth, come to town with a high-powered offensive attack led by one of the country's top quarterbacks, Landry Jones, and a potent crop of powerful wide receivers. Through five games, OU (5-0, 2-0) has racked up more than 2,600 yards of offense and 28 touchdowns, all against a schedule that ranks as the toughest in the country, according to the Congrove Computer Rankings.
While averaging 535 yards per game this season, OU has rolled up 45 points per outing against stiff competition. Already, the Sooners boast victories at Florida State, at home against Missouri and against Texas last weekend in Dallas. OU won those three games by an average score of 39-19.
All those factors, and more, point to the Sooners having a good shot to set the scoreboard on fire this weekend in Lawrence. While the numbers may indicate that possibility, Stoops said he never has gone into a game seeking to run it up.
"I don't think anybody tries to," Stoops said. "I think sometimes games, for whatever reason, whether it's turnovers or whatnot, can get out of hand. But I don't think anyone intentionally … well, it's probably not fair to say anyone.... it's just one of those things that when it happens you gotta deal with it."
Clearly, lopsided outcomes are tough on the teams who wind up on the losing end. But Stoops said big-time blowouts are no picnic for the victors, either.
"It's one of the more frustrating situations," he said. "Because you're not sure how to handle it. You want your young guys that are in there to keep playing. It can be difficult."
It's actually easier on the road, where teams in the Big 12 are allowed to bring just 70 players on their traveling squad. So, while Oklahoma State was able to play its third- and fourth-string guys during last week's blowout, the Sooners will be limited to playing the guys they bring no matter how the game unfolds. For Kansas, that could be bad news, particularly because Stoops said Monday his team had yet to reach its potential.
"It's only the (sixth) game, and the really good teams keep getting better," Stoops said. "I think our guys will take that to heart. We're watching the tape, and we've got a lot we can get better at. We're not playing as well, overall, as we can, so let's push for that. The better teams we've had here, where we've won championships or had opportunities to, we got better as the year went."
Kansas and OU will kick off at 8:15 p.m. Saturday. The game will be shown on ESPN2.
More like this story on KUsports.com