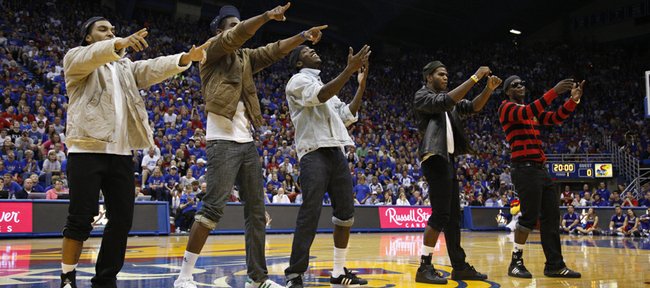 Late Night looms
When: 6:30-9:30 p.m. Friday; doors open at 5:30
Admission: Free
Television: Metro Sports of Kansas City
Kansas University's season-opening "Late Night" basketball extravaganza, which this year is set for 6:30 p.m. Friday in Allen Fieldhouse, has always been about introducing the current Jayhawks to their legions of fans.
Perhaps just as important, however, is the fact, "you've got all the recruits coming in the fans want to see," said former KU guard Xavier Henry of the Memphis Grizzlies, who attended several Late Nights as a prospect out of Oklahoma City.
"It's one of the biggest nights of the year. It's crazy, a packed house. The love they (fans) show us in Kansas basketball is amazing for everybody to see."
Noted Nick Collison of the Oklahoma City Thunder, who attended one Late Night after committing to KU in the fall of 1998: "For recruiting, we're able to show the kids the love we get from the fans here. It makes it a lot of fun to play. Late Night was a lot of fun for us (players). It's that one big event to start of the year.
"Basketball starts."
Two top prospects in the Class of 2012 will attend Late Night as part of official campus visits. They are: Perry Ellis, 6-8 forward from Wichita Heights who has orally committed to KU, and Kaleb Tarczewski, 7-foot from St. Mark's High in Southborough, Mass., who is down to KU and Arizona. Tarczewski, who will visit Arizona on Oct. 21, is ranked No. 20 overall; Ellis No. 24 nationally by Rivals.com.
"Late Night is a chance for some of the top recruits in the country to see what Kansas basketball is all about," said Shay Wildeboor, recruiting analyst for jayhawkslant.com. "The tradition, the history, the fans are all on display in more a relaxed setting. Coach (Bill) Self talks to the crowd, there's a scrimmage, but no game preparation. The coaches don't have to scout a different team. The main focus is on the kids they are bringing in.
"A number are also taking unofficial visits. It gives the staff a chance to get a leg up on some kids."
Indeed, several players from the Class of 2013 will be in Lawrence this weekend on unofficial visits.
They are: No. 8-ranked Chris Walker, 6-9 forward, Holmes County High, Bonifay, Fla.; No. 24 Allerik Freeman, 6-4 guard, Olympic High, Charlotte, N.C.; No. 35 Brannen Greene, 6-7 forward, Mary Persons High, Forsyth, Ga.; No. 52 Isaiah Lewis, 6-2 guard, Christ the King High, Brooklyn, N.Y.; No. 71 Karviar Shepherd, 6-9, center, DeSoto (Texas) High; and Shepherd's prep teammate Jordan Mickey, 6-7 forward, ranked No. 75.
"I did come to Late Night as a recruit. Once I saw that, it made me fall in love with the place," said former KU forward Markieff Morris of the Phoenix Suns.
KU's current players annually look forward to acting and dancing in skits as well as playing in a short scrimmage to conclude the proceedings. This year's Late Night is slated to run 6:30-9:30 p.m. Friday. Doors open at 5:30 p.m. Admission is free. Seating will be first-come, first-served. Children 12 and under will not be admitted without an adult. Fieldhouse doors will be closed when the arena reaches capacity. Fans are encouraged to bring nonperishable food items to be donated to charity.
All university parking lots will be by restricted by permit only until 4:30 p.m. Public parking prior to 4:30 p.m. is available in the parking garage just north of Allen Fieldhouse with a $1.25-per-hour rate.
Metro Sports of Kansas City (cable channel 37) will air Late Night as part of its Midnight Madness show. ESPNU's Sean Farnham will be at the 27th-annual Late Night providing live cut-ins for ESPNU's Midnight Madness programming, which will run from 8 p.m. until 12 a.m. Late Night also will be broadcast on KLWN radio.
Tryouts set
The Jayhawks will conduct walk-on tryouts at 7:15 p.m., Tuesday, Oct. 25, in the fieldhouse. Students interested in trying out need to pick up forms in the men's basketball office (2440 Wagnon Student Athlete Center). All mandatory information and forms need to be returned prior to 4 p.m., Friday, Oct. 21. Only full-time students at KU are eligible for tryouts. For more information, contact the basketball office at (785)-864-3056.
More like this story on KUsports.com