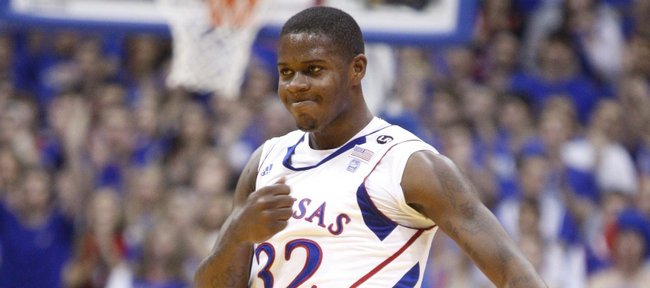 Second-round NBA Draft pick Josh Selby, who is unable to negotiate a contract with the Memphis Grizzlies during the lockout, is patiently playing the waiting game with league rookies and veterans alike.
"I don't regret any thing," former Kansas University combo guard Selby told the Memphis Commercial-Appeal. He chose to enter the draft shortly after the end of his freshman season at KU, electing to take his chances on the possibility of a lost season rather than returning for his sophomore year in college. "I've just been doing what I've always been doing. There's nothing us rookies can do about the lockout so I just wait to hear what's going on."
Selby spent the summer training in Las Vegas and also playing in various NBA-caliber exhibition games with the likes of Carmelo Anthony and Kevin Durant, as well as future Memphis teammates Mike Conley, Rudy Gay, O.J. Mayo and Zach Randolph. He had a 42-point, seven-assist outing in one game last month at the "lockout" league in Las Vegas.
"He's the steal of the draft. The young fella is going to help us," Randolph told the Commercial-Appeal.
The 6-foot-3 Selby, who was chosen 49th overall, said he has learned a lot the past several months.
"It's a blessing to learn from guys who are where you want to be," Selby said. "I've been playing with all stars. And they recognize talent. Players are players. If you can play a little bit then they take you under their wing."
Selby has been staying at his mom, Maeshon Witherspoon's, house in Baltimore when he's not traveling.
"I tell him to stay humble," Witherspoon said. "We can watch as many Grizzlies tapes as we want. But until he gets on the floor with that staff and those players you won't be able to tell what he can do. I tell him this isn't a vacation."
Selby's agent, Andy Miller, secured disability and health insurance for Selby.
"Our mind-set was, how can we put him in the best position without exploiting him?" Miller told the Commercial-Appeal. "He's like a summer-league All-Star player with the amount of exhibition games he's played in. We're maximizing the situation out of the circumstances."
Of his financial situation, Selby said: "Money-wise, I wouldn't say it's been difficult. It would be wonderful if there wasn't a lockout. But everybody has a loan they can take out. I'm just trying to keep a budget and make sure I don't overspend. I don't need to buy an expensive car or a home. I don't need any of that."
Once the lockout ends, he'll have to make the team unless the team issues him a contract as Miami did several years ago with former second-round pick Mario Chalmers, who notched a guaranteed deal before training camp.
"If I want to I could chill all day and not do anything," Selby said. "But that's not what I'm doing. I'm working hard every day. I'm very anxious to show what I can do."