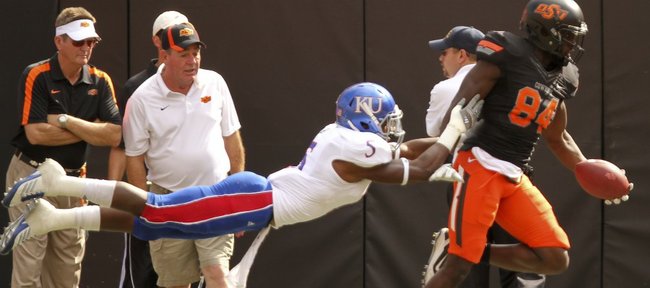 Stillwater, Okla. — Running up the score is considered bad form and I get that, in high school. I never have understood the big deal about college football teams putting huge numbers on the board, especially teams in the run for national titles.
Oklahoma State will mix in more runs and slow down the pace at some point in the second half because those are the unwritten rules. Here's a better idea for Cowboys coach Mike Gundy: Reward your players for devoting so much mental and physical energy to execute his quick-tempo offense to perfection against a hopelessly overmatched, under-motivated Kansas University defense.
If Oklahoma State can take a shot at scoring 100 points, why not do it? Let the players carry that memory with them for the rest of their lives. In the process, the No. 6 Cowboys will move up in the rankings because scoring 100 points against a Division I-A defense is no joke, even if it is a defense that has a chance to go down in history as the worst in history.
Reader Steve Swaggerty, during an e-mail exchange earlier this week, predicted Kansas would allow 400 points during this nine-game Big 12 season. I countered with a guess of 382: Texas Tech (45), Oklahoma State (55), Oklahoma (51), Kansas State (38), Texas (48), Iowa State (24), Baylor (44), Texas A&M; (42), Missouri (35).
Well, since Oklahoma State already leads 56-7 at the half, that proves that Mr. Swaggerty is less of a KU football homer than I am. His guess of 400 points looks pretty good right now. But he shouldn't count on Gundy helping him get way ahead of the 400 projection. That's not what football coaches do. Backup Clint Chelf closed the half for the Cowboys.
OK, I can see that, and he did let Chelf throw a pass, which naturally resulted in a touchdown, covering 24 yards. But will he let Chelf and/or starter Brandon Weeden air it out for another two quarters and make a legitimate run at 100 points? Doubtful, which is a shame because the crowd would be so into it and it really would make for an interesting second half.
Speaking of second halves, most figure next week's home game against Oklahoma will mark the end of the first half of head coach Turner Gill's Kansas University coaching career. Former athletic director Lew Perkins signed Gill to a five-year, $10 million contract, all guaranteed.
Those familiar with KU athletic director Sheahon Zenger's thinking on the issue believe Zenger will give him through 2012 to prove himself. But what if OSU goes for it and gets 100 points and Oklahoma tries to do the same a week from now? What if a group of alumni, so embarrassed by this team's weekly sink to new depths, pools their millions after this season and offers to buy out Gill for $4 million of the remaining $6 million on his deal and former Texas Tech coach Mike Leach sends word through back channels that he wants to coach the Jayhawks? What then?
Anyway, enjoy the second half.