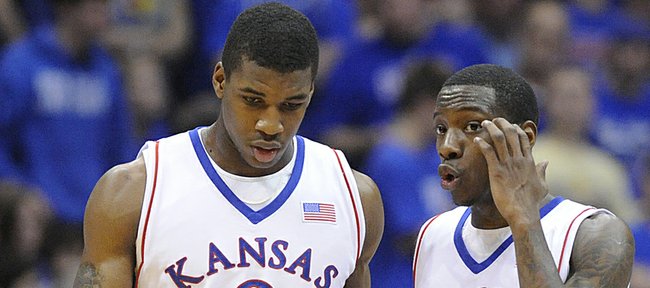 Thomas Robinson's motto of "No Days Off" seems to be paying off.
"A summer of hard work ... I'm glad it's being recognized," Robinson, Kansas University's 6-foot-9, 237-pound junior basketball power forward, said Monday after being named to the John R. Wooden Award Preseason Top 50 list.
"This means a lot to me. It's a great accomplishment. I'm honored to be on that list," added Robinson, who received glowing reviews for his play at the Amar'e Stoudemire, LeBron James and adidas Nations camps in July and August.
Happy for himself, Robinson was dismayed KU teammate Tyshawn Taylor didn't join Big 12 players Marcus Denmon (Missouri), Perry Jones (Baylor) and Khris Middleton (Texas A&M;) on the Wooden preseason list.
"I can't use the exact language I want to, but, I mean, I am very upset he wasn't," Robinson said of the senior point guard from Hoboken, N.J. "Tyshawn is one of the best guards in the country. He's one of the fastest guards in the country. He knows how to play the game. But you know, all this stuff is just writing. It's just potential. It means nothing. The real players will come out in November. Tyshawn will be here in November. He will be one of the best players in the country."
Robinson — he revealed his "No Days Off" mantra while attending KU's first session of summer school — averaged 7.6 points and 6.4 rebounds a game his sophomore season. He hit a team-leading 60.1 percent of his shots and 51 percent of his free throws.
"I am just going to do whatever I've got to do for my team to win. If it means to average 10 points and that will make my team win, that's what I'm going to do," Robinson said. "I'm going to play hard, and whatever numbers I end up with, that's what I end up with."
Of his free-throw accuracy, he said, "That's an area that will go up. I will put my team in danger of losing games if it becomes 'Hack-a-T-Rob,''' he added, aware NBA teams would regularly foul Shaquille O'Neal at the end of games because of O'Neal's inability to hit free throws, a strategy referred to as Hack-a-Shaq.
"I can't be missing free throws especially if I am going to be the guy that is looked at to finish games this year. Free-throw percentage is something I made a focal point this offseason."
One of the highlights of the summer was being singled out by Miami Heat standout James at James' camp in Ohio.
James made a point to tell Robinson he was "strong."
"That was cool to get a compliment from LeBron, one of the greatest players in the game," Robinson said. "For me to hear him say I was a good player meant a lot to me, but that also made me more hungry to come to school here and get more players to recognize how good a player I am. That was just the start of it."
KU's Marcus Morris was named to the Wooden Award Preseason top 50 last year and later made the 10-member Wooden Award All-America team. Transfers, freshmen and medical red shirts are not eligible for the preseason list. These 50 players and others will be evaluated and considered for December's midseason list, with the 20-player final ballot released in March. The Wooden All-America Team will be announced the week of the NCAA Tournament Elite Eight. KU's Danny Manning won the Wooden Award in 1988. It has been in existence since 1976.
Boot camp continues: Monday marked the start of the second and final week of Bill Self's preseason Boot Camp. Players gather at 6 a.m. at KU's practice facility for 50 minutes of sprints, defensive slides, backboard touches and other conditioning drills. Players are also expected to be on time for weightlifting, pickup games, classes on campus and nighttime tutoring.
"It's Boot Camp," Robinson said simply, as he headed toward KU's weight room for afternoon lifting. "It's Boot Camp," he repeated with a smile.
List of Wooden candidates: Tim Abromatis, Notre Dame; Harrison Barnes, North Carolina; Will Barton, Memphis; Dee Bost, Mississippi State; William Buford, Ohio St; Allen Crabbe, Cal; Aaron Craft, OSU; Marcus Denmon, Missouri; Festus Ezeli, Vanderbilt; Ashton Gibbs, Pitt; Michael Glover, Iona; Drew Gordon, New Mexico; Draymond Green, Michigan St; JaMychal Green, Alabama; Jorge Gutierrez, Cal; Tim Hardaway, Michigan; Elias Harris, Gonzaga; John Henson, UNC; Tu Holloway, Xavier; Robbie Hummel, Purdue; Joe Jackson, Memphis; Scoop Jardine, Syracuse; John Jenkins, Vandy; Orlando Johnson, UCSB; Darius Johnson-Odom, Marquette; Kevin Jones, West Virginia; Terrence Jones, Kentucky; Perry Jones, Baylor; Kris Joseph, Syracuse; Jeremy Lamb, UConn; Kendall Marshall, UNC; Trevor Mbakwe, Minnesota; Ray McCallum, Detroit; Doug McDermott, Creighton; Khris Middleton, Texas A&M; Reeves Nelson, UCLA; Andrew Nicholson, St. Bonaventure; Alex Oriakhi, UConn; Thomas Robinson, KU; John Shurna, Northwestern; Peyton SIlva, Louisville; Joshua Smith, UCLA; Jared Sullinger, Ohio St; Jeffery Taylor, Vandy; Jordan Taylor, Wisconsin; Casper Ware, Long Beach St; Maalik Wayns, Villanova; Keith Wright, Harvard; Patric Young, Florida; Tyler Zeller, UNC.
More like this story on KUsports.com