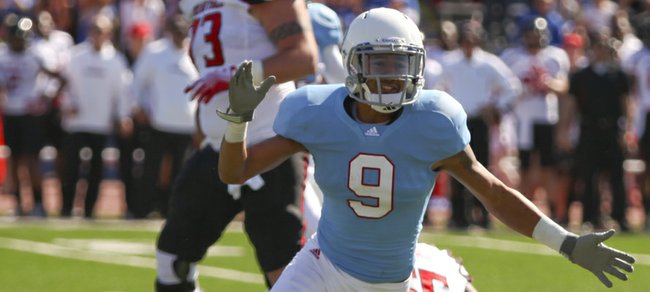 A little more than 24 hours after watching his team squander a 20-0 lead and drop its second straight game, Kansas University football coach Turner Gill made a bold statement.
"I do believe that our defense did play better than what they had played," Gill said.
The statistics don't necessarily show that. In falling 45-34 to Texas Tech on Saturday at Memorial Stadium, the Jayhawks gave up 530 yards of total offense, including 366 yards and four touchdowns through the air. It marked the third time this season the KU defense had surrendered more than 315 yards passing. The only game in which KU (2-2) did not allow opponents to top that mark came in a Week 3 loss to Georgia Tech in which the Yellow Jackets set multiple school records on the ground.
So where exactly did the improvement come? Gill said the Jayhawks were better in a few areas.
"I thought we did make a lot more tackles," he said. "We obviously still didn't make enough. But (we play) some good teams and some good players, and they're gonna make you miss some tackles. There were some good things. There just weren't enough."
Gill also pointed to the individual play of safety Keeston Terry and linebacker Malcom Walker as other areas of improvement for the Kansas defense. Terry, a red-shirt freshman, tied for the team lead in tackles with 12 and also picked up KU's first interception of the season. Walker, a junior-college transfer, finished tied for second with eight tackles.
Despite playing his best game of the year, Terry was not willing to go as far as his head coach in saying the defense played better Saturday. The free safety from Blue Springs, Mo., said he sensed a drop in energy once Texas Tech started rolling and that the Jayhawks would have to address that and play with passion for four quarters before real progress can be claimed.
"I don't know if someone's gotta light a fire under us or what," Terry said. "But we just have to figure it out. If not, the same result's gonna happen over and over again."
Like Gill, defensive coordinator Vic Shealy said he thought the KU defense made progress Saturday. But Shealy also said his unit took a few steps back at times.
"We need to go forward and stay forward," Shealy said.
Asked how he expected that to happen: "It's not rocket science," Shealy said. "It's about identifying what they're doing, making a decision why the breakdown occurred and then drawing it up so your players see visually what happened and how you're gonna correct it. Is it a call or is it just execution? A lot of it's just executing better."
For the most part, that falls on the players.
"Somebody's gotta step up and make a play to get us off the field," Shealy said.
With the frustration of another lopsided outcome fresh in their minds, Gill was asked Sunday if the message that his defense was improving had become a tough sell.
"We all know," he said. "The tape doesn't lie. They can see it and look at it."
RB Miller OK
Gill said he expected freshman tailback Darrian Miller to be available for Saturday's game at Oklahoma State.
Miller, who caught a 25-yard pass on the second play from scrimmage against Texas Tech, did not play after the reception because of a tweaked hamstring. Although the Jayhawks continue to evaluate Miller's injury, Gill said he planned to have him this weekend.
"He's fine," Gill said. "He's going to be available. We just don't know how much he's going to be able to go. We gotta make some decisions about whether we want to do it on a week-to-week basis or try to give him a little bit longer time to heal. But he'll be available."
Gill said the Jayhawks suffered no other significant injuries Saturday.
"There's no one at this point in time that I can say is gonna be out for this next ballgame," said Gill of the Jayhawks' 2:30 p.m. Saturday match-up at Oklahoma State. "We came out of here pretty well as far as injuries."
Cowboys big favorites
Oklahoma State (4-0) opened as a 29-point favorite against the Jayhawks when Sunday's point spreads were released.
By Sunday night, the line had moved to as high as OSU minus 33 points in some spots.
Oklahoma State enters the game ranked sixth in the nation, with victories over Louisiana-Lafayette, Arizona, Tulsa and Texas A&M.; The Cowboys were off last weekend, giving them two weeks to prepare for the Jayhawks.