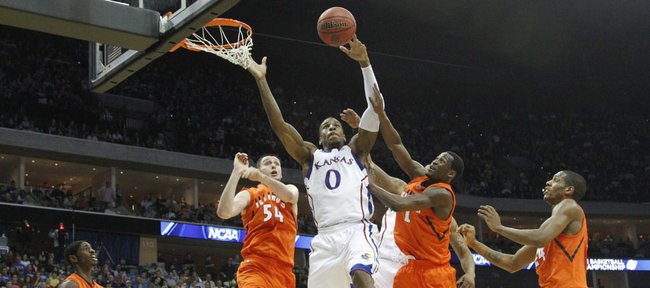 Kansas junior forward Thomas Robinson has been named to the John R. Wooden Award Preseason Top 50 list, The Los Angeles Athletic Club announced Monday.
Robinson, a 6-9 Washington, D.C., native, averaged 7.6 points and 6.4 rebounds last year while posting a team-best 60.1 field-goal percentage.
"This is based on potential and I am grateful to be named to the list," Robinson said in a release. "We have a lot of great players on our team, like Tyshawn (Taylor), that could be on the list just like me."
Last season, KU's Marcus Morris was named to the Wooden Award Preseason top 50 and later was on the 10-member Wooden Award All-American Team.
The Wooden Award is the most prestigious individual honor in college basketball. Kansas assistant coach Danny Manning was the 1988 recipient.
Transfers, freshmen and medical redshirts are not eligible for the preseason list.