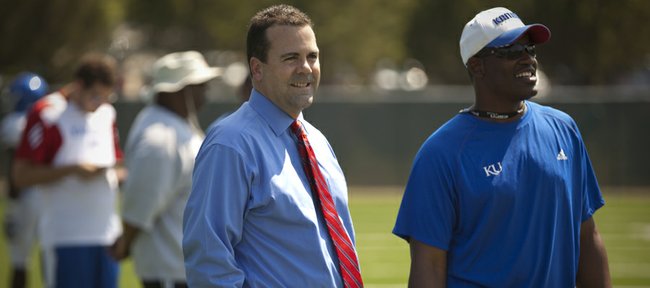 As some members of the coaching staff loaded cardboard boxes into vehicles outside of the Anderson Family Football Complex on Monday afternoon, Kansas University athletic director Sheahon Zenger met inside with the KU football team and a few remaining members of the staff.
The meeting began just after 4 p.m., lasted about 20 minutes and, according to sophomore running back James Sims, was about nothing more than getting the program back on track.
"He basically just talked about getting stuff corrected," Sims said. "That's pretty much what he was giving to us."
Sims said Zenger did not share details of the ongoing coaching search to replace former KU coach Turner Gill, who was fired Sunday after going 5-19 in two seasons.
"No, sir," Sims said. "Not yet. It was just about all the stuff that was going on and how we need to get it corrected and turned around."
According to Sims, the Jayhawks liked what they heard.
"It was received real well," said Sims of Zenger's message. "We all respect the AD and the decision that he made, and we're just looking forward to whoever's coming in next."
While the answer to that question remains up in the air, interim head coach Reggie Mitchell shed some light on the topic while speaking with a small group of reporters on a teleconference Monday morning.
Mitchell, who went through a coaching transition in 1999, when Nick Saban left Michigan State, said the important thing for the coaching staff was to maintain contact with KU's recruits and keep working.
"Everybody's professional," Mitchell said. "We came here to do a job. We would love to be able to do it with coach Gill, but now that's not possible so we just have to be professional and keep moving forward."
Mitchell said the recruits who planned official visits for this weekend said they would take those visits and he remained optimistic about KU's ability to keep the recruiting class of 2012 largely intact. As for attracting a new head coach, Mitchell, who currently is in his second stint with the Jayhawks, said that should not be difficult either. He also said it should be done in 10-15 days.
"Lawrence itself is a great place," he said. "You've got a great academic institution in Kansas. And, when you think about it, there's only 10 Big 12 schools. So for anybody that wants to coach at this level, Kansas is a great place to coach. I think it'll sell itself."
Asked if he hoped to stick around to be a part of the new staff, Mitchell didn't hide his optimism.
"Yeah, I'd like to be a part of the staff here," he said. "My wife's a KU grad, and I spent 11 years of my life here. If it works out, that's fine. If it doesn't, I'll have to find something else to do."
For the next several days, Mitchell's to-do list includes maintaining all aspects of the KU football program. He has been in constant contact with Zenger and also has helped coordinate meetings of the players and other staff members. Mitchell said he, wide receivers coach David Beaty and defensive-line coach Buddy Wyatt would be the only three members of the old staff on the road recruiting.
"Any decision that's made with the football program, I'm gonna make those decisions," he said. "Right now, we're getting ready for finals, and then guys will be going home. So hopefully there won't be anything that I'll have to deal with that's gonna be a big issue."
Rumor mill
KU's isn't the only college football coaching job that's open right now, and what happens elsewhere could go a long way toward determining which direction Kansas goes. Here's what the Journal-World learned Monday:
There are a few names you can cross off the list: Jim Tressel, Mike Stoops and Jim Leavitt.
Sources told the Journal-World that Tressel would have no interest in the job. He also never was approached about it.
As for Leavitt, who currently coaches linebackers for the San Francisco 49ers, the timing may be the biggest obstacle for him. Although he has ties to Zenger, he would not be able to join the program for at least two more months because of the ongoing NFL season. Furthermore, the mistreatment of players that led to his dismissal at South Florida continues to be an issue.
It appears that Mike Leach remains KU's top target, with Larry Fedora, of Southern Miss, not far behind. Fedora's name is gaining steam at Ole Miss, and if the Rebels take him off the board, that could eliminate one of KU's top options.
In addition, UCLA, which long has been rumored to have interest in Leach, appears to have pegged Boise State's Chris Petersen and Houston's Kevin Sumlin as its top choices, making a Leach-to-Kansas move more plausible.
That leaves those two, along with Florida State defensive coordinator Mark Stoops, Oklahoma DC Brent Venables and a host of darkhorse candidates as names worth tracking from here on out.
Gill releases statement
Gill released a statement through the university Monday.
"I would like to thank the University of Kansas for the opportunity to be its head football coach," Gill's statement read. "On behalf of our staff, I want to thank the players for putting their heart and soul into this football program the past two years. I hope nothing but the best for all their future endeavors, both on and off the field."
Mitchell said his conversations with Gill since Sunday had been largely positive.
"He was disappointed that we didn't get it done," Mitchell said. "But he was still the class guy that he is. Upbeat, positive, he said if there was anything he could do to help, he'd be more than willing to do."
Self talks football
KU men's basketball coach Bill Self shared his thoughts on the football situation during his regularly scheduled news conference Monday.
"I think yesterday was a sad day," Self said. "Everybody likes and respects Turner and his staff, without question. A lot of times in business you make decisions that are hard. But I know that we'll be in good hands moving forward. I have total confidence in the administration to bring in a good guy, the right guy, and I certainly wish the best for Turner and his family."
Asked for his opinion on where the KU football job ranked nationally, Self did not shy away from saying what he believed.
"I would rank it definitely as a good job," he said. "I don't think that the football job at KU is the equivalent of the basketball job at KU, because there's not as much history and tradition. But I do think this. We're still selling the same product. We're selling the school, the education, the conference. I think it's really a good job. And I think it will definitely attract a lot of people. It's been proven that you can win big here."
Self went on to stress the importance of football functioning as a money-maker for the university.
"I don't know exactly where we're at," he said. "But I think basketball is close to maxed out as far as what we can generate. So I think it's very important for our football program to be successful. We need football to be good also because football brings you an element of enthusiasm and energy to your campus ... There's no revenue stream that this university can create that's greater than putting people in the seats over there (Memorial Stadium)."