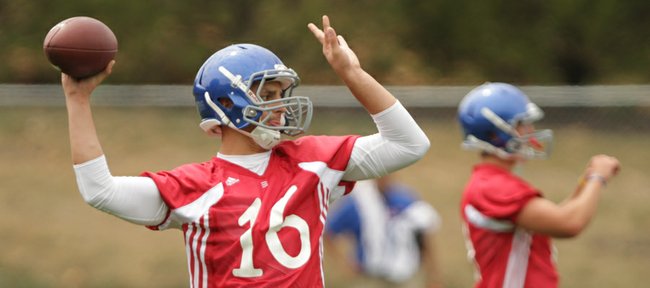 Although he spent nearly all of the 2011 season away from the team, Kansas University freshman quarterback Brock Berglund expressed disappointment over the news of the firing of former KU coach Turner Gill.

"I love coach Gill," Berglund told the Journal-World on Monday. "He was a great man and a great football coach, and he really represented the University of Kansas well."
Berglund, a three-star, dual-threat quarterback from Valor Christian High in Highlands Ranch, Colo., graduated from high school a semester early last December and intended to come to Kansas for spring practice to get a jump start on his college career.
Legal trouble back home, stemming from an alleged assault, kept Berglund from being in Lawrence full-time, and he spent the entire fall semester taking online classes through KU from his home in Colorado.
Through it all, he kept an eye on the KU football program, even attending games at Georgia Tech, Texas and Texas A&M.; He said he had not been in Lawrence since August but was working hard to remain eligible.
"Right now, I'm just focused on taking care of my academics and my classes and working out and getting back on campus," he said. "I'm taking care of what I need to take care of. I'm excited to see who they name as the new head coach and will take it one step at a time."
Asked if KU remained an option despite Gill no longer being in charge, Berglund did not hesitate to answer.
"Oh, absolutely," he said.
Since hearing the news of Gill's firing Sunday, Berglund said both Gill and offensive coordinator Chuck Long had been in contact with him on a couple of occasions. Although their futures remain uncertain, Berglund is sticking to the time table he's had all along.
"The plan the whole time has been to return to KU on Jan. 17," said Berglund, referencing the beginning of the spring semester. "Coach Gill and I just thought it was in my best interest, and the best interest of KU athletics and the football team, to stay here and get this resolved this semester and start fresh in the spring. And that is still the plan."
The next key date in Berglund's legal battle is Jan. 10, which marks the beginning of a three-day trial for third-degree assault in Colorado's Douglas County.