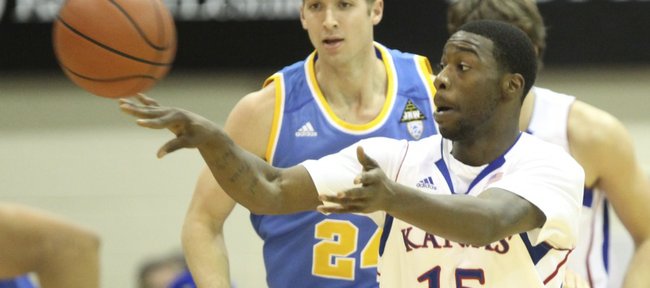 Podcast episode
KU coach Bill Self, Tyshawn Taylor, Elijah Johnson and Thomas Robinson talk to reporters following the Jayhawks' 72-56 victory over UCLA on Nov. 22, 2011.
KU vs. UCLA
Lahaina, Hawaii — Elijah Johnson, the hero of Kansas University's Maui Invitational semifinal victory over UCLA, Wednesday tonight fulfills a lifelong dream.
He gets to play Duke.
"I always knew about Duke. I always knew about Duke. I always knew about Duke," Johnson, KU's junior guard from Las Vegas, repeated for emphasis after scoring a career-high 23 points in Tuesday's 72-56 victory over UCLA at Lahaina Civic Center.
The victory propelled (3-1) KU to today's 9 p.m. final against the Blue Devils (6-0). Duke is 14-0 all-time in the Maui event.
"Duke is a program my pops always talked to me about," Johnson added of proud papa Marcus Johnson. "Just to know I'm actually playing that program tomorrow and to be at Kansas … a lot of people play a school (like Duke) and know they are going to lose. I actually have a chance to beat Duke, which is a great feeling."
Without Johnson, who hit eight of 13 shots, including four of eight threes, KU just might be playing in today's consolation game versus Michigan, instead of the finals versus Duke.
He had 13 points in the first half, picking up teammate Tyshawn Taylor (13 points, six assists), who sat out a five-minute stretch after picking up his second foul. The Jayhawks didn't miss Taylor much and led, 43-26, at the break.
"I'm the type of person who feels if you come out the first five or six minutes in rhythm, you should go off that feeling the whole game," said Johnson, who hit four of seven shots the first half, including two of four threes.
"The game was slower for me today," added Johnson, whose previous career high scoring mark was 15 against Oklahoma State last season. "I felt I had to help out Tyshawn and T-Rob (Thomas Robinson, 15 points, 10 boards), take some of the pressure off them."
Johnson and the Jayhawks kept the faith during a maddening stretch in the second half in which a game-high lead of 20 points (51-31 at 15:49) dipped to five at 57-52 and 61-56 (9:34 to play).
Johnson had two points in an 11-0 run — a run in which five players scored — that closed the game and gave KU a runaway victory.
"No," Johnson stated, asked if he was even a bit concerned KU would blow a 20-point lead. The biggest lead ever blown in a KU loss was 20 against Arizona back in January of 2003 in Lawrence
"I felt we were in control. Coach (Bill Self) is too good a coach to let us blow a lead like that regardless of how we were playing on the court. Coach had a plan. He's too good a coach. It's why he's Bill Self," Johnson added.
Taylor also had a feeling KU would be fine as the lead started to dwindle.
"We knew they weren't going to go away," Taylor said of the Bruins (1-3), who were led by Tyler Lamb, Jerime Anderson and Reeves Nelson, who had 15, 14 and 12 points. "We knew they would continue to play. We made some dumb plays that helped them out a bit. Coach said it is a game of runs. We kept playing. It was a team effort. If we keep competing like that, we can be really good."
As far as beating Duke, KU will give it the ol' college try.
"We knew coming in the tournament if we want to win we have to go through Duke," Thomas Robinson said. "The stage doesn't get any bigger than this, in the preseason at least: Duke and Kansas for the championship."