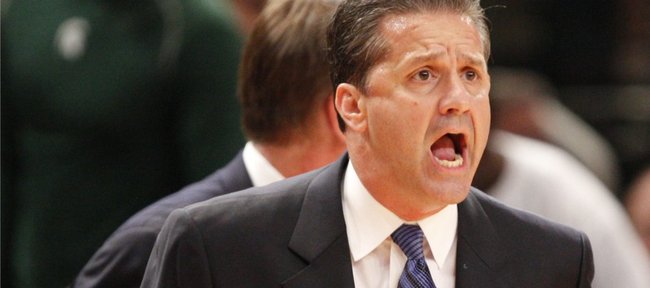 Podcast episode
Kansas coach Bill Self talks to reporters following the Jayhawks' 75-65 loss to Kentucky on Nov. 15, 2011.
KU vs. Kentucky
New York — Kentucky guard Doron Lamb believed his team made a statement following the Wildcats' 75-65 victory over Kansas on Tuesday night.
"We played a top team that was ranked and beat them today," Lamb said. "I just wanted to let everybody know today that we were the best team in the country."
After being tied at 28 in the first half, Kentucky opened the second half on an 11-2 run to take control.
Still, UK coach John Calipari wasn't entirely pleased with his team's performance.
"We don't believe we have to truly play together yet," Calipari said. "It's not talent that wins — it's good teams that win."
The Kentucky coach said, especially in the first half, his players weren't following plays, opting instead to do their own thing.
"Did they even look coached in the first half?" Calipari said. "I heard somebody yell behind me — and I don't hear people — somebody yelled, 'Geez, run a play! Coach, run something!' I was ready to go, 'You tell them. I'm trying to tell them, and they're not listening to me.' We are really young."
In the first half, Kentucky had 12 turnovers and made 10 of 26 shots (39 percent).
"Didn't it look like we were competing with each other in the first half? 'I'm getting mine. He's getting his. Oh, you didn't get it?'" Calipari said. "You cannot compete within your team. You complete each other. So we've got a ways to go."
The coach also wasn't happy with some of his team's emotional outbursts in the second half.
"The only problem is you have to do that to each other, not to the opponent," Calipari said. "You want to talk, but you talk to your team. And I had to grab a couple of the guys.
"Again, they're young. They don't know better. They think they're in Orlando, and they've got another game tomorrow morning and another one tomorrow afternoon."
Even with all the criticisms of his team, Calipari said he was proud of his players.
"They had a will to win," Calipari said. "That's what I wanted to see. That's the hardest thing to teach in what we do — a will to win."